Contemporary boutique hotel paces away from crystal clear waters and relaxed vibes
Named after the Goddess of the Sea, Tara's Lodge is set in a poetically tranquil location. Here is the perfect getaway from the rushing and racing of the modern world. The contemporary building sits on Korcula's Bay and provides a spectacular view of the Adriatic Sea, natural greenery, and mountains in the distance.
With your favorite drink in hand, unwind on the sun loungers on the on-site beach, and take in the breathtaking view. Retreat to your minimalistic rooms characterized by calming white walls and furnishings. The sleek décor and warm cozy textures keep the space inviting and relaxing.
Go on a discovery tour for a dose of Korčula's historical and cultural heritage, or add a dash of excitement to your stay by trying out the wide range of water sports offers.
What we liked the most
Waking up to a spectacular view of the sea and the majestic mountains in the distance
Soaking up the Mediterranean sun on a lounge chair on the beach
Making a splash on the Adriatic Sea while windsurfing
De-stressing and finding peace of mind in yoga lessons
Feasting on a fresh seafood platter along with local greens while tasting a glass of Croatian wine
Rooms Overview
Crisp white walls, warm wooden accents, and a touch of black furnishing form the simple colour palette of the rooms of Tara's Lodge Korcula. Every minimalistic yet inviting room comes with its private balcony or terrace, and looking out, you can enjoy the breathtaking scenery of gorgeous greenery and dazzling blues.
Standard Garden View Room
2 guests
One-bedroom suite
View into the garden
A minimalistic room for two, featuring a private bathroom and cosiness. A floor-to-ceiling sliding door leads into a spacious private balcony or terrace, where you can enjoy the calming sounds of rustling leaves every time a cooling breeze blows past.
Executive Garden View Room
3 guests
One-bedroom suite
Private terrace
With a capacity of 3 guests, this room is perfect for a small family or couples. Pamper yourself in the large walk-in shower and unwind on the soft king-sized double bed. From the terrace, take in the idyllic view of the lush garden with the blue sea peeking out from behind.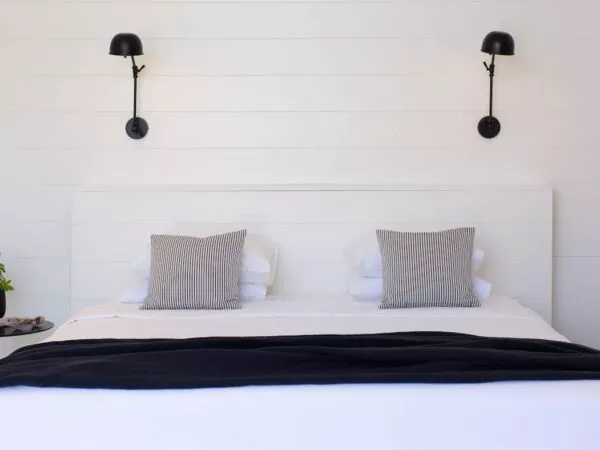 Superior Garden View Room
3 guests
One-bedroom suite
View into the garden
This inviting space is characterized by spaciousness, minimalistic designs, and relaxing vibes. Share stories of your adventures with your loved ones on the sofa; or write postcards to your friends back home on the desk before falling asleep to the sounds of rustling leaves in the garden.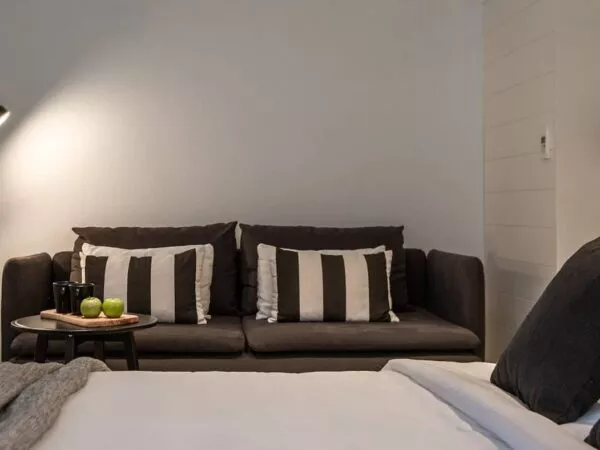 Standard Sea View Room
2 guests
Balcony
One-bedroom suite
A cosy room with a truly awe-inspiring view. The Adriatic Sea is framed by verdant woods, and majestic mountains stand in the distance as the centrepiece of this painting-like seascape. With a private balcony, you can sit there and take in this view for as long as you like.
Superior Sea View Room
3 guests
Balcony
One-bedroom suite
Having a capacity of 3 guests, this room is great for small families and couples who want to wake up to a scenic sea view like no other. After a day filled with adventures, pamper yourselves in the luxe walk-in shower, and watch the sunset painting the sky in shades of red and purple on the private balcony.
Sea View Suite
5 guests
Two-bedroom suite
View into the sea
With 2 rooms and a capacity of 4 guests, this spacious room is a great option for longer stays. Whip up some tasty dishes with local products in your kitchenette and share a meal as well as quality time with your loved ones in the dining area. With 2 separate bedrooms, you can retreat to your own space and rest without disturbances.
Taste the flavors
Bar & Beach Lounge
A dazzling assortment of drinks is there for you to enjoy. You can sip on a cuppa while taking in the idyllic views or treat yourself to that beach holiday must-have cocktail. For wine connoisseurs, try out the fine regional variety. While relaxing on the gorgeous beach, you can savour daily bites and your favourite cocktails under the warm Mediterranean sun served with the scenic azure of the Adriatic Sea.
Mimi's Bistro Restaurant
From locally sourced seafood to organic choices, you'll relish in a selection of sun-kissed meals from the Mediterranean-inspired menu. The restaurant will cater to all your specific nutritional needs and requests. You'll enjoy delicious breakfest at the restaurant by the sea, featuring freshly prepared food with a selection of drinks to fit everyone's needs.
About sustainability
Citrus, the fruit of Promise, indicates that the property is noticeable eco-conscious as many areas of sustainability are addressed
Tara's Lodge is blessed with a unique location surrounded by natural greenery that they are committed to preserve
The boutique hotel has invested in recycling and reusing wastewater while their well-kept garden uses yard trimmings compost as fertilizers
Tara's Lodge is careful about water and energy consumption. The building is insulated, and several systems are used to reduce energy and water consumption.
Guests are treated with locally caught aquatic life, local greens, and seasonal produce that make up part of the hotel's food menu
Explore the location
Located at the sea's edge, 3km from the old town, this boutique hotel is close to several beaches, including its own.
Walk through the historical Sea Gate and wander in the picturesque old town characterized by washed stone walls and traditional orange roofs. Leave the beach for a bit and experience its lush forests on a hike through the many trails on the island.
Book a trusted local driver for your transfer to and from the hotel, and introduce you to the destination, pre-order travel essentials, and get all your questions answered before or during the trip. Choose the stops, visit the attractions, and don't waste any time waiting. We've partnered with Welcome Pickups, the first company to deliver a holistic, in-destination travel experience.