Vacations at Marrakech are lively, energetic, and fulfilling; Staying in a boutique hotel or riad, in the heart of the historic Medina, offers proximity to souks, museums, hip restaurants and cafes.  As you stroll through Medina Azbezt in Marrakesh, narrow streets are lined with dusky pink houses and shops selling lanterns, rugs and leather goods. Quaint museums give insight into Moroccan heritage, crafts and textiles and hole-in-the-wall restaurants and cafes serve delicious tagines and m'hanncha, aromatic spices enveloping your senses as you pass by. Let us be your guide here: follow these must-do experiences in Marrakech and discover the best way to discover this fascinating city, like a local.
1. Bargain with a smile at the 
Medina & Souq Semmarine

Here, bargaining is a must-do experience in Marrakech. Holding treasures as old as time itself, the Medina Maze is bustling with cobblestone alleyways, each with new artwork, brass-knocker style beautifully decorated gates in lush pinks and reds, vintage vases and travel chests, perfect to take back as gifts for friends and family! 
Nearby souks showcase a plethora of spices, peaked to perfection in their jute bags and steel drums. Saffron, turmeric, cumin and coriander lined up like powdered jewels in rows with scoops ready at the side. Vendors vie for trade, attempting to sell Aladdin style bejewelled slippers, footstools and colourful djellabas – traditional long hooded robes adorned by many locals. Navigating the maze of alleyways, you'll find everything from fresh dates to medicinal herbs and carpets in earthy tones spread out across stucco shop walls.
At Souq Semmarine, you can sniff fragrant spices in sunrise orange, romantic reds, and blues, the merchants almost like French painters sifting through colours, creating unique spice combinations that you will not find anywhere else.  
2. Discover quartier des Tanneurs, away from the tourists
You can experience authentic Morocco away from the tourists at Quartier des Tanneurs, 10 minutes' walk from the centre. Here, huge vats are filled to the brim with dyes of all colours, as men dip leather into them, before hanging the fabric on nearby buildings to dry. Myriad leather shops sit close by, selling handbags, clothing and shoes curated from fabric dyed earlier that month.
3. Escape for romantic promenades &

Sunshine gardens
Take in the fresh and earthy scents of new blooms and trees at Jardin Majorelle. Candy-coloured pathways lead you across different sections, once traversed by the creative fashion designer Yves Saint Laurent- his past collections, inspiration from this land. Here, explore bamboo groves and learn to care for cacti plants. The special electric-blue studio is where French painter Jacques Majorelle once conjured life into paintings. Morocco's Berger people are displayed in grand tradition through alluring jewellery and artefacts, a must-see! Another place to visit is Menara garden that holds a large basin that used to water olive gardens in the 12th century. Open at night, allowing midnight strolls to gaze at stars.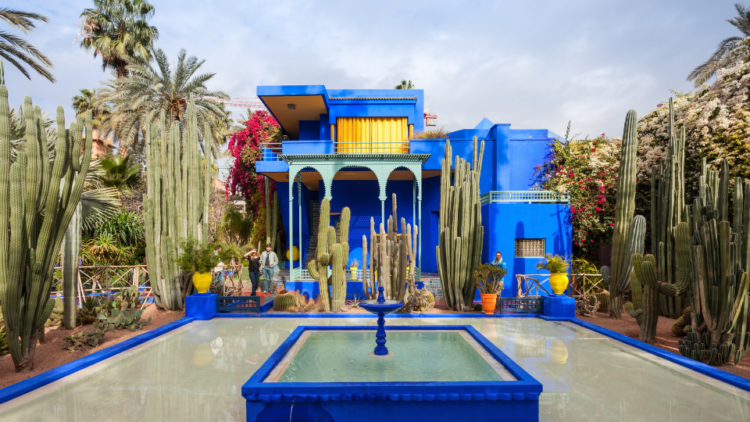 Le Jardin Secret, or The Secret Garden, sits hidden amongst a 19th-century palace complex, traditional Islamic gardens punctuated by Arabesque tiled fountains, ceramic pots filled with plants and fragrant flowers from all over the world. Relax here for a while, enjoying the tranquil respite before heading back into the city once more. Along winding streets, arched doorways open to exotic hammams, places where you can unwind, uninhibited, letting steam baths rejuvenate, before a skilled masseuse gives your skin a vigorous scrub and twists you into positions you never thought possible.
4. Soak Up Local Art, Fashion & Culture
Dig deeper amidst the brick red buildings of Marrakech and you can stumble upon smaller museums that are more lowkey yet hold vast treasures to understand Middle Eastern culture. Museum Mouassine highlights life during the Saadian era. Berber artefacts and crafts can be found at Maison Tiskiwin, which showcases anthropologist Bert Flint's varied indigenous crafts.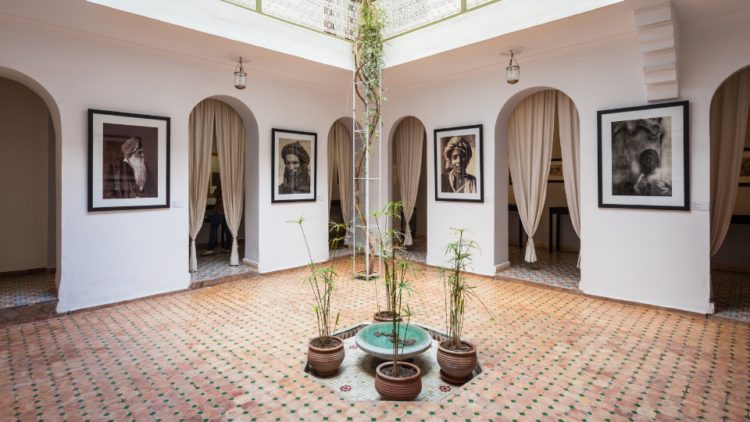 If you're a fan of sustainable fashion, then Musée Boucherouite lends a peek into the making of recycled rags. Get your complete dose of history at the museum of art islamique, then shop for colourful kaftans at Warda la Mouche and why not DIY a leather jacket at FAMI.  
5. Savour

Moroccan 

sweets 

&

 spices 
Riad 

Yima

 Tea Room

: Just 8 minutes walking distance from Riad 

Zineb

is this brightly coloured, pop-art dainty café, serving calming mint teas

 

and cakes. 

It is the 

home and personal gallery of Hassan 

Hajjaj

, who is also called 'Andy Warhol of Marrakech'. Find here a collection of upcycled pop art

 in rainbow hues

, furniture, art objects and photographs. 

 

Open-air barbecue

 at 

Jamaa

 El 

Fna

 Square

: Sample sugared doughnuts, finger food like fried fish and roast meat

 on skewers

 at a collection of 

100 

different stalls.

 

Terrace des epices:

 Head over 

for 

a high tea after a long day of sightseeing. From almond

biscuits

, shortbreads

 to 

subtle mint tea, you can even try 

the iconic Tanjia Marrakechia

 (meat dish)

 that must be prepared 5 hours in advance in special earthen jar

s

under the hot ashes of a wood-fired oven. 

 

 

Gueliz

, a new restaurant 

is a romantic spot, perfect for enjoying a glass of wine while admiring the sunset. 

 
6. Don't miss the colourful spectacle by Jemaa el-Fna
Once you've experienced all of this, no visit to Marrakesh would be complete without a trip to Jemaa el-Fna square. Set in the heart of the city 10 minutes' walk from Riad Karmela Princesse, it's a feast for all the senses. Street food stalls serve traditional Moroccan fare, medicine men attempt to cure you of all ailments and acrobats' somersault across the square capturing your attention.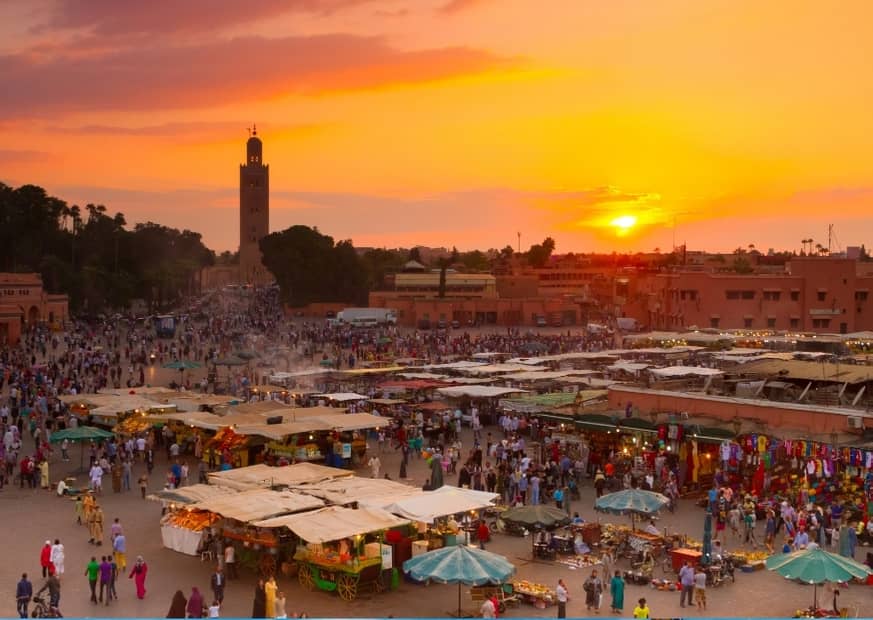 The colourful spectacle is best experienced after dark, when locals and tourists flock here to watch snake charmers, belly dancers or to experience the vibrant atmosphere from a pavement side café.
7. Have a mint tea overlooking city rooftops
However, perhaps the best experiences of Marrakesh can mostly be found in the back streets, in the labyrinth medinas where small cafes cater to locals, ancient quarters where artisan's craft wares and inside the walls of ancient castles and palaces, ruined by time, yet still beautiful in their faded glory.
End your day in Marrakech on a rooftop terrace dining with friends, loved ones and locals. Flickering candles in glass lanterns adorn tables, plump cushions on benches offer a cosy place to sit. Overlooking city rooftops, sip a glass of sweet mint tea, a cocktail or feast on delightful dishes of Moroccan mezze beneath starlit skies as the evening sets in.
8.Backpack

 

Bike Tours
Take a bike tour, often the best way to explore the city and savour all the sweet smells of spices, pastries and sea salt as you ride past Qued Issil. The Marrakech bike tour is available on hire, 15 minutes reachable from Riad Zineb.  
Go for tranquil day trips to the Ourika valley or Imlil; stop by the organic saffron farm on your way there, and perhaps enjoy a home-cooked meal with locally sourced produce sprinkled with bright saffron.