It's no secret: Athens is bursting with a fascinating history and spectacular ancient architecture. From the towering Acropolis to the time-withstanding Temple of Olympian Zeus. History buffs, deep thinkers, and art lovers will immediately fall in love with the knowledge hidden within the city.
For the tourist, it's easy to join a guided tour and tick off all the famous landmarks in the afternoon. However, the true traveller knows Athens's glory runs much deeper. With our insider guide to Athens, you'll be enjoying a late afternoon stroll through the park, people-watching at one of the many flea markets, and sampling locally-made wine is what keeps the city ticking.
Forget your watch and let the day take you away with our list of things to do in Athens to experience the city like a local. Here is our guide to Athens.
Things to do in Athens, to stay like a local
Explore
For an intimate look at Athens twisting history, you'll find the streets of Exarchia offer a glimpse into the dynamic spirit of Greek society. While the neighbourhood may feel unkempt compared to the shiny city centre, the graffiti lining every inch of surface space tells a story of conflict and hope. As you spend an afternoon pondering the meaning behind the madness, you'll find locals love to stop and share with you their version of events.
Botanical gardens have a rich history in Athens, dating back to the world's first in the 4th century BC. It's no wonder the city embraces sprawling gardens filled to the brim with majestic flowers and magical walkways. As you meander along cobblestone paths, rich smells of thyme and lavender calm your soul, and ancient pinewoods remind you of the stories Athens holds. Pack a picnic and enjoy a day of strolling to your heart's content.
Be Active
Pondering the world as you enjoy a morning coffee, you can't help but notice ancient mountains fully surround Athens. Protecting the city yet pulling at your heartstrings to see what's just over the hill. Mount Hymettus, also known as 'Trellovouno' or crazy mountain, is a true hidden gem sought out by active locals to escape the city's heat. As you set out on your hike, within moments of entering the dense pine forest, scattered with olive tree and wildflowers, a sense of calmness washes over you. Looking out over the ancient Acropolis far below reminds you just how far civilisation has come.
Taste
As you wake up to a quiet morning hum that grows louder as the sun rises, your stomach will remind you, first things first – breakfast. In Athens, there's no need to sit down for a lengthy meal. Instead, keep an eye out for busy koulouri stands and join locals as they dip freshly baked circles of bread in their morning coffee. A light breakfast leaves the door open to enjoy a long lunch. As you wander your way through the Monastiraki flea market, keep your eye out for Café Abyssinia to enjoy Yaprakia, stuffed sour cabbage with pork, finished with a refreshing strained yoghurt for dessert. A rule of thumb, if the menu is more than 1 page long, don't bother – unless it's the drink menu at BoBo Wine Bar. Created by four friends who had a simple love of wine and good company, take your taste buds on a regional journey as you sip Greek wines and snack on dried figs stuffed with goat cheese and caramelised onions.
Sip
Dating back to 1909 is Brettos, the oldest distillery in Athens. Walking into the bar feels like a leap into a time machine, as your eyes draw skywards to the floor to high ceiling wall covered in brightly lit colourful bottles. Soft music and a gentle hum of patrons chatting sets the mood to mingle with locals and sample one of their 200 Greek wines and authentic ouzo.
Besides wine and ouzo, Athenians embrace cocktail culture – and there's no better place to join in than Blae Papagalos (Blue Parrot), especially when the sun is shining. Their vibrant outdoor patio overflowing with greenery immediately calms the soul. As you sip an elegant cocktail dressed with fresh herbs, you'll quickly forget you're in the heart of a busy city.
Shop
The Monastiraki flea market may be mentioned in every other travel guide to Athens but it's worth the visit beyond the souvenirs shops. Wandering the flea market is an adventure in itself, and if you find yourself in Athens on a Sunday, set aside a few hours to seek out hidden treasures found amongst the bustling stalls. Musicians attempt to draw your attention away from the quirky stalls, but it's impossible not to be in awe of the antiques, classic toys and retro electronics spilling from every booth. The deeper into the market you go, the more likely you'll be to find your treasure.
For a less hectic experience, step into the whitewashed Graffito and decide which upcoming European trend you're ready to embrace. Part art gallery, part café and part upmarket boutique store, you can see why it's a one-stop shop for locals searching for the perfect gift. Young Greek designers are showcased, allowing room for one-of-a-kind pieces you'll unlikely find elsewhere.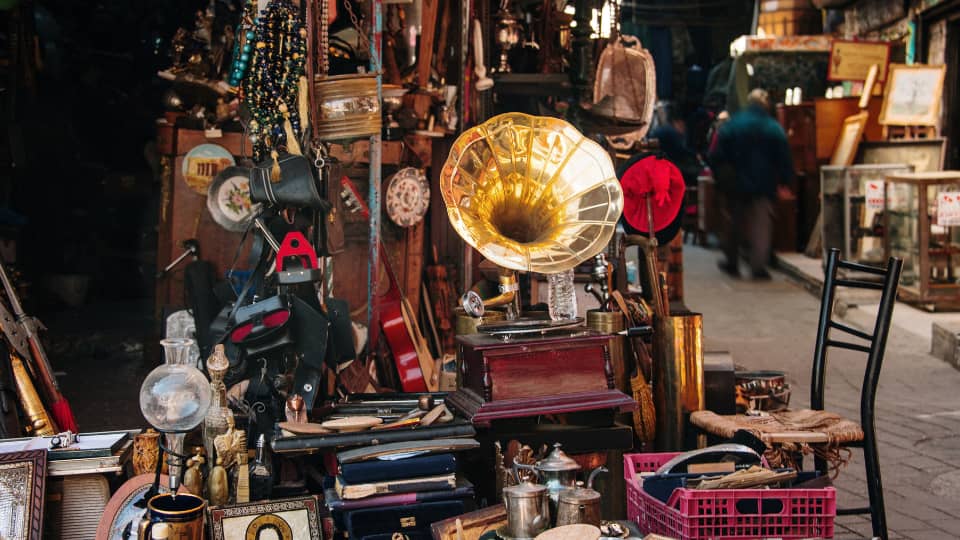 Stay
Ancient architect and hidden alleys will likely draw you towards Psirri. Or, perhaps you decide to stay right amongst the buzz at Monastiraki, just minutes from the flea market and unique cafés and restaurants. The elegant Kolonaki is also a great option to stay next to Lycabettus hill. We recommend checking out our collection of boutique hotels in Athens for an authentic experience and start daydreaming about your adventures ahead.