Contents
Things to do in Athens, to stay like a local
It's no secret: Athens is bursting with a fascinating history and spectacular ancient architecture. From the towering Acropolis to the time-withstanding Temple of Olympian Zeus. History buffs, deep thinkers, and art lovers will immediately fall in love with the knowledge hidden within the city.
For the tourist, it's easy to join a guided tour and tick off all the famous landmarks in the afternoon. However, the true traveler knows Athens's glory runs much deeper. With our insider guide to the greek capital, you'll be enjoying a late afternoon stroll through the park, people-watching at one of the many flea markets, and sampling locally-made wine is what keeps the city ticking.
Forget your watch and let the day take you away with our list of things to do in Athens to experience the city like a local. Here is our guide to the top things to do in Athens.
Explore – Monuments and Landmarks in Athens
The city boasts some of the most iconic landmarks globally that date back to ancient times, with many shaping the city's identity and culture due to their historical significance.
The Acropolis 
The Acropolis of Athens is one of the most important ancient sites globally, featuring some of the most iconic landmarks in Athens. Built in the 5th century BC, the Acropolis served as a hilltop fortress housing significant buildings of ancient Greece, such as the Parthenon, Erechtheion, and the Temple of Athena Nike. Among these buildings, the Parthenon stands out as the most famous and a key example of classical architecture worldwide. The temple was dedicated to the goddess Athena, serving as a treasury and a place of worship. On the other hand, the Erechtheion is another important structure on the Acropolis dedicated to the goddess Athena and the god Poseidon. Lastly, the small Temple of Athena Nike, located on the south side of the Acropolis, was also dedicated to the goddess of victory.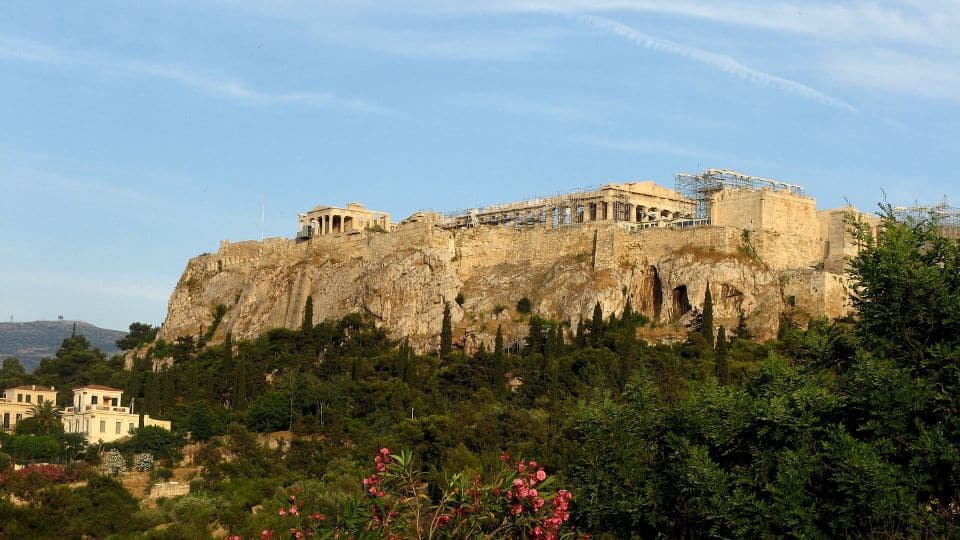 The Agora
At the center of ancient Athens, one could find the Athenian Agora, a hub of political, commercial, and social life. This large open space was home to bustling markets, political assemblies, and religious ceremonies and was also host to several essential buildings, including the Stoa of Attalos, a covered walkway offering markets and commercial activity, the Temple of Hephaestus, a beautifully preserved temple dedicated to the god of metalworking, and the Royal Stoa, a grand structure used for political assemblies and public gatherings. A visit to the Agora provides a unique opportunity to step back in time and experience the vibrant center of ancient Athenian life.
The Odeon of Herodes Atticus
The Odeon of Herodes Atticus, an ancient theatre located on the southern slope of the Acropolis in Athens, Greece, was constructed in 161 AD by Herodes Atticus, a wealthy Greek aristocrat, and philanthropist. With a seating capacity of around 5,000, the theatre served as a venue for musical and theatrical performances. Its intricate carvings and sculptures, including a representation of Apollo, the god of music, on the stage, are made of marble, and it is regarded as one of the best-preserved ancient theatres globally.
The theatre remains in use today, hosting the Athens and Epidaurus Festival, a yearly event highlighting the best of Greek theatre, music, and dance, as well as other cultural events such as concerts and operas. The Odeon of Herodes Atticus is a must-visit for anyone interested in ancient history and architecture since its exceptional design and well-preserved state make it an intriguing and distinctive component of Greek history. Additionally, the theatre's continued use as a venue for cultural events adds to its vibrancy and liveliness as a modern Athenian attraction.
The Theater of Dionysus 
The Theater of Dionysus, constructed in the 5th century BC, stands as one of the most historic and notable theatres worldwide. Hosting performances of plays and other acts, it was erected on the southern slope of the Acropolis, with the capacity to seat 17,000 individuals. The theatre was renowned for staging plays by distinguished ancient Greek playwrights like Aeschylus, Sophocles, and Euripides. Additionally, it doubled as a venue for religious ceremonies and public events.
The Roman Agora 
Serving as a marketplace and trading center, the Roman Agora was established in the 1st century AD and was located in the vicinity of the ancient Agora, serving similar functions. Key features of the Roman Agora included notable buildings such as the Library of Hadrian, the Gate of Athena Archegetis, and the renowned Tower of the Winds, which was utilized as a clock tower and was one of Athens' most iconic landmarks.
Temple of Poseidon in Sounio

Offering a captivating glimpse into Greek culture and history, the Temple of Poseidon in Sounio is an impressive ancient site. Dating back to the 5th century BCE, it held great religious importance in ancient Greece. The temple is a favorite location for sunset viewing, where visitors can admire the temple and ruins bathed in a golden light, creating a truly magical experience. Despite its age and exposure to the elements, the Temple of Poseidon in Sounio remains one of Greece's most remarkable ancient sites and is a must-visit for anyone exploring the region.
Be Active
Pondering the world as you enjoy a morning coffee, you can't help but notice ancient mountains fully surround Athens. Protecting the city yet pulling at your heartstrings to see what's just over the hill. Mount Hymettus is a true hidden gem sought out by active locals to escape the city's heat. As you set out on your hike, within moments of entering the dense pine forest scattered with olive trees and wildflowers, a sense of calmness washes over you. Looking out over the ancient Acropolis far below reminds you just how far civilization has come.
National Garden of Athens
One of Athens' most noteworthy natural landmarks is the National Garden, situated in the city center and covering roughly 15 hectares. The garden offers a peaceful retreat amidst the hustle and bustle of the metropolis, with its diverse collection of flora and fauna. It also provides facilities such as a cafe, playgrounds, and a small lake. The Presidential Mansion, also called the Maximos Mansion, is another notable feature located within the garden.
Philopappos Hill
Positioned to the south of the Acropolis, the Philopappos Monument is situated on a hill that is frequented by both locals and tourists. A 2nd-century AD tomb honoring Roman consul Gaius Julius Antiochus Philopappos, the monument offers stunning views of the city, sea, and Acropolis. It's no surprise that the hill is a popular destination, given its magnificent vistas.
Taste – Restaurants in Athens
Athens is not just known for its rich history and culture but also for its diverse and delicious restaurants that cater to every taste. Whether you prefer traditional Greek tavernas or modern fusion eateries, there's something for everyone in this city.
Tavernas, in particular, are quite popular in Athens. These casual dining establishments serve classic Greek dishes like moussaka – a scrumptious layered dish made with eggplant, meat, and béchamel sauce – and dolmades, which are grape leaves stuffed with rice, herbs, and occasionally meat. Typically family-owned and operated, these eateries offer a warm and welcoming ambiance for visitors to enjoy a meal.
Athens has numerous souvlatzidika which are casual and cozy eateries specializing in the popular Greek dish of souvlaki. Souvlaki is composed of grilled meat, usually chicken or pork, enveloped in pita bread and served with onions, tomatoes, and tzatziki sauce. These restaurants can be found throughout the city and are a fantastic option for a speedy and economical meal.
Meanwhile, those looking for a more refined dining experience can check out the city's fine-dining restaurants. These establishments offer Mediterranean and international cuisine and are known for their elegant decor, attentive service, and diverse menu of dishes made with locally-sourced and fresh ingredients. Many of these restaurants also feature outdoor seating areas, which offer a stunning view of the city while diners enjoy their meal.
The Athens street food scene is buzzing, and visitors can expect to find numerous food trucks and street vendors serving up delicious Greek street food, including gyros, falafel, and Greek-style burgers. These tasty and cost-effective options allow travelers to experience the flavors of Greece while sticking to a budget.
Athens boasts of a flourishing coffee scene, where numerous coffeehouses and cafes are scattered all over the metropolis. These joints offer a wide array of coffee, tea, and baked goods, making them perfect for a peaceful break while soaking up the energetic vibes of the urban environment.
Nightlife in Athens
This is a city that comes alive at night. Known for its vibrant nightlife scene, the Greek capital offers a wide variety of options for those looking to experience the city's energy and excitement after dark. Whether you're looking for a night out with friends or a romantic evening with your significant other, Athens has something for everyone. 
One of the most popular nightlife destinations is the famous Monastiraki Flea Market. This bustling market is open all day, but it really comes to life at night when the shops and vendors stay open late, and the streets fill with people. You can browse through the market's many stalls, which sell everything from traditional Greek souvenirs to vintage clothing and handmade jewelry. The market is also home to a number of bars and clubs, making it the perfect place to grab a drink and dance the night away. 
If you're searching for a lively nightlife destination in Athens, make your way to Gazi. This trendy neighborhood is famous for its numerous bars and clubs, as well as a diverse selection of restaurants and cafes. Gazi offers something for everyone, whether you're craving a mouthwatering meal at a traditional Greek taverna or looking to party the night away at one of the area's many nightlife hotspots. Don't miss out on Technopolis, a cultural center that hosts year-round concerts and events located right in the heart of the neighborhood.
If you're in search of a classier evening, Athens has a plethora of stylish rooftop bars and restaurants to choose from. These establishments offer spectacular vistas of the city, creating the perfect setting for a romantic rendezvous or an outing with friends. Enjoy a drink while basking in the beauty of Athens' skyline.
Live music is an integral part of Athens' culture and nightlife. Apart from the bustling bars and clubs, the city also boasts of several music venues that host local bands and musicians performing a variety of genres, including rock, jazz, and traditional Greek music. Whether you're an avid music lover or simply enjoy the occasional live performance, Athens offers an experience suited to every taste.
Athens is a city that truly comes alive at night, with a buzzing energy and countless options for entertainment. No matter what your preferences are, you're sure to find something that suits your style in this vibrant destination. So gather your friends and hit the town for an unforgettable night of fun and adventure in Athens.
Shop in Athens
Athens is a shopper's paradise, with plenty of opportunities to explore new boutiques, vintage shops, and designer labels. The city's historic center features a wide variety of shops, including trendy fashion boutiques and traditional Greek souvenir shops. For those seeking a more luxurious shopping experience, Kolonaki and Glyfada offer designer labels, high-end jewelry stores, and high-end fashion boutiques. Meanwhile, for those interested in a more eclectic shopping experience, Monastiraki, Psirri, and Exarchia are home to vintage shops, independent designers, and unique boutiques.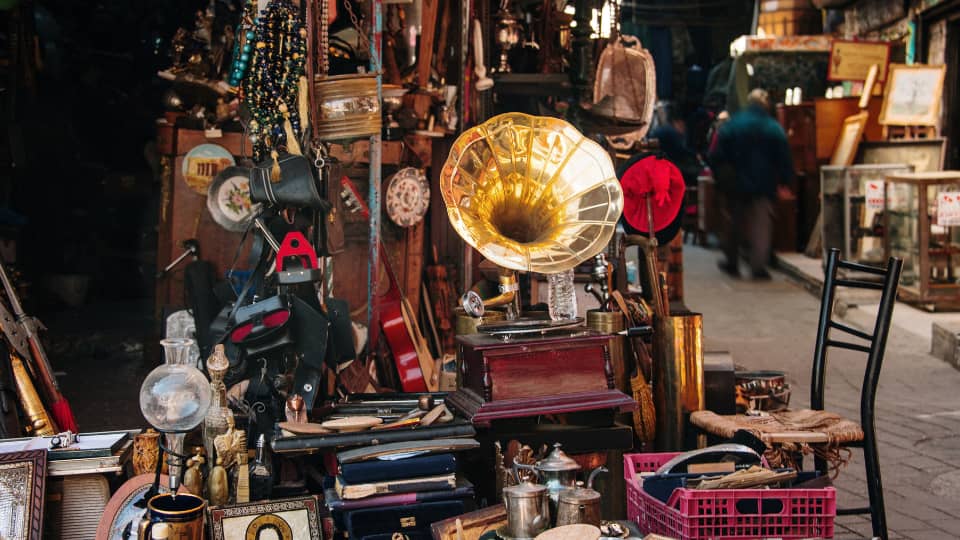 The Monastiraki flea market may be mentioned in every other travel guide to Athens, but it's worth the visit beyond the souvenir shops. Wandering the flea market is an adventure in itself, and if you find yourself in Athens on a Sunday, set aside a few hours to seek out hidden treasures found amongst the bustling stalls. Musicians attempt to draw your attention away from the quirky stalls, but it's impossible not to be in awe of the antiques, classic toys, and retro electronics spilling from every booth. The deeper into the market you go, the more likely you'll be to find your treasure.
The Greek hospitality
Athens is a destination that should not be overlooked due to the exceptional hospitality offered by its friendly and welcoming people. Greek culture places a great emphasis on hospitality, which is evident in every aspect of Athens. Upon arrival in the city, visitors are warmly greeted by locals who are always willing to help them navigate and feel at home.
If you wish to experience Greek hospitality firsthand, consider taking a guided walking tour of the city. Local guides, brimming with enthusiasm for their city, are keen to educate visitors on its history and culture. As you traverse the city on foot, they'll point out its most significant landmarks and share fascinating stories and anecdotes about its rich heritage.
If you want to experience Athens' welcoming atmosphere, the best approach is to wander the streets and engage with the friendly locals. You will find many affable individuals who are eager to chat and introduce you to their culture.
Stay – The Best Boutique Hotels in Athens
Boutique hotels in Athens offer a unique and luxurious experience for travelers visiting the city. They are often located in historic buildings, such as restored neoclassical mansions or charming townhouses and feature elegant decor and top-of-the-line amenities. Many boutique hotels in Athens also offer rooftop terraces with breathtaking views of the city, as well as gourmet restaurants and spas. For those looking for a more exclusive and refined stay in Athens, a boutique hotel is a perfect choice.
Shila

Nestled on a serene street in the sophisticated Kolonaki district, the late-1920s residence of Shila Hotel Athens seamlessly blends timeless elegance with a modern, urban flair. As soon as you step inside, you are enveloped in a harmonious blend of thoughtful hospitality, artfully crafted to awaken all of your senses.

14 Reasons Why

14 Reasons Why is housed in a former storage building tucked away along a quiet street next to Monastiraki Square. The boutique hotel combines the best aspects of industrial style with modern sleekness and designer features. Get ready to experience the 'wow' factor from the moment you step in.
Located in a beautifully restored neoclassical building in the fashionable Kolonaki area, Oniro City offers a sophisticated atmosphere with a mix of modern design and natural hues. The luxurious amenities, contemporary guest rooms, and attentive staff will ensure your visit is a one-of-a-kind experience of grandeur and comfort.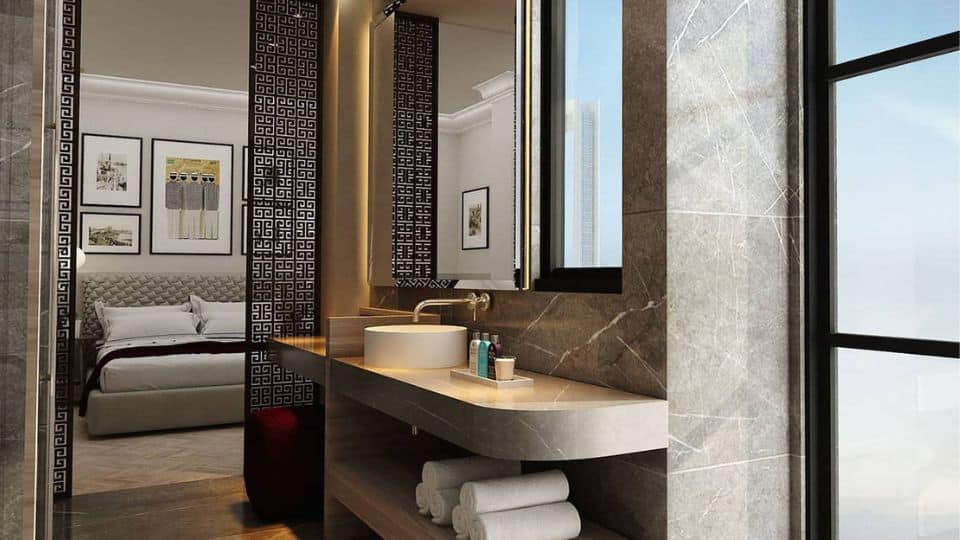 If you believe that industrial locations lack genuine character and history, prepare to be amazed by The Foundry Suites Athens. The structure has undergone numerous transformations since the 1930s, and the hotel boasts a sophisticated blend of industrial design with a contemporary retro aesthetic.

Moon and Stars

The 1920s Art Deco building stands tall and beautiful in the shadow of the ancient Acropolis, which you can contemplate from the hotel's rooftop with a drink in your hand. Whether you're visiting Athens for business or pleasure, the Moon and Stars Hotel is the perfect place to experience the city's rich culture and history in style.

Here is a selection of hotels from The Boutique Vibe that will ensure a luxurious and comfortable stay.

The weather in Athens
Athens enjoys a classic Mediterranean climate, featuring mild winters and hot summers with an average of 300 days of sunshine annually. During the summer months of June to September, the city's temperature averages around 25 degrees Celsius (77 degrees Fahrenheit).
Conversely, the winter season of December to February is much milder, with an average temperature of about 12 degrees Celsius (54 degrees Fahrenheit). Temperatures during the coldest days can drop to as low as 5 degrees Celsius (41 degrees Fahrenheit), with chilly evenings. During this time, the city experiences occasional rainfall, making it wise to pack an umbrella and a jacket.
Travel from Athens to the islands
For those eager to explore the Greek islands, Athens is a favored starting point. Travelers have several transportation options to reach the islands, such as ferries, hydrofoils, and planes.
The port of Piraeus, located just outside Athens, is a bustling hub for travelers seeking to journey from the mainland to the islands. Ferries offer a popular mode of transportation, with regular service to numerous destinations in the Aegean and Ionian Seas. Depending on the island of choice, travel times can vary from several hours to a full day. Top island destinations that can be conveniently reached via ferry from Athens include Santorini, Mykonos, and Naxos.
Travelers looking to reach the islands from the capital have another transportation option available to them: hydrofoils. Unlike ferries, hydrofoils are faster and can cut travel time in half. They operate from the port of Rafina, which is situated to the east of Athens and provides access to various islands in the Cyclades. Among the most well-known islands that can be reached from Athens via hydrofoil are Andros, Tinos, and Mykonos.
If time is of the essence and money is not a concern, visitors can opt for air travel from Athens to the islands. Many of the top islands have airports and domestic flights from Athens serve these destinations. Santorini, Mykonos, and Paros are among the most frequently traveled islands that can be reached by plane from Athens.
Transportation in Athens
Moving around Athens and its suburbs is easy and convenient thanks to an efficient and reliable public transportation system. The metro system is clean and well-maintained, making it a popular choice for getting around the city.
In addition to the metro, Athens has a well-developed bus system, with more than 100 routes throughout the city. Buses are frequent and run late into the night. 
Athens has an excellent network of roads and highways for those who prefer driving, connecting the city to other parts of Greece. However, finding a parking spot can be challenging in the city center, despite the availability of both on-street parking and parking garages.
Day trips from Athens
Although Athens is a great destination to visit, there are also many other places nearby that offer a chance to explore unique Greek traditions and culture. If you plan on spending a few days in Athens, taking a day trip to one of these locations can add a special touch to your trip. Here are some of The Boutique Vibe's top picks for memorable day trips from Athens. You certainly don't want to miss out on these once-in-a-lifetime experiences.
Athens is a remarkable city that is close to the hearts of many, reflecting its rich history and cultural heritage as it has seen the rise and fall of empires yet still stands tall and proud. With its awe-inspiring Acropolis and bustling Monastiraki streets, the capital of Greece provides a unique blend of ancient and modern attractions that can mesmerize any traveler. Whether you are an enthusiast of history, art, and architecture or simply looking for new adventures, Athens is a destination that you should not miss. Therefore, pack your bags, grab your camera, and begin your own journey to explore the beauty and wonder of Athens.