Nestled in the green hillsides of Lefkada Island, you'll find the charming village of Nikiana. Noticeably quieter and less crowded than the typical tourist beaches of Greece, it's an ideal place to relax, unwind and connect to the sea while exploring the Peloponnese region. Cypresses and typical vegetation surround the beach, and as you won't find busy resorts with layers of beach chairs, they provide natural shaded spots to escape the sun. Here is our guide to Lefkada with the best things to do in Nikiana.
Things to do in Nikiana
No need to hire a guide to Lefkada to make the most of your stay. If you love water and are looking for things to do in Nikiana, you're in luck. The town is home to a lot of water sports and activities, such as diving, canoeing, and kayaking. In summer, watch kite surfers and windsurfers play in the strong winds and private sailboats make their way down the coast.
If you prefer to stay on dry land, it's well worth going for a beach exploration to discover the hidden gems tucked along the shoreline. With the help of our Insider Guide to Lefkada, you may simply fall in love with the delightful Nikiana.
Taste
The main restaurant of Nikiana, Porto Nikiana Restaurant, is a lovely place to settle in for a romantic evening. Set right on the beachfront, you'll enjoy uninterrupted views of the exotic blue waters contrasting against the mountains of Aitoloakarnania. A must-try is their seafood risotto, flavored elegantly and showcasing the fresh seafood of the region. Or, for a more traditional fare, their moussaka, Greek eggplant lasagna, is sure to delight.
Home cooking always tastes better, and this couldn't be more true than at Maria's Tavern, located just inland from Nikiana in Kolyvata. Don't expect a range of choices and a lengthy menu as Maria cooks a dish of the day straight from her garden. You'll experience authentic Greek flavors at their finest as you sit in a small cozy setting protected by mature trees. Be sure to call ahead, as bookings are essential.
If you prefer dinner by the sea, head just down the road from Nikiana to the Breath of Zorba. Opened back in 1978 with minimal changes since the restaurant has a charming retro look. The traditional Greek dishes paired with local wine are just divine, and with tables just meters from the sea, you'll feel like you've landed in a dream.
Sip
Small vineyards can be found across the fertile grounds of Lefkada Island, growing two main grapes, Vardea (white) and Vertzami (red), both of which offer a highly aromatic fruity character. If you're a lover of wine or appreciate the odd glass, it's necessary to find time to visit a winery and see for yourself the passion locals have for their harvest. The most well-known but still surprisingly small winery is Lefkas Earth Winery. They offer tours most days which last from 20 minutes to 60 minutes, depending on how deeply you'd like to learn about their production.
Another favorite among locals is Siflogo Winery, located in the tiny mountainous village of Platistoma. Make sure to call ahead and arrange a tour, and allow extra time to stop and take in the views of the Elati and Skaroi mountains on your drive over. You're sure to fall in love with their small workshop combining traditional and modern winery technology, as well as their underground cellar housing their Oak French barrels.
When you're in the area, it's well worth another stop at Karsanikos Family Winery, located just inland from Siflogo Winery. A traditional stone building houses the winery and brings guests back to a simpler time. Be sure to save time for a sample and enjoy a glass of wine overlooking the stunning hills of Lefkada island.
Explore
Exploring Nikiana is easy: this fishing village is organized along the main street, with a picturesque port. Walking from one end of the village to the other and back again can be done in under an hour, so the real exploration takes place outside Nikiana.
If you have an entire day up your sleeve, rent a car and head to Kavalikefta Beach on the Western side of Lefkada Island. Large boulders characterize this secluded beach, which can only be reached by a narrow road. Bring a lunch or enjoy local fare from a small cantina, and spend the day exploring amongst the rocks and finding your perfect place to bask in the warm Greek sun.
Public transport on the island is outstanding. Thus, you can easily take a short trip north to Lefkada or head south to Nydri and see the local museum. The museum itself is not large but features artifacts that tell a fascinating story of Lefkada. Some of the pieces date back to the Neolithic era, while others were unearthed at Hirospilia, a nearby archaeological site.
Chill
Most of the small sandy pebble beaches near Nikiana are unspoiled with calm atmospheres and pleasantly refreshing waters. Don't expect umbrellas and loungers, though. Take your flip-flops, a hat, and a towel, and follow the main road until you find your desired location to set up camp for the day.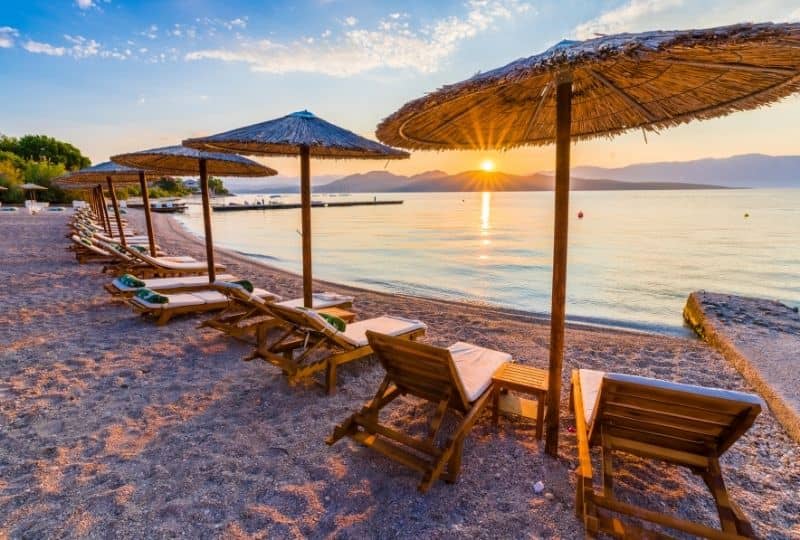 The sparkling sea at Limni beach is stunning in the afternoon sun. Many residents of Episkopos and Nikiana come to this beach, but it is mostly uncrowded. Don't worry if you are a non-swimmer because the beach has gradual depth. While there are no fancy beach bars, you could purchase refreshments and snacks at a store just across the street. If you prefer a quiet beach with hints of luxury and fresh cocktails, you'll love spending an afternoon at K Beach Bar on the northern edge of Nikiana.
Be Active
If you don't mind breaking a sweat, a hike to Ag. Pateres Monastery is a wonderful adventure. This sacred place is nestled in Mount Skaros, the hills outside Nikiana. The views from up there are just breathtaking, and as this trail is well off the beaten path, you won't see many people along the way. Keep in mind that the trail leading to the monastery is steep. Luckily, you could also rent a car and drive up there if you are not in the mood for a workout.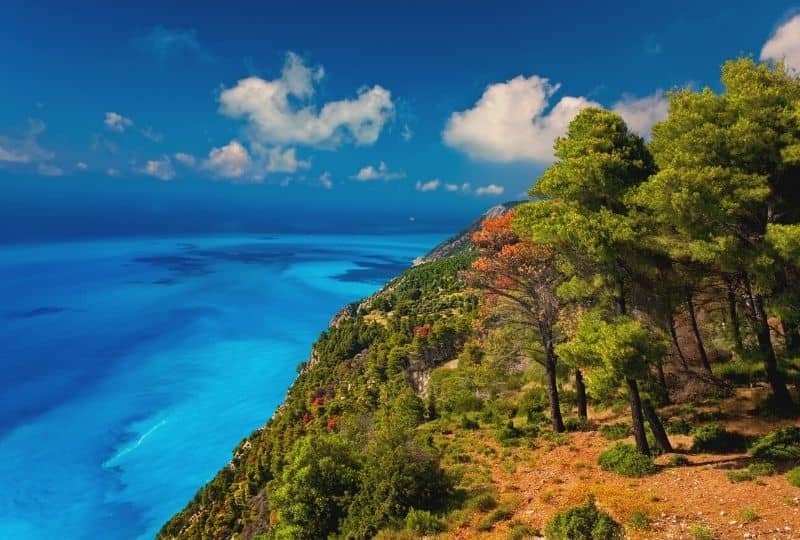 To get even more attuned to nature, a walk through Melissa Gorge will please all of your senses. A stunning contrast from pristine beaches, you'll find yourself walking beside an ancient river, past oak trees, and through beautiful forests. Turn your phone on airplane mode and let the enchanting landscapes engulf your mind.
Party
If you've come to Nikiana for the party, chances are you'll be underwhelmed by the respectable closing times of the restaurants and bars. However, a short 10-minute drive away, and you'll be right amongst it. Heading into Lefkada town, you'll be spoilt with a choice of lively bars. For an iconic night out, keep your eye out for Capital, whose doors open at midnight, and play irresistible dance music until the wee hours of the morning.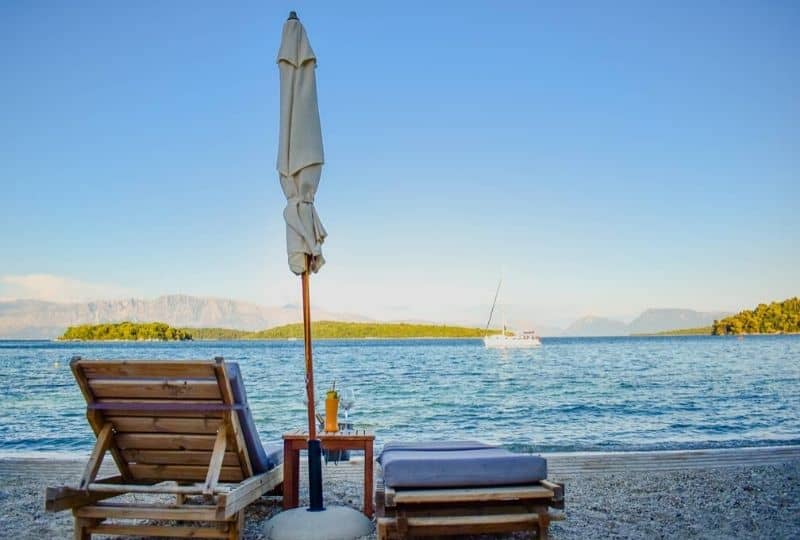 Heading in the opposite direction, you'll find the small town of Nydri, which is equally as great for a night out. For an all-day event, Sail inn Beach Club offers free sunbeds to customers and reasonably priced cocktails, then by night, the sunbeds are replaced by a dance floor right on the beach. There's something inherently extraordinary about dancing the night away as your toes sink into the sand.