Contents
Welcome to Milos, a charming Greek island situated in the Aegean Sea and a true gem waiting to be discovered! With its stunning landscapes, fascinating history, and warm hospitality, Milos is a paradise for those who seek tranquility, natural beauty, and cultural richness.
Milos is a relatively small island, covering an area of just over 150 square kilometers, but it boasts an impressive coastline of more than 120 kilometers. The island's rocky terrain is adorned with unique geological formations, including spectacular volcanic rocks, caves, and hot springs, making it a paradise for geologists, hikers, and nature lovers.
It is also famous for its picturesque villages, where whitewashed houses and blue-domed churches mingle with traditional tavernas and cozy cafes. The island's vibrant cultural scene features a range of events, including music festivals, art exhibitions, and religious celebrations, where locals and visitors come together to celebrate life and community.
Whether you want to unwind on secluded beaches, explore ancient ruins, or indulge in the island's gastronomic delights, Milos has something for everyone. So pack your bags, and prepare for an unforgettable adventure in this enchanting corner of Greece!
History of Milos
Milos has a rich and fascinating history that dates back thousands of years. The island's strategic location between the Aegean and the Ionian seas made it a crucial hub for maritime trade, and it played a significant role in the development of the Cycladic civilization.
The island's geological makeup, characterized by volcanic rocks and ash, has been vital in shaping its history. In ancient times, the island was a major source of obsidian, a valuable mineral used for making tools and weapons. Obsidian mining was a significant industry on the island, bringing wealth and prosperity to the local population.
Milos was also the site of several important events in Greek mythology. According to legend, the island was the birthplace of the goddess Aphrodite, who emerged from the foam of the sea. The famous statue of Venus de Milo, now exhibited in the Louvre Museum in Paris, was discovered on the island in the 19th century.
During the Hellenistic period, Milos was a prosperous city-state with a thriving economy based on agriculture, fishing, and trade. The island was also home to several impressive monuments and public buildings, including a theater, a gymnasium, and a temple of Apollo.
In 1820, Milos gained international attention when a farmer named Yorgos Kentrotas discovered the famous Venus de Milo statue while digging on his land. The statue dates back to the 2nd century BC and is considered one of the most iconic works of ancient Greek art and is a testament to the island's rich cultural heritage.
Today, Milos continues to attract visitors from all over the world who come to explore its fascinating history and cultural treasures. From ancient ruins to museums and art galleries, the island offers a wealth of opportunities to learn about its past and discover the legacy of the Cycladic civilization.
Things to do in Milos
Milos is a treasure trove of ancient history, with several archaeological sites to explore. One such site is the Ancient Roman Theatre, which dates back to the Hellenistic period. The theatre has a seating capacity of over 7,000 people and is known for its excellent acoustics. Visitors can take a tour of the theatre and learn about the history and architecture of this impressive structure.
Another must-visit historical site is the Catacombs of Milos. This underground cemetery dates back to the 1st century AD and was in use until the 5th century AD. Visitors can explore the intricate network of tunnels and chambers, which contain over 2,000 graves. The catacombs are a unique and fascinating glimpse into the island's past.
Milos' thermal waters have been used for medicinal purposes since ancient times, praised by Hippocrates himself. Visitors can now experience their healing power at Hippocrates's Cave spa in Adamas. These waters rich in sodium chloride are recommended for various conditions, from osteoporosis to rheumatism. 
Although Milos has many hot springs and geysers near the sea, they are not fully exploited. The Baths of Aliki and the area on the right side of Paleochori beach are two easily accessible spots to enjoy these thermal waters.
For those looking for a more active adventure, the island offers several hiking trails that offer stunning views of the island's landscape. The Milos Mining Museum also offers a fascinating insight into the island's mining history, which dates back to ancient times. The museum showcases the tools and techniques used to extract minerals such as obsidian, sulfur, and kaolin from the island's volcanic soil.
Milos is home to several charming villages that are definitely worth visiting. One of the most picturesque is the village of Plaka, located on a hill overlooking the Aegean Sea. Its narrow, winding streets are lined with whitewashed houses and traditional tavernas. 
In the center of the village is the impressive Panagia Korfiatissa church, which offers stunning views of the surrounding landscape. Plaka is also home to several museums, including the Milos Mining Museum and the Archaeological Museum.
Another village worth visiting is the fishing village of Klima, located on the north coast of the island. Its colorful, traditional houses are built right on the water's edge, creating a unique and picturesque scene. Many of these houses are used as boat houses and have been converted into cozy accommodations for visitors. Klima is a perfect place to relax and soak in the laid-back island vibe.
Finally, the village of Adamantas, located on the southern coast of the island, is the main port and commercial center of Milos. Here you'll find plenty of shops, restaurants, and cafes, as well as a picturesque promenade lined with fishing boats. The village is also home to the Ecclesiastical Museum of Milos, which houses a fascinating collection of Byzantine and post-Byzantine religious artifacts.
Taste- What to eat in Milos
Milos, a stunning Greek island located in the Aegean Sea, is famous for its rich history, crystal-clear waters, and breathtaking landscapes. However, what many visitors often overlook is the island's outstanding culinary scene. With its abundance of fresh seafood, locally grown vegetables, and delicious cheeses, Milos offers a unique and unforgettable taste experience.
One must-try dish when visiting Milos is the "Pitarakia," a pastry filled with local cheese and honey. The pastry is crispy on the outside, and the filling is a perfect balance of sweet and savory. It's a must-try for those who love traditional Greek food. 
The locals also recommend the "revithada," a hearty chickpea stew slow-cooked with onions, garlic, and tomatoes. The stew is served with freshly baked bread and drizzled with olive oil, making it a comforting and delicious meal.
Seafood lovers will rejoice at the fresh catch of the day, which can be found in many restaurants and tavernas on the island. The octopus is a popular dish and is served grilled, boiled, or baked with olive oil and lemon. For a more traditional seafood experience, try the "psarosoupa," a hearty fish soup with vegetables and fresh herbs. The soup is a perfect way to warm up on a cool evening and is packed with flavors that will make your taste buds dance.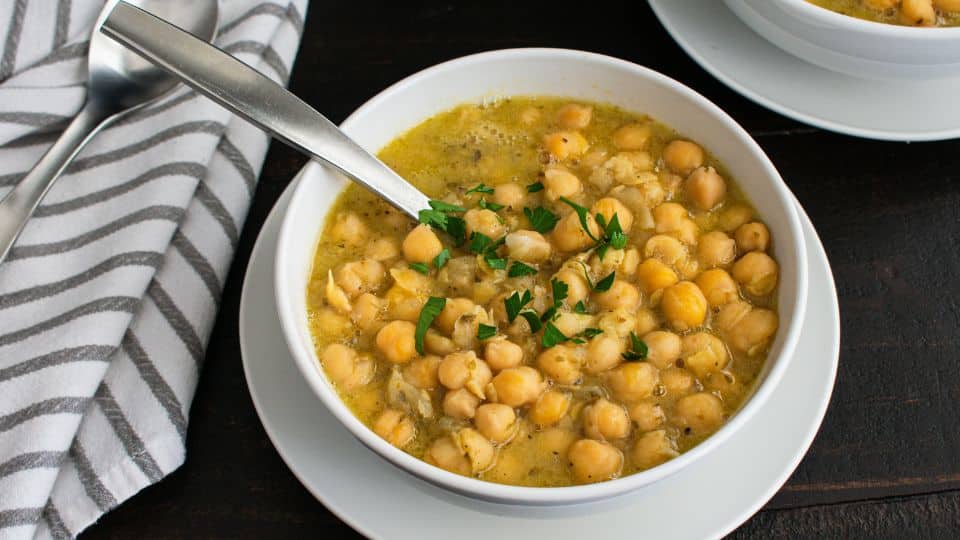 Milos is also famous for its "ladenia," a flatbread topped with tomatoes, onions, and oregano and baked in a wood-fired oven. The bread is crispy and has a smoky flavor, making it the perfect snack to have with a glass of local wine.
No trip to Milos is complete without trying the island's famous cheese, the "xynotyro". This cheese is made from the milk of goats and sheep that roam freely on the island. It has a tangy, slightly sour flavor and can be enjoyed on its own or used in various dishes. The "xynotyro me meli" is a popular dessert, which is a slice of cheese drizzled with honey and sprinkled with cinnamon.
To wash down all the delicious food, try the local wines, which are made from grapes grown in the volcanic soil of the island. The "Malagouzia" and "Assyrtiko" are two popular white wines that are crisp, refreshing, and pair perfectly with seafood dishes.
Nightlife in Milos
While Milos may not be as famous for its nightlife as some of the more well-known Greek islands, it still offers a lively and enjoyable experience for those looking to have a fun night out. Whether you prefer to dance the night away or enjoy a quiet drink with friends, Milos has something for everyone.
For those who enjoy cocktails, there are many bars and tavernas around the island that offer a variety of unique and refreshing drinks. Try a classic Greek ouzo or raki, or sample some of the local wines that Milos is known for. There are also many bars that offer creative and modern cocktails made with fresh local ingredients.
For those who prefer a more low-key nightlife experience, there are many beachfront tavernas and cafes that offer a relaxed atmosphere and stunning views of the sea. Sit back and enjoy a glass of wine while watching the sunset over the Aegean, or savor some of the delicious local cuisines.
If you're looking for a livelier nightlife scene, head to the island's main town, Adamantas. Here you will find a variety of bars and clubs, some of which stay open until the early hours of the morning. Dance to the latest hits and enjoy a drink or two with friends at one of the many bars, or head to one of the clubs for a more high-energy experience.
For a more authentic Greek experience, head to one of the traditional villages on the island. Many of these villages have small cafes and tavernas where you can enjoy a drink or a meal with the locals. You may even be treated to some traditional Greek music and dancing.
Stay – Find your hotel in Milos
Milos offers a range of accommodations for visitors, from simple guesthouses to luxury hotels. Where you stay on the island can greatly affect your overall experience.
For those seeking a more authentic Greek island experience, staying in the traditional villages of Plaka or Tripiti can be a great option. Both offer stunning views of the sea and are within walking distance of many historic sites and local tavernas. The narrow streets and white-washed buildings add to the charm of these villages, making for a picturesque and peaceful stay.
For those who want to be close to the action, staying in the port town of Adamas is ideal. Here, visitors will find a wide variety of restaurants, cafes, and shops, as well as a bustling nightlife scene. Adamas also serves as the main transportation hub for the island, with ferries and buses departing from here to other parts of Milos.
For those looking for a more secluded and tranquil getaway, the southern beaches of Paliochori and Agia Kyriaki offer a serene and laid-back atmosphere. These areas are perfect for those who want to relax and soak up the sun without the crowds. There are a few hotels and villas in these areas, providing guests with a peaceful and private stay.
Lastly, for those seeking a luxurious and indulgent vacation, there are several high-end hotels and villas scattered throughout the island. These accommodations offer top-notch amenities and services, along with stunning views and a private atmosphere.
No matter where you choose to stay on Milos, you will surely find a comfortable and welcoming accommodation to fit your needs. From traditional villages to modern luxury, the island has something for everyone.
Be Active – Outdoor Activities in Milos
If you're a lover of the great outdoors, then Milos is the perfect destination for you! This Greek island is home to some of the most breathtaking natural scenery in the world, and there are plenty of activities to keep you active throughout your stay.
One of the best ways to experience Milos is by taking to the sea. The island is surrounded by diaphanous waters, and there are plenty of opportunities for swimming, snorkeling, and scuba diving. Whether you're an experienced diver or a first-timer, there are plenty of dive sites to explore, including underwater caves, shipwrecks, and vibrant reefs teeming with marine life.
If you prefer to stay on dry land, then Milos has plenty to offer too. The island is home to several hiking trails that take you through some of the island's most spectacular scenery. One of the most popular trails is the hike from the village of Zefyria to the ancient city of Phylakopi, which takes you through rolling hills and stunning views of the sea.
For those who prefer a more adrenaline-fueled experience, Milos also offers the opportunity to try your hand at water sports. Kayaking, windsurfing, and kitesurfing are all popular activities on the island, and there are plenty of rental shops and schools where you can learn the ropes.
For an inland adventurous experience, why not try rock climbing? Milos has several climbing spots that are suitable for all levels, from beginners to experienced climbers. The island's rugged cliffs and stunning rock formations provide the perfect backdrop for an adrenaline-fueled climb.
If you're looking for a more leisurely way to enjoy the island's natural beauty, then why not take a boat tour? There are plenty of options available, from small boats to larger catamarans, and you can explore the island's hidden coves and beaches, as well as its famous sea caves.
Are you a romantic soul? Milos is known for its stunning sunsets, and there's no better way to experience them than by watching from a secluded beach or hilltop. Pack a picnic and a bottle of wine and settle in to watch as the sun dips below the horizon, casting a warm glow over the island.
The Best Beaches in Milos
Milos is home to some of the most beautiful beaches in Greece, if not the world. The island's coastline is dotted with secluded coves, hidden bays, and stretches of pristine white sand, all of which offer a unique and unforgettable experience. Here are just a few of the best beaches that Milos has to offer:
Sarakiniko is undoubtedly one of the most iconic beaches on the island, and for good reason. The beach is characterized by its white volcanic rocks, which have been sculpted by the wind and sea to create a lunar landscape. The crystal-clear waters are perfect for swimming and snorkeling, and the beach is a popular spot for cliff jumping.
Tsigrado is a hidden gem that can only be accessed by a steep and narrow staircase cut into the cliffside. The effort is worth it, however, as you'll be rewarded with a secluded beach surrounded by towering cliffs. Tsigrado beach is small but perfectly formed, with clear turquoise waters and soft white sand.
Fyriplaka is one of the most popular beaches on the island, and it's not hard to see why. The beach is a long stretch of golden sand, fringed by pristine waters and backed by dramatic cliffs. There are plenty of facilities on offer, including sun loungers, umbrellas, and beach bars.
Kleftiko is not so much a beach as a series of coves and sea caves, but it's a must-visit destination for anyone traveling to Milos. The area can only be accessed by boat, but once you arrive, you'll be greeted by a stunning natural wonderland. The rock formations and beautiful waters are perfect for exploring by boat, snorkeling, or simply lounging on the deck and taking in the breathtaking scenery.
Agion Ioannis is a secluded and tranquil beach located on the eastern coast of Milos. The beach is surrounded by lush greenery and towering cliffs, and the calm waters make it an ideal spot for swimming and snorkeling. The beach is also known for its stunning sunsets, which are best enjoyed from the top of the nearby cliffs.
Mytakas is another hidden gem on Milos, located on the northern coast of the island and is surrounded by cliffs and translucent waters. The secluded location and lack of facilities make it a popular spot for those looking for a more off-the-beaten-track experience.
Another option is Plathiena Beach, which is located on the southern coast of Milos and is accessible by car or bus. The beach is sandy and has shallow, calm waters, making it ideal for children and people with limited mobility. There are also facilities such as sun loungers, umbrellas, and a beach bar.
How to get to Milos, Greece
Are you ready for a breathtaking Greek island adventure? Getting to this paradise is easy, with both air and sea travel options available.
If you choose to fly, take a short 30-40 minute flight from Athens International Airport to Milos Airport. Upon arrival, soak up the island's charm and beauty just 5km away from the airport, in the main town of Adamas, where a taxi or bus can take you to your final destination.
Alternatively, you can reach Milos by ferry from Athens or other nearby islands such as Santorini, Mykonos, and Crete. The ferry journey takes longer but offers the chance to take in the stunning scenery of the Aegean Sea along the way.
The ferry journey to Milos from Athens takes around 7-8 hours, but the longer travel time is more than worth it for the breathtaking views of the Aegean Sea. Trips from Santorini and Mykonos take around 2-3 hours, while from Crete, it can take up to 8-10 hours, depending on the route.

Once you arrive on Milos, you'll be greeted by a beautiful island with stunning beaches, traditional villages, and friendly locals. So what are you waiting for?

Transportation on Milos island
Transportation in Milos is easy and convenient, with various options available to explore the island. Whether you prefer the freedom of driving your own vehicle or the ease of organized tours, there's a mode of transportation to suit everyone's needs.
One of the most popular ways to explore Milos is by renting a car, scooter, or ATV. With a range of rental options available in the main town of Adamas, you can easily explore the island's hidden gems at your own pace. However, be sure to check with your rental company about the condition of the roads, as some areas of the island may require a more rugged vehicle.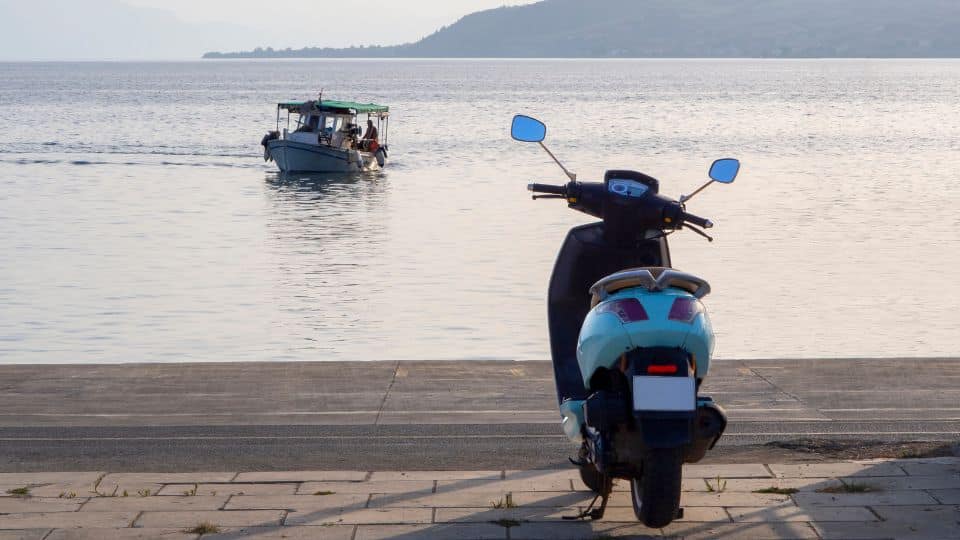 For those who prefer to sit back and relax, organized tours are a great way to explore Milos without the stress of driving. Boat tours take you to the island's more secluded beaches and sea caves, while bus tours take you on a journey through the island's traditional villages and natural landmarks.
If you're looking for a more eco-friendly option, bicycles are available for rent, allowing you to explore the island's charming villages and scenic coastal roads at a leisurely pace. And for those who prefer to stick to their own two feet, walking and hiking trails are available, offering stunning views of the island's natural beauty.
Island hopping from Milos
Milos is a hub for island hopping, with numerous neighboring islands that offer a diverse range of experiences. From the party scene of Mykonos to the tranquil shores of Folegandros, there's an island for everyone to discover.
Mykonos is perhaps the most famous of the nearby islands, known for its lively nightlife and glamorous beach clubs. Just a few hours by ferry from Milos, Mykonos is a must-visit for those looking for a party atmosphere and a taste of luxury. Read our Insider Guide to Mykonos and learn more about the island's secrets.
If you're looking for a more laid-back island experience, head to the charming island of Folegandros. With a small population and limited tourist development, Folegandros is the perfect destination for those seeking tranquility and relaxation. The island's picturesque villages, stunning beaches, and cliffside views are sure to leave you breathless.
For those interested in history and culture, the island of Delos is a must-visit. Just a short ferry ride from Mykonos, Delos is a UNESCO World Heritage site and is said to be the birthplace of Apollo and Artemis. Explore the island's ancient ruins, including the Temple of Apollo and the Terrace of Lions, and soak up the island's rich history.
Another nearby island that offers a more relaxed atmosphere is Sifnos. Known for its traditional architecture, beautiful beaches, and mouth-watering cuisine, Sifnos is a foodie's paradise. Sample local specialties such as chickpea croquettes and almond sweets, and wander through the island's charming villages.
Finally, for those seeking an off-the-beaten-path island experience, head to Kimolos. Just a short ferry ride from Milos, Kimolos is an undiscovered treasure that offers a tranquil and authentic Greek island experience. With unspoiled beaches, crystal-clear waters, and a laid-back vibe, Kimolos is the perfect destination for nature lovers and those seeking to escape the crowds.
When to visit – Weather in Milos
Milos is a stunning island that has much to offer all year round, but the best time to visit depends on what you're looking for. With its mild Mediterranean climate, Milos is blessed with long, sunny days and warm temperatures for most of the year.
If you're a beach lover and looking to soak up some sun, the summer months of June through August are ideal, with temperatures ranging from 25°C to 30°C. The sea is warm and as clear as a bell, perfect for swimming, snorkeling, and diving. This is peak tourist season, so expect the island to be busier and accommodation prices to be higher.
If you're looking for a quieter and more affordable time to visit, the shoulder seasons of May and September are excellent options. Temperatures are still warm, ranging from 20°C to 25°C, and the sea is still warm enough for swimming. The island is less crowded, and you can enjoy the stunning scenery without the hustle and bustle of peak season.
For those seeking a more active holiday, spring and autumn are also excellent times to visit. The island's mild climate is perfect for hiking and exploring, with wildflowers and blooming plants adding to the natural beauty of the island.