Sun, sea, and a sensationally good time; that is what the best islands in Greece have to offer.
Whether you want a party that blurs the lines between night and day or want to get lost in a verdant forest, far from bathing beachgoers, Greek islands have it all. Here is a look at the best islands in Greece that will wine and dine you to no avail and where to stay when exploring these idyllic destinations.
Santorini
This island needs no introduction as its dramatic cliffs and iconic whitewashed houses have become synonymous with Greek islands. Santorini is steeped in romance and the surroundings are unmistakably beautiful.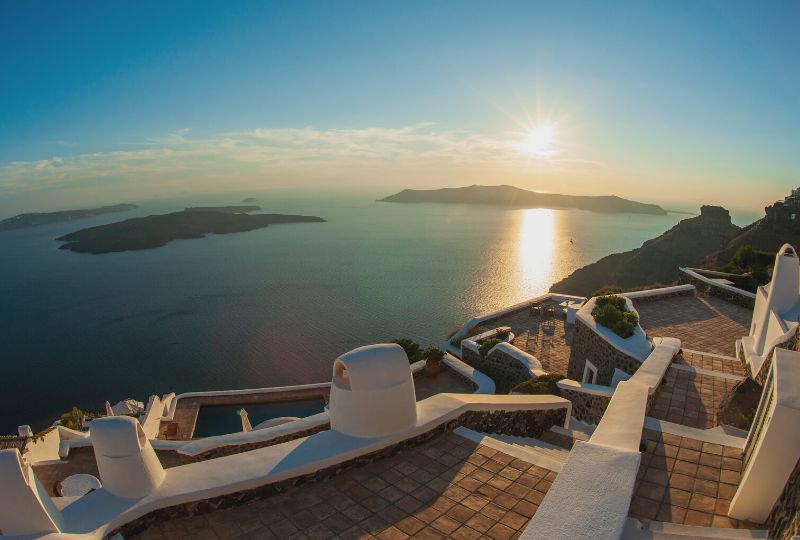 The capital Fira is a hive of activity with scores of bars, restaurants, and shops lining the winding cobbled streets. Oia is without a doubt the main attraction on Santorini with thousands of people lining the caldera alleyways to watch the magical sunset over the Aegean.
A visit to Santorini is filled with the prospect of lazing about at a boutique hotel, fawning over the vertiginous cliffs, indulging in the finest wine and cuisine the Mediterranean has to offer.  Santorini is one of the best islands in Greece for honeymooners and first-timers flock here for its iconic vistas and tourist-friendly nature.
Where to stay in Santorini
Athina Luxury Suites clinging to the cliffs outside Fira offers unbridled luxury and minimalist perfection. Step out from your sumptuous cave suite onto a private terrace where you can dip your toes into a private Jacuzzi or lounge in the Mediterranean sun. When it comes to finding a boutique hotel in Santorini, few can compare to the all-round luxury offered at Athina.
Spetses
Affluence and luxury know now bounds on Spetses, one of the most beautiful of the Saronic Islands. Venetian manners line the streets of the Spetses town which is only a 2-hour ferry ride from Athens.
The town is also a car-free location making it one of the best islands in Greece for a city break, away from the drain of the rat race. The charming port, Dapia, offers a miscellany of bars and restaurants putting you right in the heart of the good life. Baltzia, the old harbour, also gives you a peek into the long maritime culture of the island.
The beaches of Spetses are unmissable with long secluded stretches with ample space for bathing holidaymakers. Vrellos, Agia Marina and Agia Paraskevi are some of the most spectacular beaches with clear water and a pristine coastline.
Where to stay in Spetses
For the most luxurious experience, choose a boutique hotel in Spetses located in one of the maritime mansions of the town. Mare Monte Luxury Suites is an 18th-century building that was once occupied by seafaring aristocrats and still upholds the long tradition of opulence and quality accommodation.
Mykonos
Mykonos has become the place of fame and excess with luxury yachts mooring in the harbour, glitzy clubs lining the beaches, and 5-star hotels being the norm. With more than 30 beaches around the island, ranging from well-organised to ultra-remote, this is one of the best islands in Greece for a beach holiday.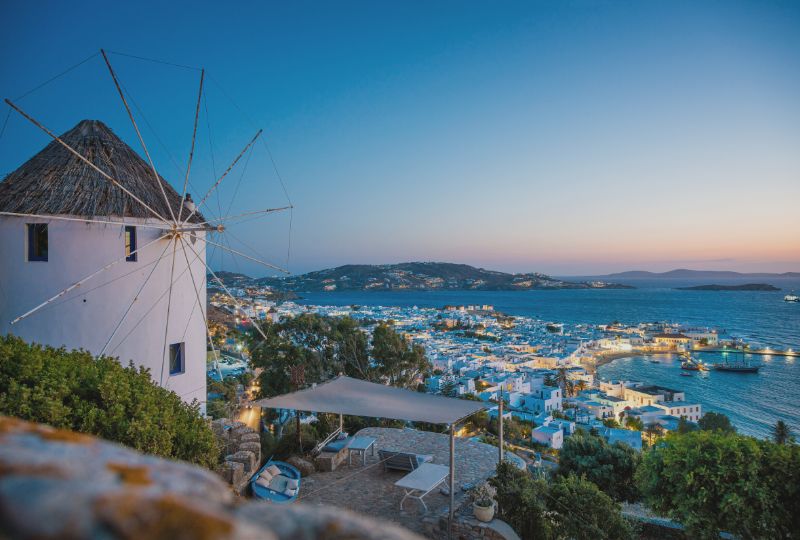 Mykonos offers a taste of everything that is great about Greek island life. Charismatic architecture, a labyrinth of unique shopping, iconic sights, blissful beaches, and never-ending energy. This is the place to be for lovers of nightlife but in Mykonos, the revelry spills over into the daytime with bronze bodies enjoying this Greek island paradise playground.
Where to stay in Mykonos
The charming village of Ornos is only a short way away from the bustling capital of Mykonos and offers a slightly slower pace. At Kensho Ornos boutique hotel, visitors can sit back in a private plunge pool, sip on expertly crafted cocktails, and soak in every bit of luxury Mykonos is renowned for. Choose a boutique hotel in Mykonos that lets you keep your finger on the pulse of the party while escaping to a revitalising utopia.
Andros
Andros is one of the most underrated treasures of the Cycladic Islands and one of the best islands in Greece for those looking for a relaxing escape. The island has an abundance of freshwater sources, transforming the Mediterranean landscape into a lush green affair.
The areas around Gavrio port are decorated with mansions of shipping merchants, giving the main town a glitzy air. Hikers particularly love Andros thanks to its sprawling web of hiking trails cross-crossing over undulating hills and down into cool valleys.
On the edges of the island lay more than 100 picturesque beaches, guaranteeing an unforgettable experience no matter what you seek; from gyrating beaches filled with beach bars to uber-remote beaches only for those in the know.
Where to stay in Andros
Enjoy the abundant nature of the island from Ktima Lemonies, the most charming boutique hotel in Andros. The three-acre plot of land is filled with rows of fruit trees lining the way to the lovingly restored farmhouse. Enjoy the wide scope of activities the island has to offer and return to a quiet, off-the-beaten-path retreat to unwind and live off the land.
Naxos
Naxos, one of the most fertile places in Greece, is bellowed for its appetising array of locally made delicacies like cheese and wine. It is also spoilt with mile upon mile of magnificent white sandy beaches spilling into crystalline waters.
Sleepy villages sit beachside while eager farming communities cover the interior of the island, all offering a unique insight into the centuries-old farming tradition that dominates on Naxos. It is one of the best islands in Greece to explore history thanks to the abundance of museums and archaeological sites, while still enjoying the relaxing nature of island life.
Where to stay in Naxos
Not every boutique hotel in Naxos is beachside. In fact, ELaiolithos Luxury Retreat sits in a privileged on a hillside inland from the eastern beaches of Naxos. Delectable farm-to-fork food is served with a side of grand sweeping over the island. Let calm wash over you as the boutique hotel's restful atmosphere envelops your stay.
Lefkada
Unlike other islands that need to be reached by ferry or plane, Lefkada is accessible by a causeway connected to the mainland of Greece. It is one of the best islands in Greece for a quick breakaway. Here you will find one magical beach after another, hidden away in a rocky outcrop or creeping out from a shady pine forest.
Mountain villages, rich cultural heritage, and an abundance of water sports all make this island a unique destination. It is often overlooked by people seeking the quintessential Greek island experience but Lefkada offers that and even more. Strap on your hiking boots and explore the multitude of waterfalls and hiking trails along the verdant interior of the island.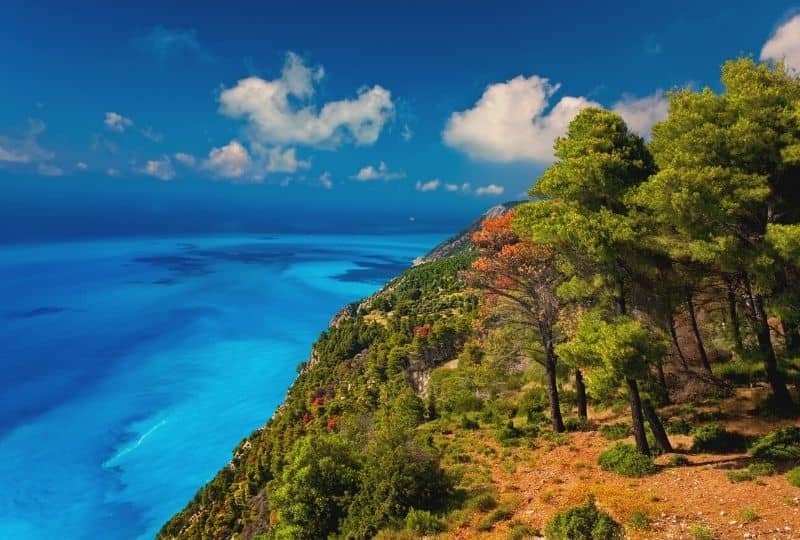 Where to stay in Lefkada
Lefkada has an array of stunning villas, hotels, and apartments to rent. A modern and ultra-luxurious stay is on the cards at Thomais Boutique Hotel in Lefkada.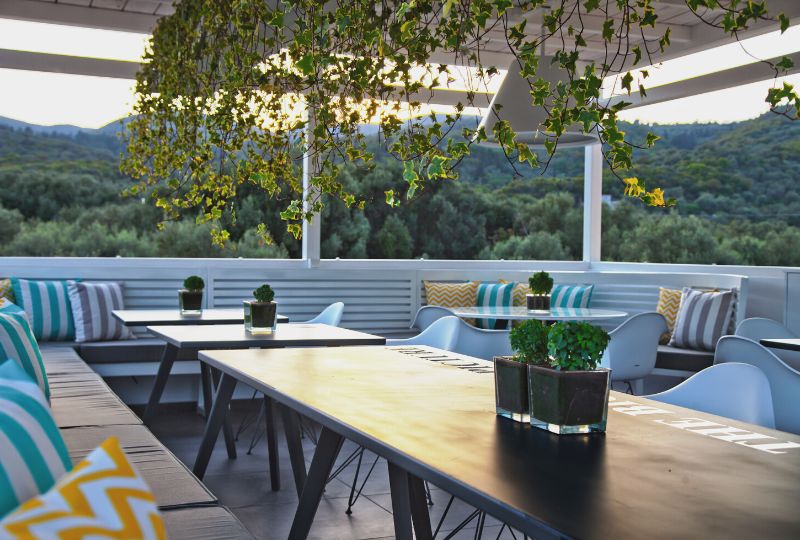 Whether you want a view of the mountains or the sea, here you can enjoy both from the lap of luxury in a contemporary room. Thomais Boutique Hotel's spa is another extra treat for weary bodies looking to be pampered and revitalized.