Lunar landscapes stretch for as far as the eye can see – a sea of ochre and red, dotted with intermittent, tiny clusters of palm trees. The Berber villages of southern Tunisia may have inspired the film set for the original 1976 Star Wars movie, but there's so much more to see and do with hiking trails, museums, artisan shopping, Troglodyte architecture, and mouth-watering gastronomy.
So, let's take a road trip in Tunisia, to discover the places which sparked a global film franchise and explore the sights and attractions on a road trip from Tamezret to Medenine!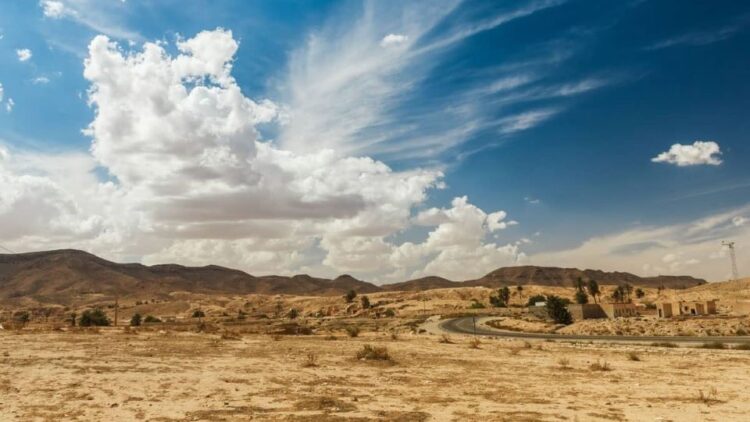 Immersion in Tamezret, the preserved Berber Village Tunisia
Tamezret lies around an hour southwest of the Mediterranean port town of Gabes. It's a village rich in culture, steeped in Berber history and deep-rooted in ancient traditions.
At first glance, the Berber village looks desolate, barren – a tumbling cluster of sandstone houses in a desert-like landscape with a smattering of goats and sheep for company. But on closer inspection, this is a charming hamlet, abundant with Berber traditions, crafts, and delicious cuisine and there's no better place to gain insight into the lives of these nomadic people than right here.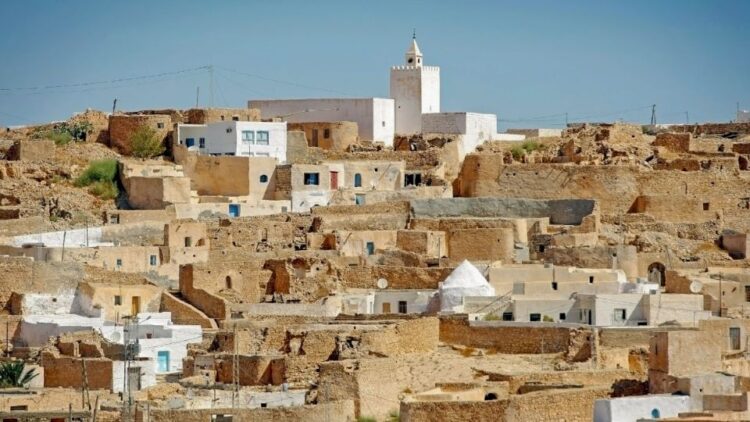 Begin your exploration at Tamezret Berber Museum. Here, you can discover arts and crafts, learn about local life, and explore rustic buildings in which citizens live. Life is peaceful here, simplistic and appealing, like the days before the advent of technology. In the village, people still take great pleasure in creating useful items like ceramics, blankets, and cushions, whilst others tend to the land and indulge in agricultural pursuits. As you wander through quiet hilly streets, uneven stone walls hide communal houses and atop the hill, a white-washed mosque stands alone, offering incredible views of the sparse, yet beautiful landscape.
When planning this step of your road trip in Tunisia, we highly recommend that you book a table at L'Auberge de Tamezret they offer a delightful dinner in a typically Berber setting. A unique refined dining offering in this part of the country.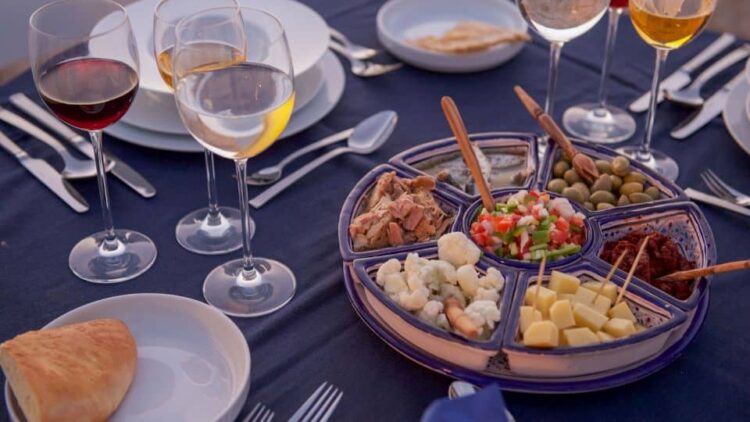 Travelling from Tamezret to Matmata – 11 kilometres
A short 15-minute drive from Tamezret along the C104 route, you reach Old Matmata. The pretty town boasts an unusual landscape, punctuated with date palm trees, lunar-like craters, and underground homes embedded into the rocks. These houses – Troglodyte cave dwellings, were used in the original Star Wars movie to portray the home of Luke Skywalker.
The town was relatively unheard of until the early 1970s, it was instead, a place for wandering nomads to lay their weary heads after days of trekking through the desert. However, today, it remains a favourite tourist hotspot, firmly embedded in Tunisia's tour itineraries, its profile greatly enhanced by George Lucas' movie franchise.
Matmata is a pleasant town to wander around, locals open their doors to visitors, having created their own unique folklore exhibitions. If the weather is hot, escape the heat and take a tour of the original Troglodyte dwellings which Berber people built with secret, underground passageways in which to escape invaders.
Driving from Old Matmata to Toujane – 26 kilometres
Just thirty minutes further along the C104 road is the pretty village of Toujane. It may be small, but it has some of the best views in the region from Escale Belle Vue. The hillside is rugged and rocky and pathways steep and winding, however, once at the summit, you're rewarded with some of the most beautiful vistas in southern Tunisia.
A quaint artisan shop selling Berber rugs, gifts, and carpets sits at the top, plus you can enjoy a refreshing drink or snack in the café whilst admiring the views. Fans of Call of Duty 2 will also recognize the scenery of Toujane whilst walking around, as some of their gaming maps were based on the Berber villages.
Toujane to Medenine by Car – 39 kilometres
If you wish to continue your journey, you may enjoy spending a few hours in the ancient Tunisian city of Medenine. It's less than an hour's drive from Toujane and has some of the most exquisite architecture in the region. In the heart of the city, Ksar of Medenine should be your first stop. These one and two-story, arched granary stores with faded coloured doorways were once an old storage facility built around a huge square, used by Berber families to protect their food sources.
Today, it's interesting to explore inside these stores, imagining life in days gone by and seeing how the nomads lived. If you can make it to the upper levels and rooftops you can gain amazing views of Medenine's city skyline. Many of the ground floor rooms have been turned into art and craft shops that sell Aladdin style slippers, kaftans, ceramics, and rugs, making it a wonderful spot to pick up one-of-a-kind gifts or souvenirs.
When you've experienced Ksar of Medenine, venture to the private Museum of Customs and Traditions packed with traditional artefacts, costumes and tools once used to work the land in this area of Tunisia. It's an interesting tour and the courtyards with palm trees and greenery against the backdrop of arched stone buildings are simply stunning, offering superb photo opportunities.
The great news is, even with all of these steps, you have only travelled less than 2 hours by car, meaning all of these Berber villages, viewpoints, historical landmarks, and cities are incredibly easy to reach in a day from your hotel in Tamezret!