A city located on the ancient trade routes and pilgrimages, Nicosia Cyprus, has long been a place of renown and admiration. This majestic city has hosted kings, emperors and even mythic heroes. Inhabitants and visitors delight in its vibrancy and magic alike.
Hot summers and pleasant winters embrace Nicosia, making it a perfect place to visit all year round. A stroll down the colourful streets will take you back in time through Nicosia's rich history. It's easy to see why the city has remained a place of allure and enchantment.
This is our Insider Guide to Nicosia with the top things to do in Nicosia, in 2022.
Things to do in Nicosia
Nicosia sits on the division between Greek and Turkish Cyprus. You will easily become engrossed with the mesmerizing culture and history that infuse it. Simply being there, surrounded by the aroma and sounds of the Mediterranean, will sweep you off your feet.
With bustling life, an array of restaurants from authentic to fusion, streets of shops and cultural spots, your day will flow easily. When you are ready to relax, ancient hammam spas and beautifully resorted hotel await you.
Taste
Symbolically, nothing is more a part of the island than the mighty olive trees. The oldest one is on the road between Nicosia to the Troodos Mountains. Nicosia itself is home to some of the best tastes Cyrpus offers. Rich in tradition and flavour, you have endless possibilities. Just step out and start discovering. Your nose will lead you to the best.
Make sure to try Halloumi, a cheese dating back to the 16th century, or Koupepia, a traditional favourite of the locals. For a flavoursome evening, step into the secluded street garden and the elegant Tsipouraki Mezedaki. Every plate is exceptional, and you might have to order them all at this cosy but tasteful place.
If you prefer a more authentic experience, look no further than Zanetos, the tavern hidden in Old Town. With unmatched hospitality and an owner as endearing as the restaurant, your senses will be delighted while you dine. The authentic Cypriot dishes are a traditional taste that will give you a genuine feel for Cyprus and Nicosia.
At the MAP hotel, SCALE offers fine dining and an alluring ambience that can't be surpassed. Their menu is an inspired mix of traditional Mediterranean and local flavours.
Sip
After a busy day of exploring, enjoy the heart and soul of Nicosia at the iHeart Café. This modern artisanal coffee house is a local favourite. Stepping inside, the smell of roasting coffee beans will envelop you.
If you are torn between coffee or cocktails, both Prozak and Kafenio Café is where you want to be. In Prozac Kafeneio you can try the local favourites like Brandy Sour or Matica liqueur based cocktails. And Kafenio's atmospheric vibe in the ancient centre of old Nicosia is both chic and cosy. Finish your evening with a luxurious experience at Taratsa by High and Wet. With stunning views of the city, the rooftop lounge will leave you breathless.
Lastly, sophisticated but comfortable places are The Gym and SCALE. They are subtle and quaint, perfect for any occasion, and they both host a gorgeous display of art.
Explore
Nicosia is an endless maze of passion and effervescent elegance. Everywhere your eyes linger, you will find vibrancy, the buildings each having a character of their own. Be sure to admire any of the ornate balconies.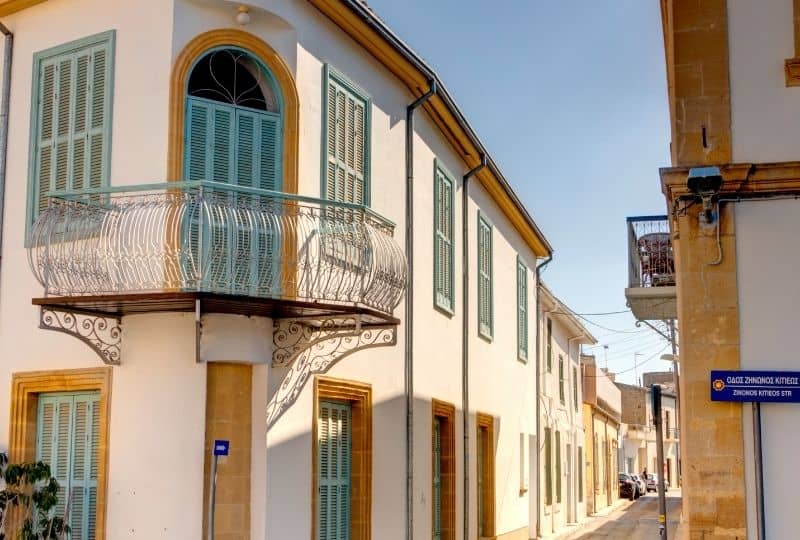 Stroll through the narrow winding streets of the restored quarter of Laiki Geitonia. There you will find craftsmen and artisan shops. Famagusta Gate is the entrance of the old city and calls back to the majesty and magnificence of Nicosia.
Step into St John's Cathedral for a moment of respite. This ancient stone cathedral, built in the 14th century, still is a testament to its beauty. Inside, marvel at the adornments and frescos. The next day, enjoy the whimsical Fairy Tale Museum. The books suspended from the ceiling and hidden doors will transport you into the magical and imaginative world of fairytales.
Shop
Lined with iconic yellow and green buildings and covered canopies, area around the Ledras Street is the first place to go shopping. This thoroughfare runs until the border of the country, where you can cross to the northern (occupied) side. There are various shops, from luxury and high fashion to small local shops. Ledra Street hosts the former tallest building in Nicosia from which you can enjoy a panoramic view of the city.
Take a walk to freshly modernized Makarios Avenue to find more modern local shops and cafeterias. Or visit Stasikratous Streetvisit, which rivals London's Bond Street. Don't miss out on Phaneromenis 70, a love story to local craftsmanship and artwork like ceramics, jewellery, clothing designs, postcards or bags – a unique hidden gallery you've always wanted to find.
Be active
Although walking through Nicosia will keep you active, there are many opportunities if you are the more adventuring type. Any city park offers a place for a morning jog or stroll. Athalasssa National Forest Park contains a lake, botanical garden and trails for hikers and cyclists. You can easily spend a day in the lush scenery, taking in the aroura of the local eucalyptus trees.
If you are tired of being inside the city itself, the surrounding countryside boasts glorious nature. You can find yourself in rugged Vineyards, gorgeous beaches, and dramatic cliffs just hours outside the city. The Cavo Greco, Salty Lake of Larnaka or Avakas Gorge are some of the beautiful places to visit.
Chill
When you are ready to rest, Nicosia is filled with places to do so. Spend the afternoon treating yourself in the Legends Spa located in the MAP Hotel. Let yourself relax and be pampered in luxury. Or you can spend the afternoon sitting in the Alsos Forest, watching the wildlife while you sip your coffee.
If you prefer a more stimulating type of chill, visit one of the cafés where people play Tavli, a popular game amongst the locals. Perhaps even find someone to teach you the rules and try a few rounds yourself. For a more authentic, traditional experience, visit the mysterious and peaceful Hammam Omerye. A hammam spa dating back centuries is a historical jewel. This small paradise in Nicosia's old town is designed to bring harmony and ease.
Stay
The best advice for places to stay is to find somewhere as close to the old city as possible, closest to the heart of Nicosia, where you become a part of the complex tapestry and soul of the city.
One likely place is the MAP Hotel. This black and white modern boutique hotel offers exceptional hospitality. Its breakfast is not to be missed, and the old town is minutes, so even if you have a late morning, you are ready to start the day.