Welcome to Corfu, also known as Kerkyra or "the Grand Lady of the Ionian," an enchanting island in the Ionian Sea that offers a harmonious blend of history, culture, and natural beauty. From its picturesque beaches and turquoise waters to its charming villages and ancient ruins, Corfu captivates the hearts of all who visit. This island is a traveler's paradise, offering a range of activities for every type of adventurer.
Discover the essence of Corfu with our complete guide. We'll unveil the island's best activities, sights, and flavors, including its fascinating past, vibrant present, and natural beauty. Additionally, we'll offer practical information on getting around, finding accommodation, and hopping to nearby islands.
Whatever your travel style, Corfu is sure to captivate you with its charm and diversity.
Contents
History of Corfu
Corfu's past is an intricate web of historical events that have unfolded over 3,000 years. From its earliest inhabitants in the Paleolithic era to its changing rulership by the Greeks, Romans, Byzantines, Venetians, French, and British, the island's captivating history is a testament to the enduring legacy of its diverse civilizations.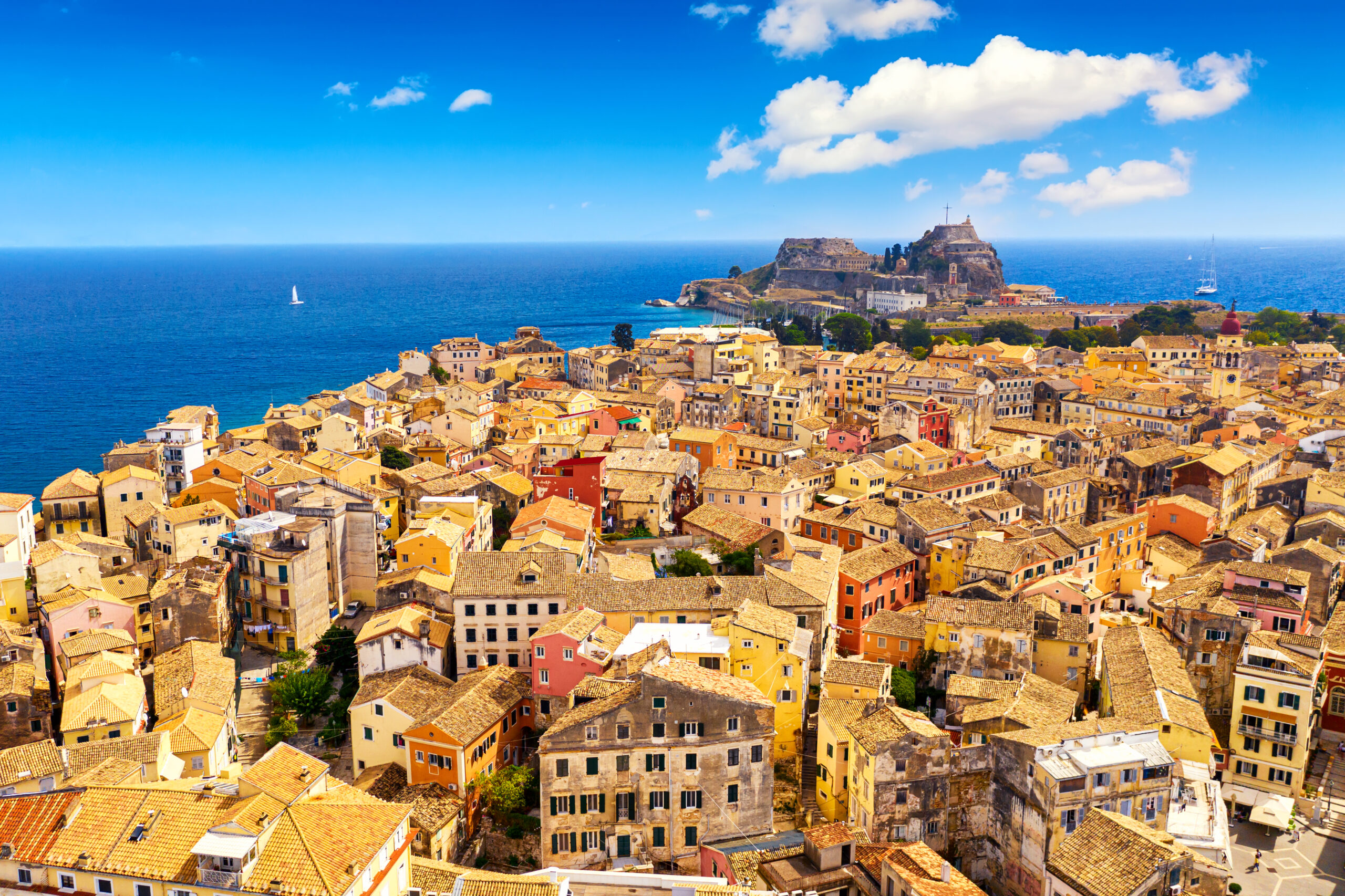 Corfu's history is punctuated by several noteworthy periods, including its 411-year stint under Venetian rule, spanning from 1386 to 1797. During this era, the island experienced a cultural and economic renaissance, marked by the construction of its most recognizable landmarks and attractions, such as the Old Fortress, the New Fortress, and the Liston Arcade.
During Greece's struggle for independence in the 19th century, Corfu played a pivotal role in disseminating news about the events to the rest of the world. Acting as a kind of "news agency," the island transmitted information about the uprising throughout Europe and America.
You can delve into the island's captivating past by visiting its museums, archaeological sites, and historical landmarks. The Archaeological Museum of Corfu boasts a remarkable collection of ancient relics, while the Old Fortress affords panoramic views of the island and its surrounding landscape.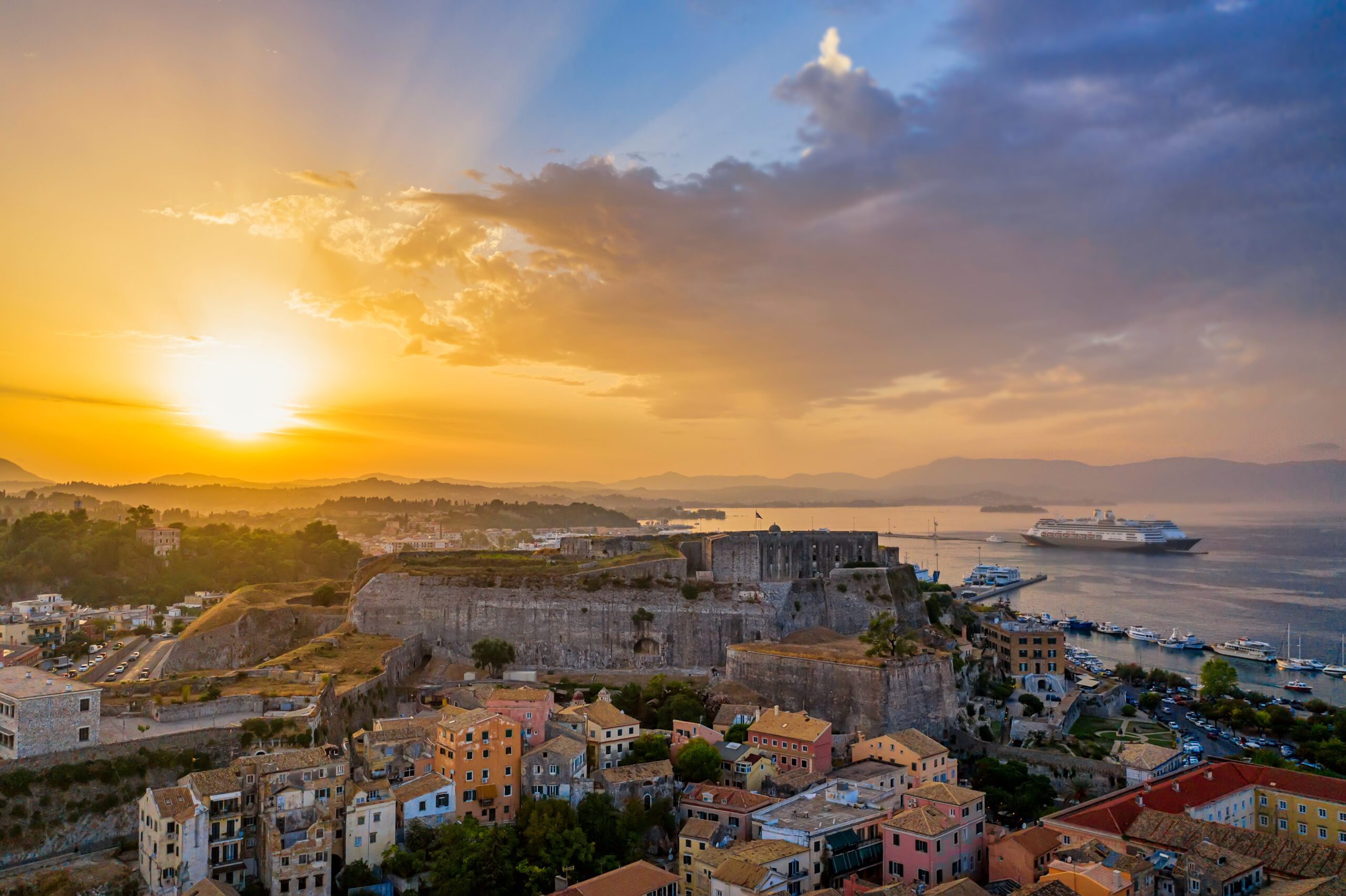 Things to do in Corfu
Corfu is a destination that caters to travelers seeking a multi-faceted experience. From delving into the island's rich history to soaking up its vibrant culture, exploring its natural beauty, or embarking on thrilling adventures, you can choose from a wide range of activities to suit your interests and preferences.
Explore the Corfu Old Town
Corfu's historic center's UNESCO World Heritage site is a veritable wonderland of narrow streets, vibrant buildings, and magnificent squares. Meander through the maze of streets and stumble upon countless captivating historical landmarks, such as the Old Fortress, the Venetian-style Liston promenade, and the iconic Spianada square.
Visit Achilleion Palace
A neoclassical structure constructed in the late 1800s for Empress Elisabeth, also called Sisi. Exquisite gardens encompass the palace and present awe-inspiring vistas of the island. Take a tour inside to marvel at the lavish ornamentation and uncover the story of the palace's illustrious past residents.
Discover the Mon Repos Estate
Positioned on the outskirts of Corfu Town, this historic estate is celebrated as the birthplace of Prince Philip, the Duke of Edinburgh. The estate showcases an elegant neoclassical mansion, magnificent gardens, and a small museum. Take a leisurely wander around the estate and relish the luxury of this stunning oasis.
Visit the Corfu Museum of Asian Art
The Corfu Museum of Asian Art is a destination not to be missed, featuring a remarkable collection of art and cultural artifacts from Asia. Explore exhibits highlighting treasures from China, Japan, India, and beyond, all housed in the Palace of St. Michael and St. George, a stunning neoclassical structure in the heart of Corfu's historic Old Town.
The Palace is the largest and most significant architectural masterpiece of the Ionian State era, which spanned from 1815 to 1864, when the Ionian Islands were eventually united with the remainder of Greece.
Pay a visit to Angelokastro
Angelokastro (Angel Castle), perched atop a rocky outcrop on the northwestern side of Corfu, stands as a testament to the enduring legacy of Byzantine fortifications in Greece. Dating back to at least the 7th century, this castle has withstood the test of time, preserving a rich history that captivates visitors from around the world.
From its lofty position 305 meters above sea level, Angelokastro offers a breathtaking view of the surrounding landscape, including the picturesque town of Paleokastritsa and the entire island of Corfu. It's a place of wonder where the past and present converge in a stunning display of architectural and natural beauty.
Explore St. George's Church
A majestic white building modeled after ancient Greek architecture sits atop a flat expanse on the southern slopes of the Old Fortress. Constructed in 1840 by the British to serve the local English congregation, St. George's Church has since been converted to the Orthodox faith. While it only holds two religious services annually, the church also serves as a venue for occasional concerts and exhibitions.
Discover Pontikonisi island
Pontikonisi, also known as Mouse Island, is a renowned landmark and one of Corfu's most visually captivating spots. The story goes that the islet was once a Phaeacian ship, which was petrified by the mighty Poseidon. The picturesque church of Pantokrator, dating back to the 13th century, is situated at the heart of the island. A quick five-minute boat ride from the shore will take you to this enchanting destination, definitely a must-visit.
Taste – What to Eat in Corfu
Corfu's cuisine is a delightful blend of Greek, Italian, and Venetian influences, resulting in a unique and delicious culinary experience. Here are some must-try dishes when exploring the flavors of Corfu:
Sofrito – This is a signature dish of Corfu made with thin slices of beef or veal marinated in garlic, vinegar, and a blend of spices, then fried to perfection. It is often served with a side of rice or potatoes, and the tangy flavors make it a true gastronomic delight. Sofrito is believed to have been introduced by the Venetians.
A staple of local cuisine, Pastitsada is a robust meat stew consisting of beef or veal slowly cooked in a tomato-based sauce that's been seasoned with aromatic spices like cinnamon, allspice, and cloves. It's often accompanied by pasta, with thick spaghetti or bucatini being the preferred choice, and is a much-loved comfort food in the area.
Bourdeto – A traditional Corfiot fish stew, is a gastronomic delight for seafood lovers. The dish comprises fresh scorpionfish or cod, slowly cooked in a mouth-watering tomato sauce infused with garlic, onion, and red pepper, producing flavors in every bite. Served with crusty bread, Bourdeto is a must-try for anyone visiting the island.
Porpetes – A cherished Venetian dish that has been passed down for generations in Corfu. These mouthwatering meatballs are elevated to new heights when cooked in a luscious red sauce imbued with the delicate tastes of anchovies, pancetta, cheese, and nutmeg.
Kumquat liqueur – Corfu is famous for its kumquats, small citrus fruits that are used to make a unique liqueur. The kumquats are soaked in alcohol with sugar and spices, resulting in a sweet and tangy liqueur that is perfect for sipping after a meal or as a souvenir to take home.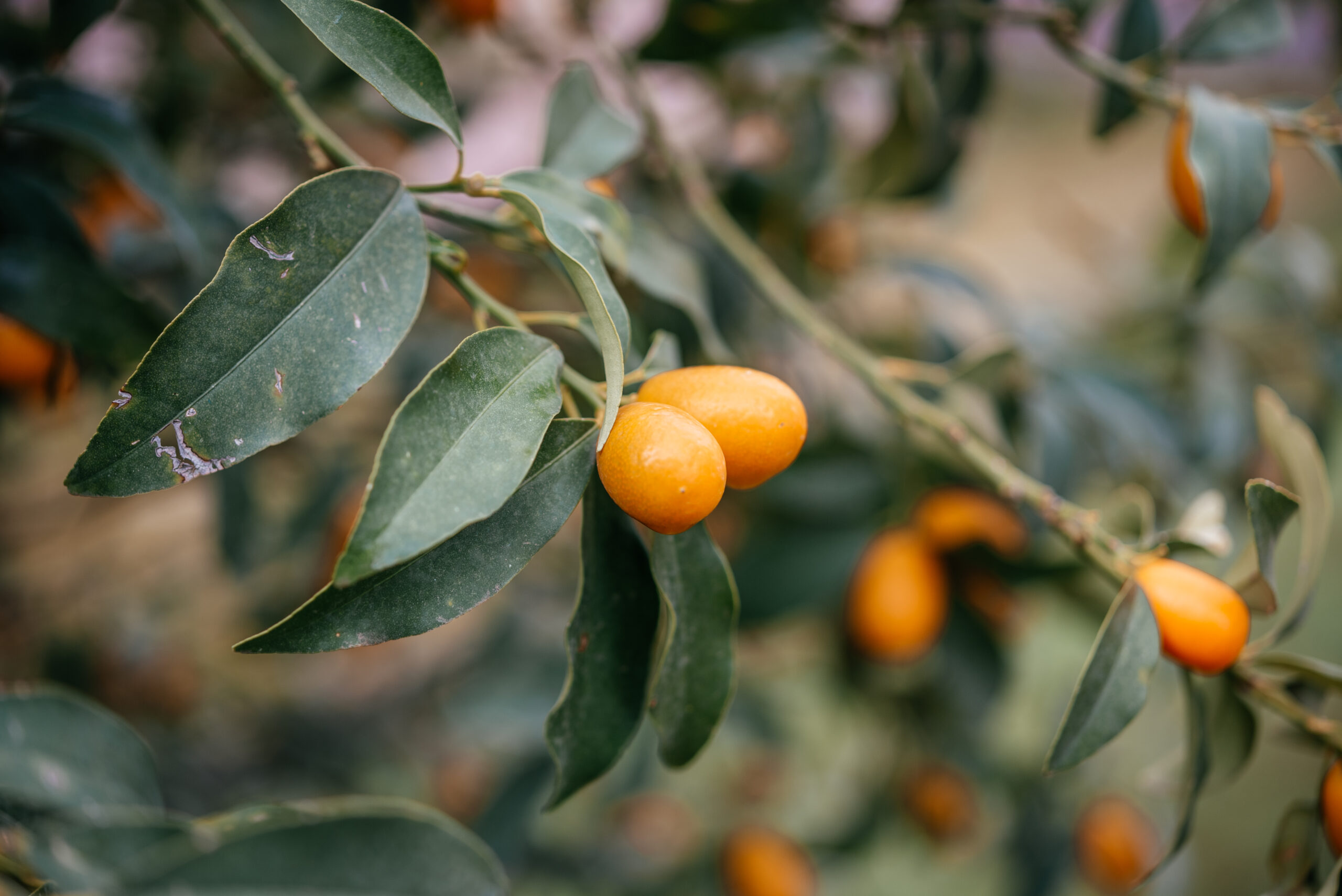 Corfu is also renowned for its rich and vibrant culture of sweets and desserts, offering a delightful array of local delicacies to indulge in. From the luscious pasteli, a tempting treat made of honey and sesame seeds, to the tantalizing kumquat spoon sweet, a fragrant preserve crafted from the island's own kumquats, and the mouthwatering mandoles, crunchy roasted almonds enrobed in caramelized sugar, the island's culinary scene is a treasure trove of unique and irresistible flavors.
Corfu's gastronomy is an ode to the island's natural abundance, where the fertile soil and temperate climate conspire to yield a bounty of fresh fruits and vegetables. The culinary scene is an embodiment of the island's identity, with local products and ingredients taking center stage. Tomatoes, olives, figs, and citrus are among the many treasures of the land, imbuing each dish with a distinct and unforgettable flavor that captures the essence of Corfu.
Nightlife on Corfu Island
Corfu's nightlife is vibrant and varied, offering something for everyone. From bustling bars to lively clubs, the island comes alive after dark with options for entertainment and socializing.
Corfu town is the ultimate destination for nightlife on the island, offering a wealth of bars, clubs, and restaurants to choose from. Its historic center is a hub of activity, with an array of bars and pubs lining the narrow streets, serving up a mix of classic Greek and international beverages. For a prime spot to people-watch while sipping a drink, head to Spianada Square.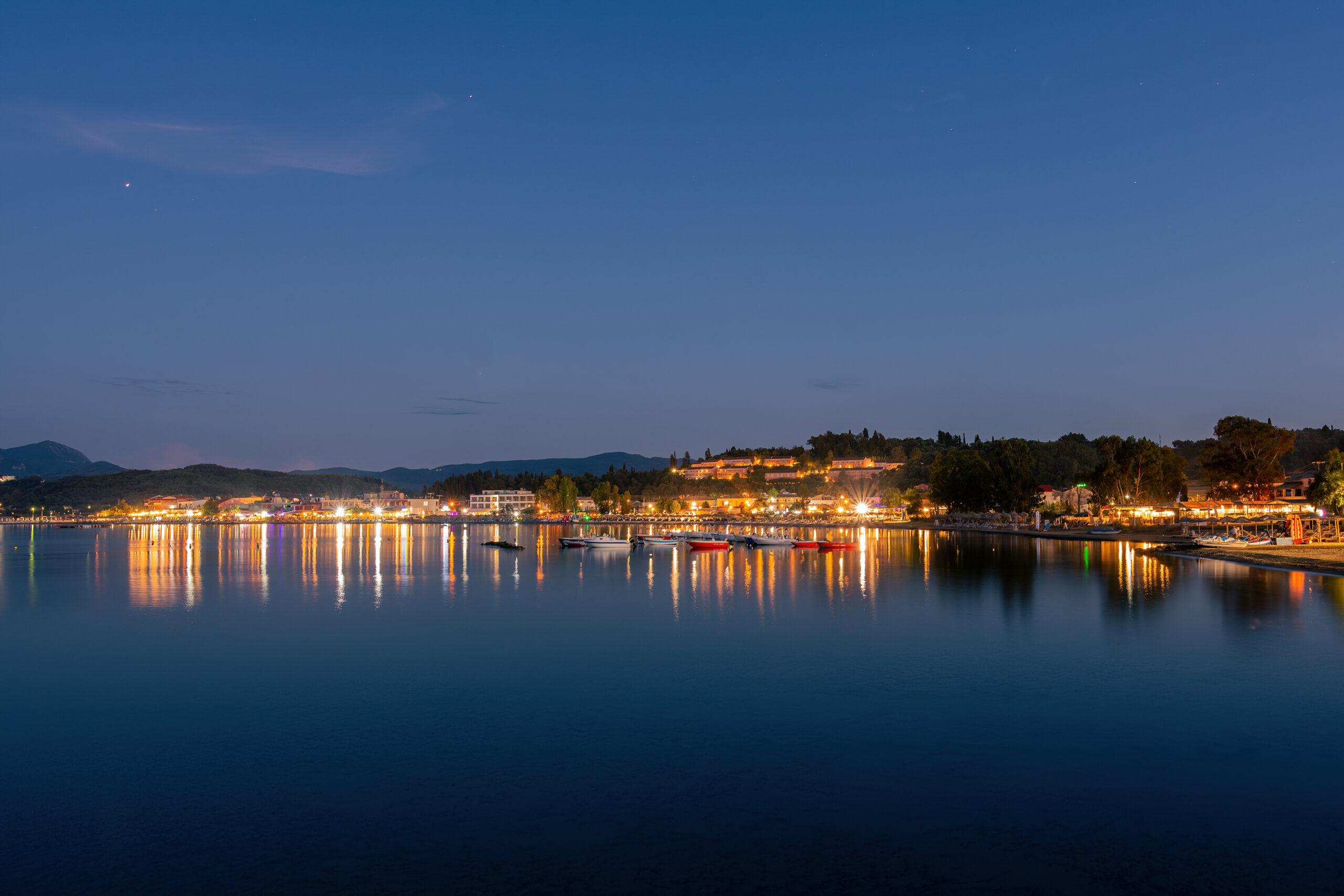 Corfu's clubs provide an upbeat and dynamic atmosphere for those seeking late-night entertainment. The clubs offer something for all tastes with live music, DJs, and dancing that spans various music genres, including popular hits and electronic and techno beats. Some clubs are situated by the shore, providing a unique ambiance with magnificent sea views and a lively beach party vibe.
Aside from Corfu's main hub, there are a multitude of other places on the island that provide an exciting nightlife experience. Sidari, Kavos, and Ipsos are three destinations brimming with energy and activity as visitors and locals flock to their many bars and clubs for an unforgettable night out.
Those planning to enjoy Corfu's nightlife should be aware that it largely depends on the season, with the most bustling activity in the summer months when the island is thronged with tourists. During the off-season, certain bars and clubs may operate on a limited basis or remain closed altogether.
Find your hotel in Corfu
Seeking the ultimate escape to rejuvenate your mind, body, and soul amidst serene and picturesque surroundings? Allow us to introduce Eleals Boutique Hotel – a luxurious haven on the island of Corfu.
Nestled amidst the island's stunning beauty, Eleals Boutique Hotel is an oasis of tranquility and serenity. Its prime location near a private beach and surrounded by numerous olive trees offers guests ultimate comfort and high-quality services. This brand-new luxury hotel is owned by a young businessman with innovative ideas and ample qualifications, whose dream was to create a stylish hotel with a distinctive character and all the amenities one could ask for.
Immerse yourself in a world where modern aesthetics and timeless elegance merge to create a captivating and serene environment. With a minimalist touch, the interior exudes sophistication and exclusivity, setting the stage for an unforgettable holiday experience.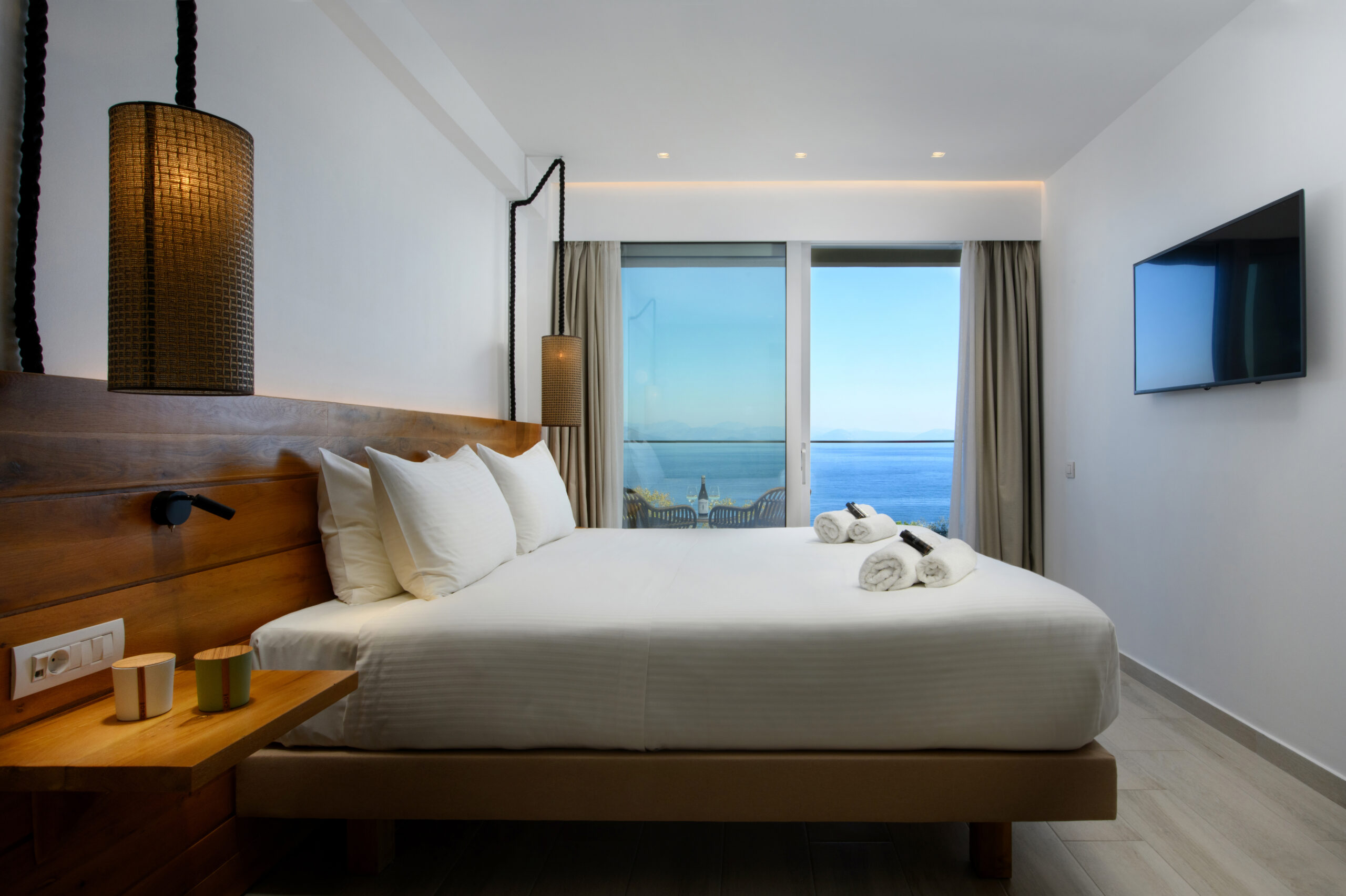 Take in the breathtaking views of the surrounding nature, and feel yourself unwind as the stress of everyday life melts away. With unparalleled amenities and a commitment to making your stay unforgettable, Eleals Boutique Hotel is the perfect destination for those in search of a peaceful retreat.
Be Active – Outdoor Activities on Corfu Island
Corfu is not only known for its beautiful beaches and historical sites but also offers a plethora of outdoor activities for adventure seekers and nature lovers alike.
Hiking enthusiasts can explore the lush green landscapes and picturesque trails that crisscross the island. From challenging hikes to Mount Pantokrator, the highest peak of Corfu, to leisurely walks through olive groves and pine forests, there are options for all levels of fitness and experience. The mountaintop's panoramic views are breathtaking, offering a reward for the effort.
Water sports are also popular in Corfu, with numerous beaches and coves offering opportunities for snorkeling, scuba diving, kayaking, and paddleboarding. Crystal-clear waters, colorful marine life, and hidden caves await exploration, making for an exhilarating experience in the Ionian Sea.
For those seeking adrenaline-pumping adventures, Corfu also offers thrilling activities such as paragliding and parasailing. Take to the skies and soar above the island, taking in the stunning vistas and feeling the rush of excitement as you glide through the air.
Cycling is another popular outdoor activity in Corfu, with scenic routes that wind through quaint villages, olive groves, and vineyards. Rent a bike and pedal your way through the island's countryside, immersing yourself in the natural beauty and local culture.
With its diverse landscapes and favorable climate, Corfu is a haven for outdoor enthusiasts, offering a wide array of activities that cater to various interests and levels of adventure. So, get out and get active to make the most of your Corfu experience!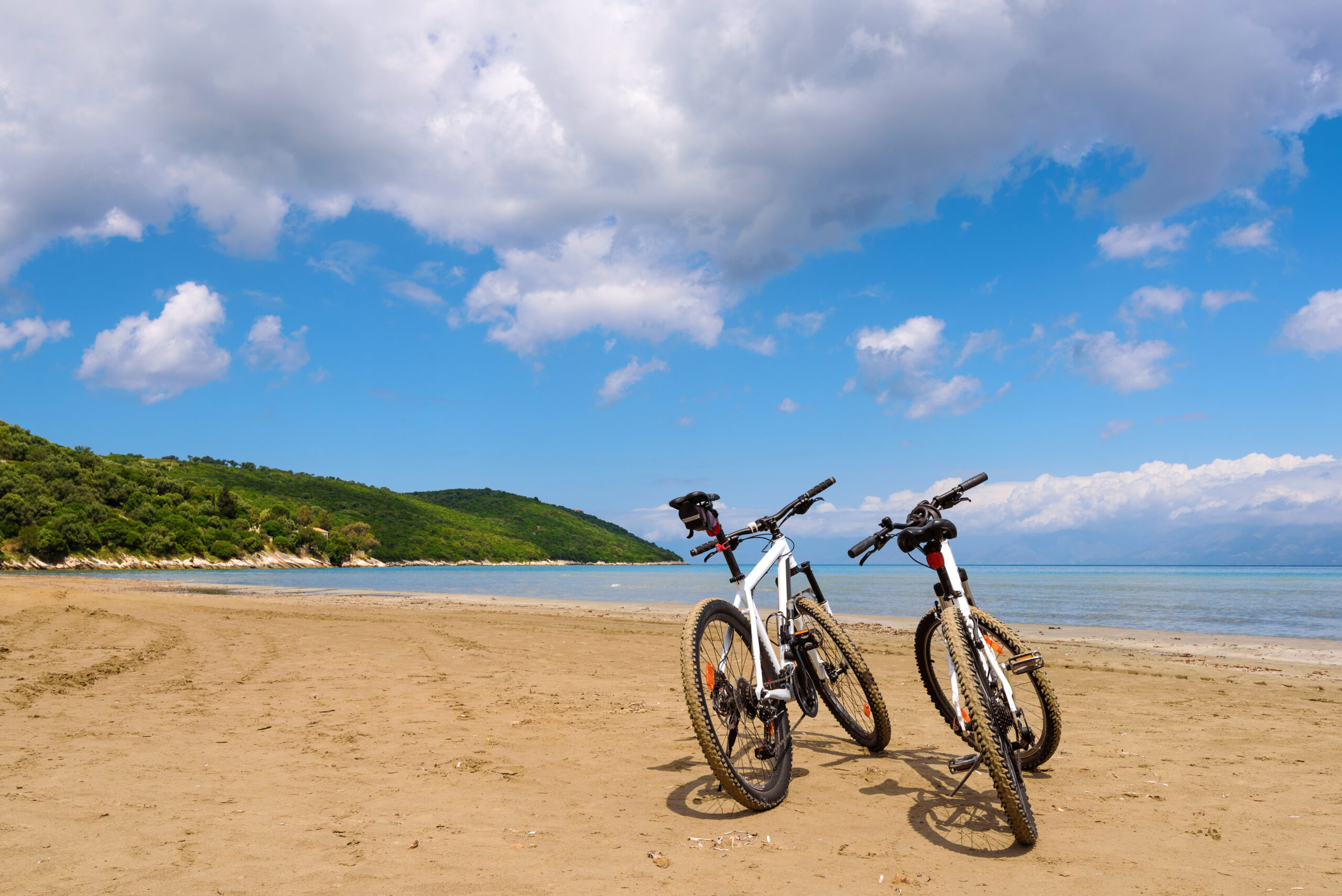 The Best Beaches in Corfu
Corfu's beaches are the epitome of natural beauty, with pristine waters and stunning surroundings. If you're planning a beach holiday, you won't find a better destination than this idyllic Greek island. Here are some of the best beaches to explore during your visit.
Nestled in the midst of awe-inspiring cliffs and glistening turquoise waters, Paleokastritsa Beach is a coveted destination on the west coast of Corfu. This idyllic beach is a haven for swimming, sunbathing, and water sports, and you can refuel at the various nearby restaurants and bars offering tasty bites and drinks.
If you are looking for an extraordinary beach experience, head over to Canal D'Amour on Corfu's northern coast. This beach is distinctive for its striking rock formations that have been slowly eroded over time to create canals and coves. Snorkeling and diving are popular activities here, and many restaurants and bars are within easy reach.
Nestled in the northernmost corner of Corfu Island, Cape Drastis is a hidden coastal gem that will leave you breathless. The natural scenery here is simply enchanting and magnificent, with unspoiled and wild surroundings that evoke a sense of calm and tranquility. Yes, it's true that this cape isn't easily accessible, but it's worth every effort to get here. Once you arrive, you'll be treated to a paradise-like atmosphere that's ideal for relaxing, swimming, snorkeling, and cliff jumping.
If you're looking for another tranquil escape, consider visiting Porto Timoni Beach, a remote and secluded cove on Corfu's northwest coast. Accessible by foot or boat taxi, this idyllic beach is renowned for its crystal-clear waters and picturesque cliffs.
Kassiopi Beach, situated on the northeast coast of Corfu, is a preferred destination for families looking for an exciting day by the sea. Along with numerous water sports options, you can enjoy a selection of tavernas and bars located in close proximity to the beach.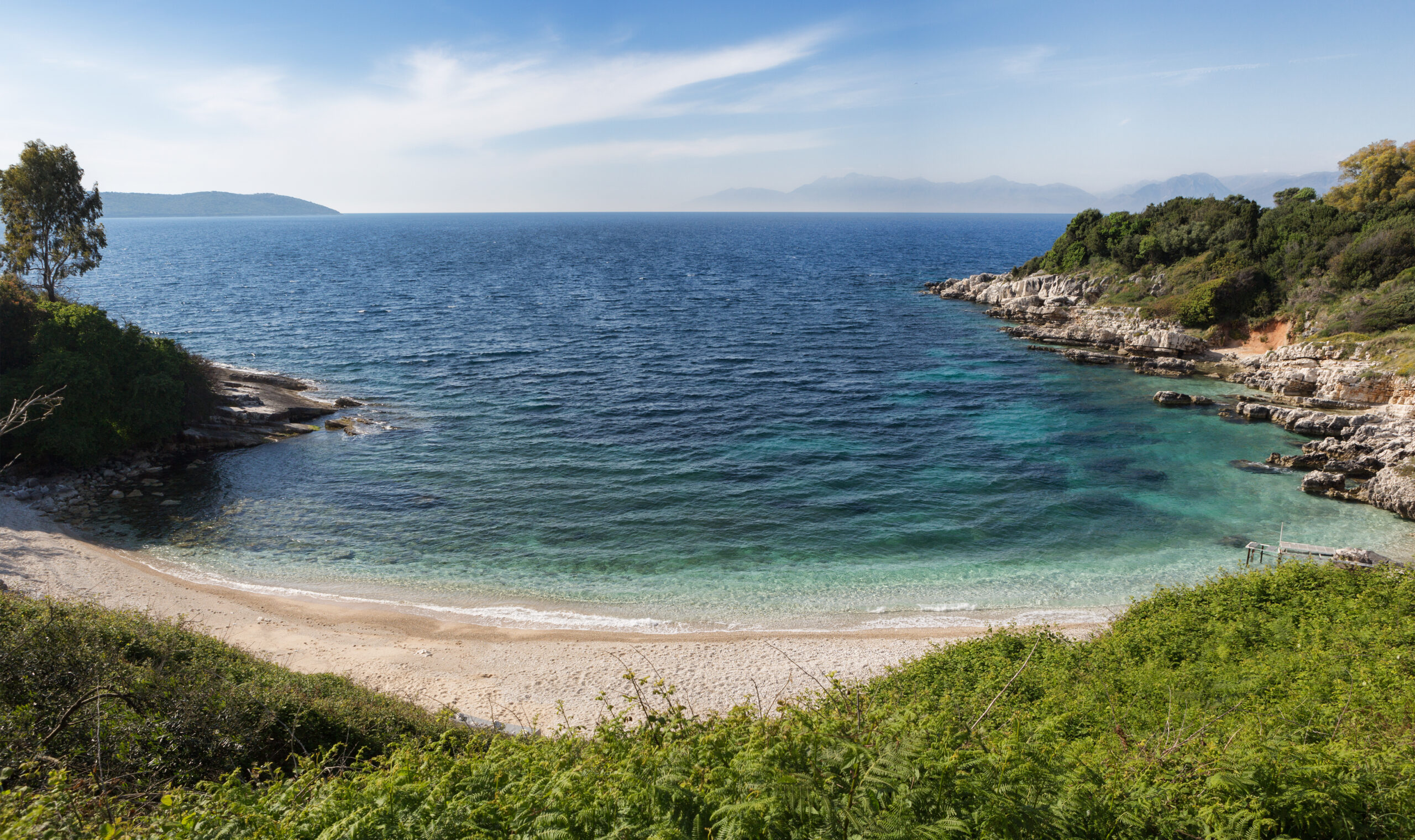 Syki Bay, found on the east coast of Corfu, is an enchanting beach known for its lush greenery. This secluded haven is perfect for snorkeling and swimming, offering peaceful seclusion, translucent waters, and breathtaking views of the nearby cliffs.
A rocky seaside destination located close to Paleokastritsa, La Grotta Beach is renowned for its extraordinary rock configurations and pristine waters that are so crystal-clear that you can see all the way to the bottom. It's a favored location for daring swimmers who enjoy cliff jumping.
How to get to Corfu
Getting to Kerkyra is easy thanks to its convenient location and excellent transport links. The Ioannis Kapodistrias International Airport, also known as Corfu International Airport, is the primary airport on the island, serving numerous international and domestic flights. Situated just 3 km south of Corfu Town, you can quickly reach the heart of the island and begin your vacation. Additionally, the island is accessible by sea with several ferry services connecting it to various ports in Greece and Italy.
If you're looking for a scenic way to travel, you can opt for ferry services that run regularly between the destination and Igoumenitsa on the Greek mainland. The trip takes approximately 90 minutes and is a popular option for travelers who are driving. Besides, you can also benefit from ferry connections to neighboring Ionian islands, like Paxos and Kefalonia.
Looking for an unconventional way to arrive at Corfu? Try hiring a yacht from one of the numerous ports in Greece or Italy. This affords you the chance to revel in the awe-inspiring beauty of the Ionian Sea as you voyage toward the island.
Transportation in Corfu
Moving around Kerkyra is simple and convenient, with plenty of transportation choices at your disposal. Buses, taxis, rental cars, and scooters are just some of the options that you can use to get around.
Corfu's public transportation system is run by Green Buses, offering connections to most of the island's popular attractions. For a budget-friendly option, hop on a bus for as little as 2 euros per ride, with frequent schedules to ensure smooth travel. If you prefer a more personalized ride, taxis can be hailed on the street or booked through an app or phone call, albeit at a higher cost.
If you desire more independence and adaptability during your stay, renting a car or scooter is a favored choice. Corfu has various car rental firms, and renting a car can cost anywhere between 20-50 euros daily, contingent on the car model and rental period. Additionally, scooter rentals are widely accessible, and prices range from 15-30 euros per day.
Island hopping from Corfu
Corfu is an ideal base for venturing out to the neighboring Greek islands. Just a quick boat ride away lie the charming and scenic destinations of Paxos and Antipaxos, perfect for a tranquil respite from the vibrant energy of Corfu.
Paxos is a tiny island known for its turquoise waters, sandy beaches, and laid-back atmosphere. Explore the charming port towns of Gaios, Lakka, and Loggos, or take a boat tour to the famous Blue Caves. Antipaxos is a small island known for its crystal-clear waters and stunning vineyards. You can enjoy a peaceful day on one of the island's secluded beaches or take a stroll through the island's quaint villages.
Other nearby islands include Erikousa, Mathraki, and Othonoi, all of which offer a more secluded and authentic Greek island experience. Take a day trip to explore these islands or even stay overnight in one of their cozy guesthouses.
Many tour companies and boat rental services in Corfu offer island hopping tours and transportation to the nearby islands. Some tours may include stops for swimming, snorkeling, or even a beach BBQ. Island hopping from Corfu is a great way to experience the beauty and diversity of the Ionian Islands.
When to visit – Weather on Corfu island
Kerkyra has a Mediterranean climate, with hot summers and mild winters. The peak season is from July to August when the weather is hottest, and the crowds are largest. If you prefer a quieter and more relaxed atmosphere, the best times to visit are in the shoulder seasons of May-June and September-October. During these months, the weather is still warm and sunny, but the crowds are fewer, and the prices are lower.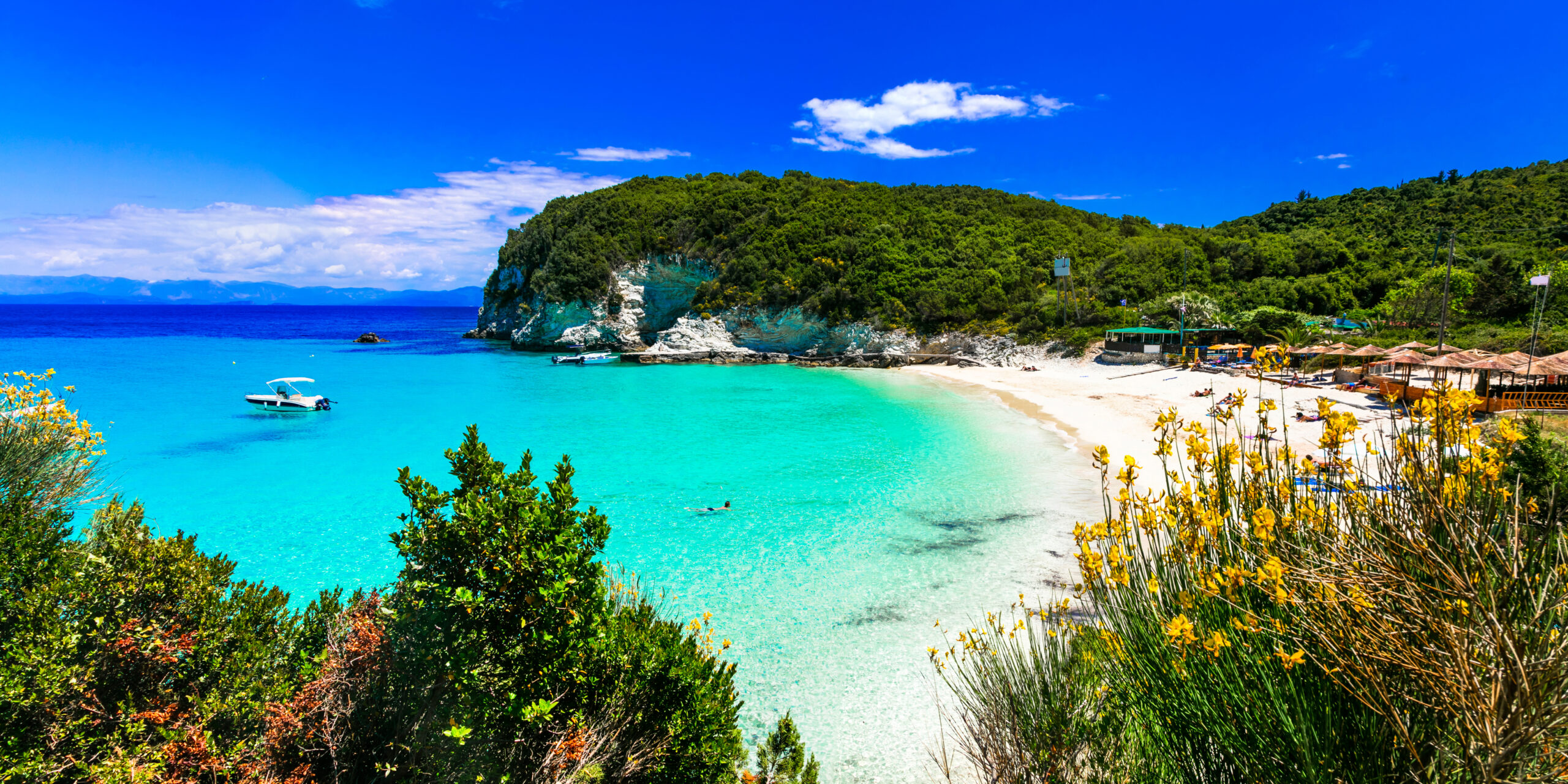 The winter months of November to April are also a good time to visit if you enjoy cooler temperatures and a quieter pace, but keep in mind that many tourist facilities may be closed during this time.