Blooming with lush nature and a hefty history, amplified by modern French charm, Hotel Pont Levis is a feast for the senses
Cemented in captivating Carcassonne, Hotel Pont Levis boasts a rich historical background that's refined with revelling contemporary classics. Lain in the beating heart of this boutique hotel, spacious design, stellar features and sumptuous living seamlessly fuse together. Contrasted with a careful curation of lush grounds and green-dotted surrounds, this gem provides the ultimate French getaway. 
Dating back to the 18th century, this once-inn, once-museum boutique hotel has had its fair share of complex chronicles. The divine décor pays homage to its eclectic history, and the modern touches meld into the space perfectly. 
Admire the original buildings weathering steel, pop down to the sun-soaked breakfast bar for a sweet treat, dive deep into the turquoise-coloured pool, indulge in a picnic in the gardens and open a bottle of bubbly champagne in your private hot tub. 
With luxurious pursuits, locally-run activities and all-around exceptional service, this historic haven offer visitors a chance to get grounded, the French way. With an elusive emphasis placed on sustainability, Hotel Pont Levis embraces an enthralling escape. 
Sitting on the cusp of the compelling city of Carcassonne, the historic heart of this fruitful part of France lies just a few steps away. Explore the fortified city, stroll alongside the riverbank, learn about the hefty history, dive deep into the culture and get a taste of local, laid-back French living.
Relishing in the delectable French cuisine on offer at the breakfast buffet 

Soaking up the summer sun by the green-graced pool 

Popping open a glass of fruity French champagne in the hot tub 

Reading an enticing novel in the enchanting gardens 

Discovering the handful of highlights that sit on the cusp of the hotel
Rooms Overview
Hotel Pont Levis is teeming with twelve top-notch rooms that effortlessly meld modern, medieval and luxe into one. Harbouring innovative design, funky finishes and an elegant essence, this boutique hotel hones in on a unique stay. 
Junior Suite with Jacuzzi
3 guests
Jacuzzi
One-bedroom suite
Private terrace
With a sumptuous king-size bed, contemporary bathroom and spacious seating area, the Junior Suite encompasses the ultimate luxe experience.
This delightful part of Hotel Pont Levis offers an oasis for those looking to take their vacation to the next level. Enjoy a crispy French croissant on the terrace, get intimate in the bubbling jacuzzi and take a refreshing shower in the modern bathroom.
Superior Room with Jacuzzi
3 guests
Jacuzzi
One-bedroom suite
Private terrace
Innovative design meets with Medieval-inspired touches in the Superior Room. This stunning sojourn is enriched by the gracious outdoor space, suspended bed, en-suite bathroom and bliss-inducing jacuzzi.
Enjoy the divine design of the tiled bathroom, have nap mid-air on the levitating bed and recharge with a coffee on the terrace.
Premium Room
2 guests
One-bedroom suite
Open-plan suite
View into the garden
Splashed with stylish pieces and cool-toned contemporary finishes, the Premium Room offers a unique escape in the beating heart of a historic city. Encapsulating open-plan living, vibrant features and quirky touches, this eccentric gem is one of a kind.
Peer out to the garden from the window, lay back on the fine bed linen and enjoy a bubble bath in the patterned bathroom.
Superior Room
1-2 guests
View into the garden
Straddled by striking design and bold colours, the Superior Room offers guests a getaway from the godsend. This unique corner of Hotel Pont Levis is brimming with something to satisfy every type of traveller.
Indulge in a French breakfast from the seating area, get steamy in the spacious shower and wind down with a bit of television.
Junior Suite
4 guests
Private terrace
View into the garden
Enclosed with an eclectic array of contemporary charm, the Junior Suite provides a panoply of vibrantly-coloured pleasurable pursuits.
Traverse into the walk-in shower, get a dose of caffeine from the comfort of your bed, write about your day's adventures at the writing desk and bask in delight as you unwrap a basket of welcome products.
Taste the flavors
Taste top-notch goodies at the breakfast buffet
Hotel Pont Levis takes its classic continental-style breakfast spread to the next level. Amplified with an array of locally-sourced, organic bites, this is the ultimate spot to taste fresh French cuisine.
Get your daily dose of protein with the delightful variation of nuts and dried fruits, satisfy your sweet tooth with some crunchy granola, juicy fruit and yoghurt, spread mouth-watering cheese and cured meat onto crackers, and top it all off with some refreshing juice, calming tea or energising coffee.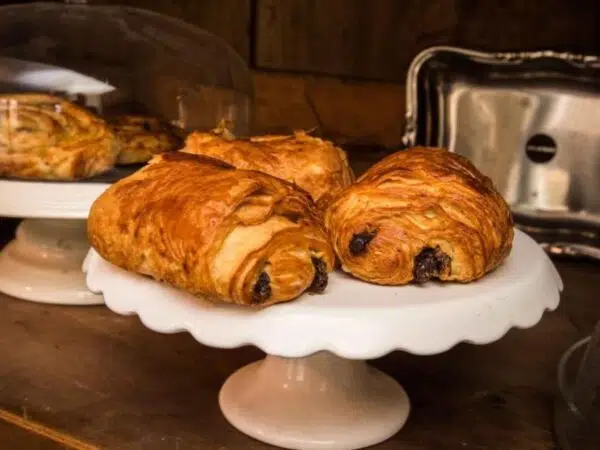 Get inspired by flamboyant French cuisine
Nestled in the Carcassone countryside, this boutique hotel provides the ultimate base point to meander off into the French dining scene. From Hotel Pont Levis, guests can discover the wealth of world-renowned restaurants that are only a stone's throw away.
Share French tapas at La Brasserie 4 Temps, try some classic dishes at La Table Ronde, pop into Le Bar à Vins and lose yourself in the gourmet gastronomic delight at Frank Putelat's Michelin star restaurant, 'Le Parc'.
About sustainability
Like the fig tree roots, the property is constantly addressing many sustainable tourism areas and excelling in most fields.
This boutique hotel provides visitors with veritable options to explore the surrounding sites and hidden gems. Partnering with businesses in the local community, travellers can enjoy a one-of-a-kind experience that positively contributes to the Carcassonne region. 

Housed in a refurbished 18

th

-century building, this modernised, boutique hotel has retained its original charm. With a wealth of Medieval-inspired furnishings, guests can get a glimpse at the extensive history of this place. 

Hotel Pont Levis' awe-worthy breakfast buffet is brimming with organic, palatable plates. Each ingredient is locally-sourced, thereby offering guests an authentic taste of French cuisine. 

As an eco-friendly hotel, airport pick-up and drop-off can offer guests a more sustainable experience, meaning that they don't necessarily need to hire a car to get around. With savings on care hire, visitors can additionally walk the streets on foot, therefore getting immersed more heavily in local life.   
Explore the location
Hotel Pont Levis is blooming with blissful pursuits at every end. Sitting in the quaint Carcassonne countryside, this rural respite offers both nature-infused and history-fuelled experiences. Pick your poison – listen to live music events, break a sweat on sports-filled sunny days and kick back with easy-going indoor activities.  History lovers and culture vultures can stand in awe at the Porte Narbonnaise, traverse the trickling Aude River, enjoy a picnic in Parc de Bellevue, learn about the Memorial House and meander through the magnificent Lastours Castle. 
Explore the location like a local!
Adventure aficionados can get their adrenaline quenched hiking the Montagne Noire, rowing a boat in the Lac de la Cavayere, discovering the terrain via horseback, or trying their luck on the golf course.  
Book a trusted local driver for your transfer to and from the hotel, and introduce you to the destination, pre-order travel essentials, and get all your questions answered before or during the trip. Choose the stops, visit the attractions, and don't waste any time waiting. We've partnered with Welcome Pickups, the first company to deliver a holistic, in-destination travel experience.