Psirri neighbourhood in Athens which used to be the centre of popular workshops and small trades became a trendy district. The messy, edgy, lively, artsy Psirri has a unique village vibe in the city centre. Wandering through the narrow streets, you will see leather artisans, spice and antique dealers, and quaint restaurants that have been here for decades mingled with modern coworking spaces, old workshops transformed into lofts, artistic cafes, and trendy bars. Where to start to explore this lively area of Athens? Follow our insider guide.
In the street of Psirri neighbourhood in Athens 
Time to take a stroll in the mesmerizing streets of Psirri. Foodists may spend hours at Evripidou Street discovering the amazing spices and condiments selection at the Bahar shop, going for a "treasure hunt" of kitchen supplies at the various small shops, trying Pastruma or buffalo products and aged cheeses at the 90-years old Miran shop.
Urban art lovers will be eager to discover Athenian street art. Each small street of Psiri is home to artistic murals, an artsy political message or signature piece of local artists like Woozy or Blaqk.
Where to eat in Psirri? Where to have a drink?
Start your day in Psirri with a detour by Spiti Mas for a modern Greek breakfast. The place has an original home-cosy concept and can offer you breakfast in bed! Select a table or a bed (you read it right!), order your coffee, and take your time to go through the menu. Everything is freshly made from local products… and delicious. The avocado and feta pie is to die for. 
Turn into Karaiskaki street, your kids – and your inner child will be delighted with the fairy tale decorations around the Little Kook cafe. This themed coffee shop, and dessert place, is a real step into a wonderland! For a more traditional treat, head to Ta Serbetia stou Psirri, a family-held patisserie. Grab a table on the pavement and enjoy their creative approach to traditional sweet like the Kiunefe or savoury Mediterranean pie.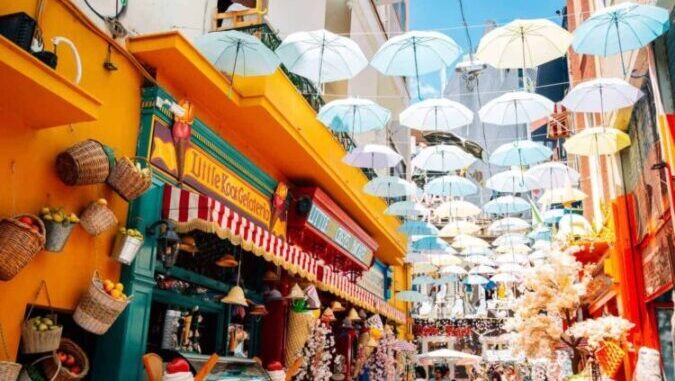 As the sky gets dark, the workshops close. You will be surprised by the growing crowds around the theatres on Sarri street, or the impressive number of lively bars and cafes open till very late. Summer nights are a bit calmer, as the Athenians would leave the heat of the city. You can be sure to have a great evening at Dos Gardenias, named after the Buena Vista Social Club song. You could try the paella prepared every evening on the street pavements or take one of their recommended cocktails along with a few tapas.
Wine aficionados? You must pay a visit to Cinque, a small adorable Wine bar and shop, for an authentic Greek wine experience. The team of passionate wine lovers (including certified oenologists) will be happy to talk about their wines that you can either buy or enjoy at the bar with a few mezze or cold cuts. 
Where to stay in Psirri neighbourhood in Athens
Legends have mentioned that the name Psirri means the "neighbourhood of the Psarians" referring to the Aegeans of Psara who made ancient Psiri their home. If you want also to make Psirri your home, while staying in Athens, you can check our selection of the best boutique hotels in the neighbourhood and Athens city-centre.