With teleworking being the dominant theme in most homes amidst lockdowns, workcation is the new cool! It allows you to set up an office on an idyllic island or a charming hotel room while staying productive and updated on-the-go. If you are wondering what a workcation is, you may need to read our story about the workcations.
Imagine managing your zoom calls and keeping deadlines in check whilst squeezing in some hours for a hike at a nearby park or admiring the sunset on the beach. There must be an upside to the current situation…
Here is a selection of sunny winter workcation boutique hotels:
Located in the centre of Sibenik, Hotel Life Palace, a Renaissance-themed hotel is a melody of luxury and comfort, lending a lovely break from city life during the winter. The rooms are designed with long French windows, numerous lighting arrangements, and desks to allow for seamless work.
The Business package guarantees eager business travellers a strong WIFI connection, several servings of coffee in the room, and even free access to the spa and an after-work drink to decompress after a day of remote working.
More details about the Business traveller package
As your office scenery-oceans of the deepest blue that stretch for miles, sunsets that never end, and sparkling blue-domed castle fit for royalty. How does that sound for a winter workcation? With white-washed sculpture, private work dens, and heated jacuzzis, you never need to move a finger, except maybe … for work!
Athina Luxury Suites in Greece is a modern masterpiece of luxury. If you're looking for a lazy staycation, then, this is the one. you can always call takeout and enjoy picturesque sunsets while taking a dip in the heated jacuzzi, not to forget dazzling views of the volcano and the glittering Aegean Sea. Candle-lit dinners on balconies, state-of-art facilities including tablet PCs, Hermes cosmetics, Bluetooth speakers, private Jacuzzis, and artful décor; you are in heaven!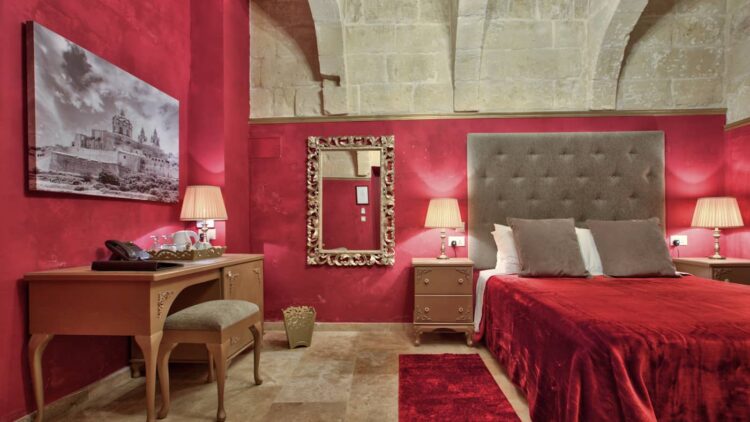 Malta Get ready for a sublime winter workcation in Malta! Julina Boutique Living offers stylish rooms with spacious worktable settings, unlimited internet connection, a rich breakfast as well as free coffee and tea to stay refuelled at all hours. Explore the island in the wee hours of the morning and get work done by the. You can work from the patio or the living room where cheery colours and modern furnishings amp up your professional mood. Julina Boutique Living is located next to restaurants and you are welcome to use the dining area all day, for your own ordered meals.
Read about Julina Boutique Living special offers for your workcation
A restful homely retreat, fresh air and hilly surroundings. How does that sound? Papaevangelou hotel is enviably placed underneath the mountains, just at the entrance of Papigo Village, with stunning views on the Astraka towers.
All the modern amenities are at your disposal, to avoid any unnecessary disruptions while teleworking. Your part-time job as a tourist can be enjoyed by taking lonesome treks to Drakolimni mountains or the nearby natural pools to rejuvenate your spirits. Cosy wooden cottage lends endless comfort- WIFI, availability of printer and scanner, independent heating, locally prepared meals at the café and lounge area.
Have a luxurious winter workcation at Riad Karmela Princesse, 5 minutes' walk from Spice Square in Marrakesh. Each of the elegant rooms and suites is elegant, decorated in rich colours and offer Wi-Fi with a fibre broadband connection; dedicated workspace. You may choose the suite with a private Jacuzzi to relax after a long day of video calls or the family suite if you are staying with your tribe. You will love the small heated pool and a sunny terrace. Not to mention the restaurant serving à la carte breakfasts as well as Moroccan and International delights freshly prepared with organic local produce for your dinner.
Read about Riad Karmela Princesse special offers for your workcation
Enjoy worldly comforts and feel at home at Agramada, away from the hustle-bustle of city life. Featuring four rooms and one treehouse, you can rejuvenate and wake up each morning to birdsongs and the smell of pinecones and fresh blooms, as this boutique hotel is developed right inside a forest. Fast Internet, homemade breakfast feasts await you! Located merely 15 minutes from the beach, you can take occasional breaks by hiking, discovering nearby villages or enjoying a sunny winter day by the beach.
Combining modern amenities with minimal luxury, Villa Edo was conceived for business travellers. A high-speed WIFI connection is available all through the property. All elegant rooms have private workstation tables available in all rooms. You may prefer to sit in the fragrant gardens and work amidst tangerine and jasmine trees, by the pool or retreat in one of the interior lounge areas. Don't worry about your after-work activities: Villa Edo is a stone-throw away from the beach and in 5min drive from the bubbly La Marsa city centre.
If you are looking for a homey feel for your winter workcation, Dar Ta'Zeppi boutique hotel may be what you are looking for. A hideaway nestled in Gozo, this charming, family-run B&B offers large independent rooms and a studio-apartment, free wifi connection and inexhaustible warm hospitality. The lush Mediterranean garden and outdoor terrace are an invitation to enjoy the winter sun while preparing for your next meeting.
A blend of tranquil home comforts and luxe decor is waiting for you at the Perivolas Hotel. Working from this scenic island is a dream, sipping sun-dried grape dessert wine, gazing at sparkling blue waters for inspiration. This boutique hotel is quiet, minimalistic, and set over a secluded cove on Therasia island. Enjoy WIFI connections & wireless portable speakers, laundry service, sun decks, books, and movie libraries. You can have your meals and Perivolas private selection of wines, by the poolside with the magnificent vista laid out in front of you. In a short walk, you can reach Oia village with its picturesque old, winding streets.
Offering all the modern amenities, your work environment has never been more stylish pleasant. The riad guarantees Wi-Fi with fibre broadband connection, their multi-lingual team can answer your queries any time of your stay.
Enjoy all-day dining, take power breaks by visiting the jacuzzi on the terrace, or walk in the pedestrian old town of Marrakesh. If you book with the Boutique Vibe, you can enjoy a bottle of wine on the house.