If you're wrestling with whether or not to choose a boutique hotel for your honeymoon, here's your answer. There's no better way to melt the wedding rush away than to indulge in the luxury of one of our handpicked romantic hotels.
Spend the day lounging next to the pool, make use of room service or enjoy lazy mornings in bed with your loved one. A delightful and dreamy getaway to one of these compellingly charming honeymoon hotels will create memories to last you a lifetime. So if you are wondering where to stay at your European honeymoon destination, wonder no more – just dive into our selection.
Immerse in a natural Mediterranean reserve of Corsica at Hôtel Cala di Greco
This choice will be for nature-lovers, adventure-seekers; those couples looking for an active honeymoon, full of sports and exciting activities. Corsica has it all and more: delicious food, art, sea, and mountains. You can still hear locals talking in the ancient Corsican language, the "U Corsu" but the island isn't stuck in the past. It looks at the future with a focus on providing sustainable and luxurious services to visitors. And there is no better place to enjoy it all than Hôtel Cala di Greco.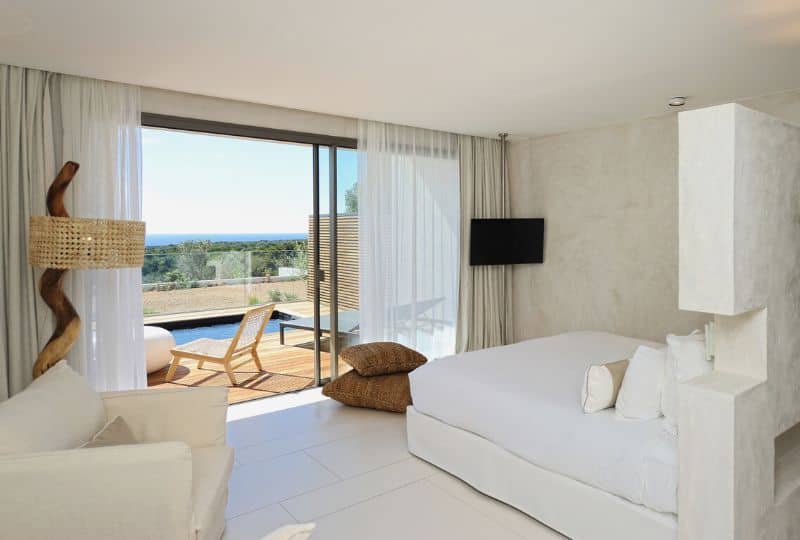 At Cala di Greco every detail speaks of Corsica's beauty, from the wood of the furniture to the stone of the interiors. That's how the Amadei family crafted this place, in a continuous dialogue between outside and inside. The name – Cala di Greco, means ''Greek cove'' and pays homage to Homer's Odyssey, whose main character is said to have stopped over in Bonifacio during his journey. And now even the suites depict names of mythological Greek characters.
The breathtaking views from the escarpment, dreamy birdsong, the heady scent of herbs, and salty breezes are all part of the Cala di Greco experience. Something that couples on the honeymoon will surely appreciate. Imagine blending it with a private and luxurious suite with its own patio and balcony to leave you in awe. It's like having Corsica's heart all to yourselves.
Cala di Greco is a walking distance from the cobbled stone, medieval town of Bonifacio; also a five-minute drive from nestled between rocks beaches of Corsica – and did we mention the spectacular views? However, what makes Cala di Greco particularly special is the personalised service they will dedicate to you and your loved one. The team of this boutique hotel will make you feel at home, yet pampered, at the same time.
You will take with you memories of dipping at midnight in the heated swimming pool with your second half when the lights of Bonifacio look like a nativity scene… Or strolling down hand in hand the scenic path leading to the town and the surrounding beaches. Not to mention the local cuisine and other cultural experiences that Corsica has to offer.
Dip into Parisian romanticism at Hotel Pulitzer Paris
A choice for city-lovers and those looking for an existing European honeymoon destination. Pulitzer Paris boutique hotel will leave you at ease. Pampered with the beauty and nostalgia of a famous romantic city, you and your beloved one will be having shops and restaurants of the 9th Arrondissement at our fingertips.
After a night of restful sleep in the most comfortable bedroom, the staff that moves mountains to please its guests will wake you up to a Parisian breakfast, made with the most authentic local ingredients like croissants, jams, and cheeses, orange juice and coffee.
The verdant patio of the boutique hotel is where cocktails, music, and conversation can be held while tasting a selection of Mediterranean-influenced dishes. In the summer, this is the perfect spot to while away hot middle-day hours with your favourite drink. In winter, you and your beloved one are treated with a blanket and possibly a hot drink to do the same. And after a day of running around to explore Paris's wonders what's better than sipping a crisp glass of wine on the patio steps away from your bed.
The serene atmosphere extends into each room with elegant, minimal decor and extravagant amenities. Each corner of Hotel Pulitzer Paris proves an inviting, cosmopolitan vibe and world-class hospitality. The staff go the extra mile to make you feel at home and spoiled at the same time. Your elegant love nest retreat features a minibar, flat-screen television, highest class mattresses and views into the city. Your sanctuary after a day of exploring the busy Parisian streets.
A fully committed concierge service aims to personalise your experience as much as possible. They will help you discover the city that is adored for its romantic and bohemian flair. If you are more of an off-the-beaten-path honeymooner, Paris has plenty of vibrant outcrops where one can explore the hidden side of the city.
You and your beloved one can easily forget about all that's mainstream and discover atmospheric restaurants, charismatic bars, and quirky museums in the hidden alleyways across the city of love. You can read more about our take on Paris here.
Keep your finger on the pulse of the city at the Hotel Pulitzer Barcelona
Yet another exciting city destination for couples looking for some action at their European honeymoon destination. Barcelona is breathing with life and electric fun vibes all year round and there's no better place to keep the pulse of the city than Hotel Pulizer Barcelona.
Already from the entrance of the hotel through the bustling lobby space, you will feel energized by the electricity of the atmosphere that flows throughout Pulitzer. You can be sure to learn from the friendly staff that there is always something happening at the hotel that reflects the lively vibes attracting you to Barcelona in the first place.
One of the coolest spots in Barcelona, the famous Pulitzer Terrace is open from May to October. So if you are aiming at dancing with your partner till sunrise during your honeymoon, this rooftop terrace is the place to be. You will appreciate artistic cocktails and an informal tapas menu served with music from trendy DJs and live bands playing all night long.
You will be delighted to return to your bed as your love nest at Hotel Pulitzer Barcelona will be decked out in contemporary comfort, drawing inspiration from its chic European surroundings. Natural light beaming from each space highlights the avant-garde elements that complement your room with the vibrant essence.
After a wild night dancing or exploring vibrant Barcelona let Pulitzer nourish you yet one more time with an expertly curated breakfast served on the hotel's patio among your fellow guests or on your bed. That will be the only way you want to start your morning as nutritionist chefs have created a flawless selection of fresh baked goods, jams, cheeses, meat cuts, and more…
Lose yourself in a laid-back reverie in a Perivolas Boutique Hotel
Perfect choice for islands lovers. Santorini is definitely one of the most romantic and famous Greek honeymoon islands. Just think about rising from bed with your loved one, walking barefoot on the smooth white stone to leave the 3,000year-old restored cave in which you slept, which opens onto a view of the caldera so breath-taking that it makes you stop for a moment and look at each other with disbelieve in your eyes: can this be real?
It is real. This is a snapshot of what it's like to stay in Perivolas Boutique Hotel. Here you'll find the most photogenic spots just outside your room when you will spot your loved one sitting at a glittering infinity pool, or jogging at the wellness centre with a view of the Sea behind. Set off to explore as the concierge will design a tailor-made tour of the island just for you allowing you two to view the caldera from a private boat tour.
The iconic village of Oia is where you will be located. This is a place that people have flocked to for centuries to bear witness to the redemptive view of the gold-hued and purple sunset that only Santorini can paint. What's the most unique about Perivolas Boutique Hotel is that it is carved into ancient caves that make up the sea-facing side of this village teetering above the blue waters of the caldera. In a short walk, you can reach the heart of Oia, which boasts some magnificent restaurants, lively bars and a plethora of boutique shops hidden away among the winding, old alleys.
But let's take you back to your room – imagine serene, almost sparkling white, glowing from the walls around you. Think baskets of flowers, warm natural wood and big squashy pillows in jewel tones. The owners have curated the perfect atmosphere to provide a backdrop for moments of divine tranquillity, perfect for your honeymoon. Now imagine spending languorous mornings in the steam room… Most of the suite's bathrooms include the utmost luxury, featuring spa-level facilities like steam rooms and hydrotherapy pools.
To finish up your ideal honeymoon dream Perivolas will serve you breakfast to your own liking with astonishing views from the hotel's terrace or your bedroom. Feast on fluffy pancakes, fresh juices and fruits or local eggs as well as hot, steaming mugs of aromatic Greek coffee to start your day on the right foot. The rest of the day you can indulge in a full Greek mezze as you lounge by the pool or in the evening with the magnificent sunset over the vista laid out in front of you.
Chef Theodoros Kakoulis will keep your mouths watering with his ever-changing daily specials. One thing you can count on though is that whatever he's serving will be fresh, local and absolutely delicious.
Kensho Ornos, a sophisticated sanctuary to reward your senses
And last but not least nestled beautifully between charming beaches on the cosmopolitan island of Mykonos sits Boutique Hotel Kensho Ornos. A destination by itself for fans of luxury and high-end service. Honeymooners flock here to relish in the privacy of suites with their own jacuzzis accompanied by the calming views of Ornos Bay. Imagine sipping local wine as you watch the sunset from your private plunge pool with your newlywed loved one.
If you both feel overwhelmed by the excitement of your new life together there's nothing better than dancing the evening away with nightly DJs at the Kensho Ornos Sunset & Lounge Bar or wandering around the island's famous clubs with your private chauffer organised by the concierge of the hotel. Cosy cafes, energetic beach bars and unique shops await just beyond the corner; however, by night, you'll be back sipping refreshing cocktails on the oversized rooftop jacuzzi.
Whether you end up waking up with the sun or spending your morning cosied up in bed together, when you're ready, a delectable breakfast buffet will be waiting with a glass of complimentary Prosecco. Afterwards, you can head for a true relaxation at Kensho Ornos full-service spa, featuring tropical rain beds and heat, colour and sound therapy.
Kensho Ornos is also for design lovers as there's no one the same corner at the hotel that was carefully curated mixing up chic, bohemian style with modern, high-end amenities and one-in-a-kind handmade furniture. Every detail embraces the scenery of the island, quaint lines and unique light fixtures divide the open space between bedroom and bathroom while impressive wooden architecture sets a tranquil mood. You can choose a room with an outdoor hot tub, private plunge pool or panoramic Ornos views from your terrace.
At the end of the day, delight in a culinary experience as the awarded executive chef, Ippokratis Anagnostelis,takes you to a journey to modern gastronomy, inspired by the Cycladic traditional cuisine. Kensho Restaurant serves traditional dishes with fresh Cycladic products transformed with modern gastronomic techniques, masterfully deepening the flavours of each product. Ocean vistas take a back seat as you indulge in every bite with pleasure.
Any other evening head to the popular Ornos Beach for a moment with your loved one and sunset walk or indulge in an adventure around the local boutiques, cafes and maybe popular clubs if your wedding party left you wanting more. Mykonos can definitely become an unforgettable Greek island for your honeymoon.
Our boutique hotels are the ultimate European honeymoon destination, no matter which one you choose. The Mediterranean region is a honeymooner's dream with turquoise blue waters, astonishing sunsets, nourishing local cuisine, ancient art, relaxed culture and warm hospitality. And what better way to experience these spoils than with a beloved partner.