The Mediterranean is typically associated with long hot summers, languorous afternoons stretched on a golden sandy beach fringed by crystal-clear blue waters. Yet the diversity that characterizes the region makes for a rich selection of cultural nuances that is enthralling all year round. Let's have an insight into the festive season traditions in Europe and across the Mediterranean. If you're thinking of escaping at the end of the year for Christmas or some sunny new year celebrations, read on.
Celebrating Christmas in Greece
Greek Christmas celebrations last for 14 days, starting on the 24th and ending on the 6th of January with the Water Blessing. Christmas celebrations take place on the 25th but that festive feeling starts to permeate the air from the beginning of December. First things first, Greeks honour Saint Nicholas, the patron saint of sailors, by decorating boats instead of Christmas trees, a time-honoured tradition linked to the country's strong maritime history.
Greeks eat lots of cookies around the festive season and there are two distinct but equally delicious Christmas cookies to try: Melomakarona (honey cookies) and Kourabiedes (buttery almond cookies).
If you're planning to spend a sunny New Year in Greece, stick around until the Theophany festival on the 6th of January, when the celebration of Jesus's baptism at the Jordan River takes place. Traditionally, a priest will throw a cross into a body of water and a group of men will jump in after it, with the saying going that whoever finds it first will be blessed for the whole year.
Festive season traditions in Europe: Croatia
Christmas in Croatia is a huge affair, during which the country's people demonstrate their flawless ability to party all night long. The biggest days are Christmas Eve and Christmas Day, referred to as "badnjak", which means "to be awake" in old Slavic – the idea being that you stay awake all night until Christmas Day. This has its physical representation in the centuries-old tradition of finding a log to burn on the fireplace on Christmas Eve and keeping it burning throughout Christmas Day.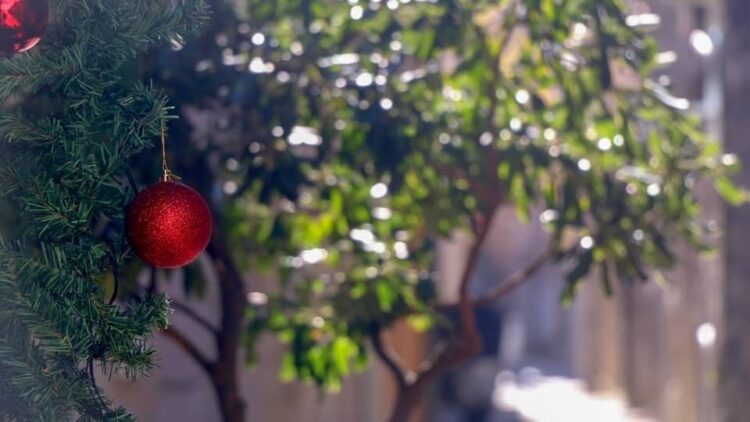 Christmas Eve is a fasting day in Croatia and so a small meal is usually enjoyed in the evening, normally consisting of dried cod and cabbage, before everyone heads to midnight mass and then on to the bars to party all night. On Christmas Day, Croatians indulge in a feast of various meats – lamb, turkey and pork -, stuffed peppers, fresh bread and a whole host of classic festive desserts and cakes.
Christmas in France
Starting early December, you will see festive decorations in all streets and households in France. Wherever you are in France, you will find a Christmas market, which is the perfect spot to pick up some original artisan gifts, local produce, or seasonal specialities.
Unsurprisingly, Christmas in France is heavily centred around family and food. Traditionally, families will have a decorated Christmas tree and a crèche de Noël, a nativity scene that can range from a small barnyard scene to a recreation of the entire town of Bethlehem. Families would gather for a festive feast on the 24th evening and Christmas day lunch.
Depending on the region you are in, you'll enjoy a range of delicacies, with the Provençal tradition, for example, being not one but 13 desserts, to represent Jesus and the 12 Apostles. The French Christmas feast usually begins with oysters, smoked salmon and Champagne followed by foie gras with brioche and Sauternes wine. There'll be an enormous cheese course, of course, and no French Christmas is complete without the bûche de Noël, the Yule log cake.
Christmas day is also about the magic of finding a gift under the decorated tree, in the morning.
The festive season in Italy
During the eight days preceding Christmas in Italy, people take to the streets to sing traditional carols and you'll even see bagpipers in parts of Southern Italy. From Tuscany to Sicily, towns and households are strung with wreaths, lights and Presepi: intricate Nativity scenes.
The festive season in Italy is truly family time and nothing says family in Italy quite like food. On la Vigilia, Christmas Eve, Italians typically don't eat meat to purify their body and so a fish dish is usually enjoyed before midnight mass. Christmas Day is a veritable orgy of delights, from pasta in brodo to sumptuous roast meats, followed by the Italian Christmas cake Pannetone, a soft, sweet bread studded with dried fruits.
Christmas in Malta
The Midnight Mass on Christmas Eve in Malta is a really special festive tradition. Named the Sermon of the Child, the mass is led by a small boy or girl who tells the Nativity story and is followed by a children's procession around the village led by four boys singing Christmas carols and carrying lanterns.
Interestingly, when it comes to Christmas sweets, Malta has inherited many traditions from other countries. The British classic mince pie is found all over the country during the festive season, as well as typical British Christmas Cake and Christmas Yule log from France. Don't miss the traditional Maltese drink Imbuljuta tal-Qastan, made of hot chestnut and chocolate, the perfect beverage to sip after Midnight Mass as well as on New Year's Eve.
Festive season traditions in Spain
Spain has some fascinating festive season traditions. For starters, the Christmas lottery, El Gordo, is the biggest lottery in the world and causes thousands of people to queue up at newsagents to get their tickets. If you are looking for some sunny New Year's Eve celebrations, look no further than Spain. This is definitely a country that likes to party and NYE is no exception. You'll participate in the legendary '12 uvas' tradition, started by the winemakers of Alicante and which involves placing a grape into your mouth for every toll of the midnight bell on January 1st.
One of the biggest festivities in Spain actually takes place on the 5th of January, or the day of the Three Kings, so stick around after New Year's Eve for an unforgettable feast.
Celebrating Christmas in Lebanon
Roughly 30% of the Lebanese population is Christian and while Christmas is viewed as a Western holiday, you can still find some festive traditions in the country that incorporate the local flavour. Of course, a feast is prepared, featuring many of Lebanon's show-stopping dishes including Kebbeh minced meat pie and chicken with spiced rice along with piles of hummus and fresh tabbouleh. Desserts include French classic bûche de Noël and creamy Lebanese Meghli. This time of year, people often partake in Dabke, a traditional and lively middle-eastern dance played along to the darbouka, a golden drum.
There's so much to discover along the Mediterranean coast during the festive season. From Christmas traditions to fascinating ways to spend a sunny New Year's Eve, explore the Med this holiday season and you won't be disappointed.