Greece in winter is a story of two halves. Northern Greece turns into a snowy haven while southern Greece maintains a lovely mild climate. For many, winter may not be an obvious choice for discovering Greece's endless beauty and charming villages.
Yet, traditional culture comes alive as temperatures drop and once-packed restaurants and famous archaeological areas are shared with only a few others. Greece in winter remains a hidden secret, below are our tips to discover it for yourself.
Greece in winter, the surprising country of sun and snow
Greece in winter, has a diverse climate as the vast country itself. You can travel from frosted landscapes and snow-covered mountains to sunny beaches in just a few hours. While winter may not be your first choice for a holiday in Greece, you'll be surprised just how fascinating this season is.
In the north, around Epirus and Macedonia, it's not unusual for the temperature to drop below freezing and even find its way to a chilly -20 °C (-4 °F) between November and March. Here, snow blankets the surrounding hills and turns the forested landscape into a picture-perfect snow globe.
On the other hand, in southern Greece, temperatures can reach -21 °C (70 °F), making for splendid days exploring ancient sites and enjoying coastal hikes. Just be sure to pack a raincoat as winter is the rainy season in Greece.
Best places to visit in Greece in winter
Wander the empty museums of Athens
Athens is known for its deep history, fantastic museums, and remarkable archaeological sites. Yet, exploring the city in summer can be a hot, crowded, and unpleasant experience. In winter, the bustling city thins out, and exploring the sites of Athens with hardly another soul around will be an experience you won't soon forget.
Travel to one of the most beautiful "islands" of Attica, Anafiotika. A neighbourhood teeming with colours and beautiful small alleys that resemble the architecture and atmosphere of the islands in Greece in winter.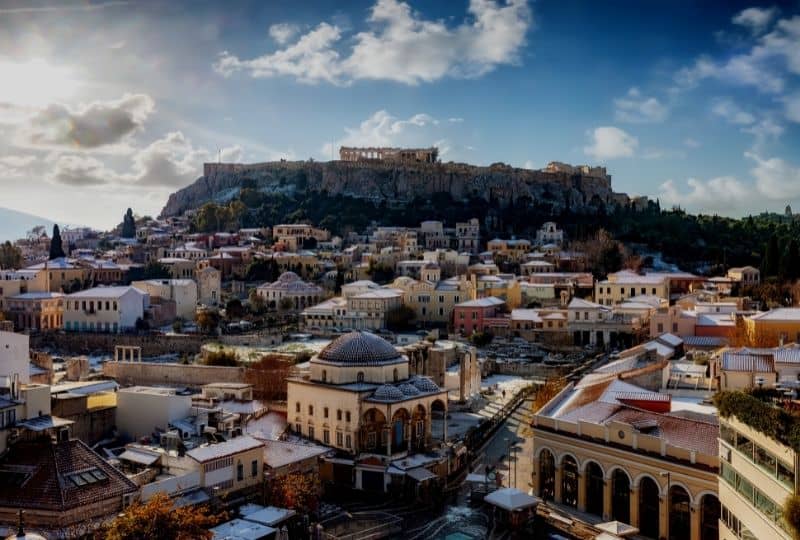 Head to Parnitha, an alpine oasis just outside of Athens. Enjoy the beauty of Attican nature, play with the snow, feed the deer, and engage in different other activities. Hike through the dense network of trails and find yourself at Flambouri or Bafi Refuge, where warm hospitality, relaxation, and outstanding local cuisine are a commitment.
Then, when your feet ache from an all-day wander, head to Lake Vouliagmeni, located just outside of Athens. Here, water from the sea and an underground thermal spring mix create a heavenly warm lake perfect for soaking. Take a dip and feel your worries wash away.
Enjoy Crete's mild climate, perfect for hiking
In summer, hiking in the Cretan mountains can bring scorching temperatures and crowded trails. Day trips like the scenic hike into Imbros Gorge can see up to a thousand hikers a day, yet sits gloriously empty in winter.
Crete has spectacular hiking trails of all levels of difficulty, and most of them can be explored during winter. Sadly, high water makes the Gorge of Samaria dangerous and impassable during winter but the trails from Loutro to Chora Sfakia and from Agia Roumeli to Agios Pavlos are open all year. The road Aschifou-Imbros-Kallikratis and the one connecting Chora Sfakia-Frangokastello on the southern part are a little more demanding but truly rewarding.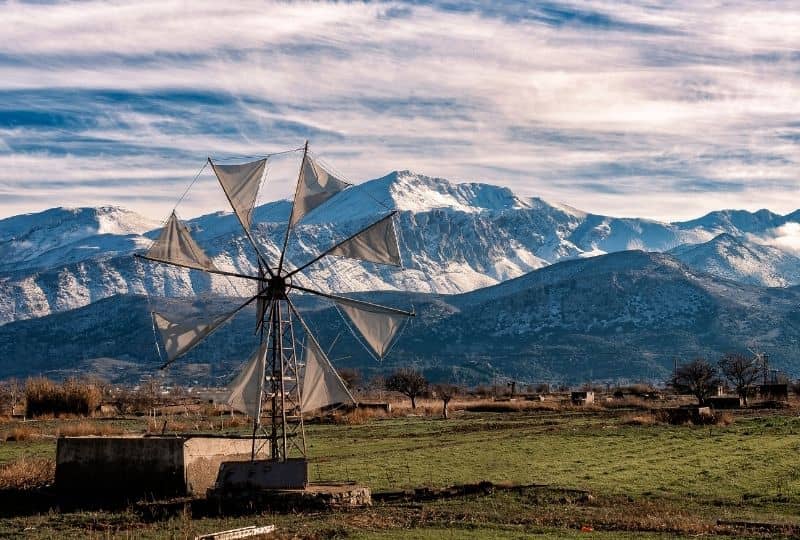 Pack some layers and challenge yourself to one of the many hikes on the island. Then when you've finished, head to a raki bar to warm yourself up from the inside out and sample local cuisine surrounded only by locals. If you are at Chania around Christmas time, participate in the Chania Santa Run marathon, which is often held on December 26. Join thousands of Santas and elves in a marathon held to support charity.
By choosing Crete for your romantic winter destination, you'll see a peaceful side of the island that very few tourists experience.
Embrace winter festivals in Peloponnese
If you enjoy the occasional snowfall and the excitement that comes along with it, Peloponnese is an ideal location to embrace the winter in Greece. Spend your morning skiing, your afternoon roaming ancient ruins and your evening enjoying a stew at a traditional taverna.
A visit in January or February will see the Patras Carnival, one of the largest festivals in Greece. Celebrate Dionysus, the god of the grape harvest and winemaking, with splendid feasts, parades, singing, and of course, a lot of wine.
The Patras carnival traditionally occurs from Saint Anthony's Day on January 17 until Clean Monday, "Kathara Deutera," the first day of Lent. However, most of the action occurs during the three Greek carnival weeks or "Apokries", which start ten weeks before Orthodox Easter. It is a series of parades, parties, and scavenger hunts that reaches its peak on the last and wildest day of the carnival, three weeks later, with the carnival highlight, the burning of the carnival king, and the closing ceremony.
During Apokries, the day of Kathara Deutera, a very unique and historical tradition takes place in the city of Galaxidi. On the day of Alevromoutzouromata, the participants "arm" themselves with flour and lampblack, and the city turns into a "warzone". Grab a bag of dyed flour and lose yourself in a cloud of colours, laughter and music. Alevromoutzouromata dates back to 1840, and it was a farewell celebration for the seamen who embarked during March.
Experience the stillness of the Cyclades
While many of the smaller and more remote Cyclade Islands close up shop for the winter, the larger and more populated islands become magical places. Think of the pictures you've seen of Santorini and Mykonos, with empty stretches of coastline and abandoned labyrinths of streets. In summer, it's nearly impossible to snag yourself one of these shots, but come winter, you're sharing these delightful villages with only a few others.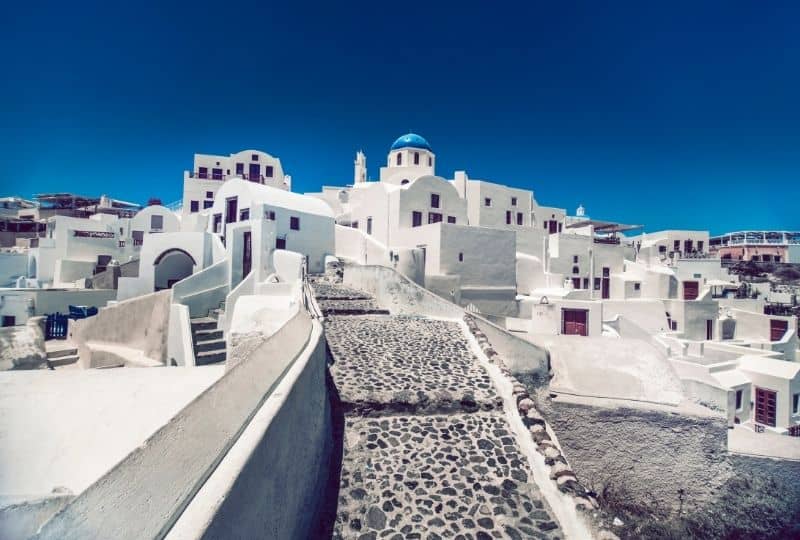 Visit the archaeological sites without thinking about the long waiting lines. Have a spontaneous traditional Greek meal with fresh ingredients. Not all restaurants are open, but there are lots of brilliant places waiting to serve you without having to book three days in advance. Wander around the picturesque, Cycladic, white and blue alleys and take pictures without being bothered by dozens of tourists.
The temperatures do drop into the low 10's °C (50's °F), so you must pack some layers and forget about the all-day sun tanning. However, the chance to visit these breathtaking islands from the eyes of a local is an experience you won't soon forget.
Create fond memories in Zagori
Winter in Greece means Epirus, an enchanting destination in the northwest part of the country. Lush slopes, hiking trails of rare beauty, mysterious canyons, mighty rivers and majestic mountain lakes form a picture that will stay in your memory forever. 
Zagori (also called Zagorochoria) is the pride of Epirus. Mikro Papigo and Megalo Papigo are the most famous among a complex of 46 gorgeous villages located in the mountains northeast of the city of Ioannina.
Get carried away by the flavours of the local cuisine, sip some tsipouro, relax next to the fire, and take a walk to observe the traditional architecture. Explore the villages of Zagori and experience a magical winter in Greece.
Choose Arachova for a cosmopolitan sojourn
Arachova is one of the winter destinations in Greece that should be on everyone's bucket list because of its breathtaking ski slopes, the abundance of outdoor activities, and its authentic character. A vacation spot for locals rather than a major tourist attraction, it claims the title "Winter Mykonos". Parnassos Ski Resort, a plethora of good bars and restaurants, and the short distance from the capital make Arachova the ideal destination for an active weekend or a day trip away from Athens.
During the day, slide down the most famous ski slopes of Greece, and when night-time arrives, unwind next to the fireplace at one of the luxurious traditional guest houses and boutique hotels the area has to offer.
Discover charming things to do in Greece in winter
Enjoy traditional winter Greek food
As the days become shorter and winter rolls in, restaurants dedicated to the tourist taste change their tune and start to revert to traditional Greek winter food. Think fasolada (bean soup), overflowing oven roasts, hearty stews and stuffed lahanodolmades (stuffed cabbage leaves). For dessert, scrumptious kourabiedes (biscuits), diples (fried dough), and melomakarona (Christmas honey biscuits) are on the menu.
These hearty and healthy meals make chillier nights feel nice and cosy, especially when you're surrounded by the hum of happy locals. Once Christmas comes around, expect even more hearty winter food to find its way onto your plate.
Experience Christmas and the unique Greek festivals
Christmas in Greece alone is a wonderful reason to visit the country in winter. From small villages to the vast Athens, the Christmas spirit is embraced and on permanent display. Children can be heard carolling from door to door, delightful desserts can be smelled, and town squares come alive with decorations and markets.
Each region of Greece has its own equally alluring Christmas traditions. Some of our favourite places include Athens, Thessaloniki, Mykonos and Kalavryta. However, no matter where you find yourself on Christmas in Greece, you can expect a heartwarming experience.
Enjoy a day on the Ski Field
As skiing in Greece is a seemingly well-kept secret, you can enjoy a fantastic weekend of skiing without the crowds and without the price tag that many European ski resorts have. The ski fields mainly see domestic tourists, allowing a lovely authentic and relaxed atmosphere.
Northern Greece is where you'll find the majority of ski fields. Thessaloniki has more than 7 Ski Resorts at driving distance, with the most famous and spacious ones being Kaimaktsalan and 3-5 Pigadia. And the best part, once you've had your fill of snowy days in Northern Greece, a trip to Southern Greece is just a few hours away. Two hours of a car ride away from Athens, you will find yourself at Parnassos Ski Resort, the biggest and busiest in Greece. Kalavryta Ski Resort is the second biggest and is ideal for family trips and beginners. It is located 200 km away from Athens. 
Your visit to Greece in winter will be rewarding no matter the Ski Resort you decide to visit.
Enjoy the local's way of life
Like any major tourist destination, as the crowds disappear, the locals once again reclaim the streets. Suddenly you'll notice Greek music being played around town and traditional Greek dishes taking over menus. Even better, locals are much more willing to stop for a chat and show you directions if you're looking lost. So don't hesitate to grab yourself a rakomelo and strike up a conversation.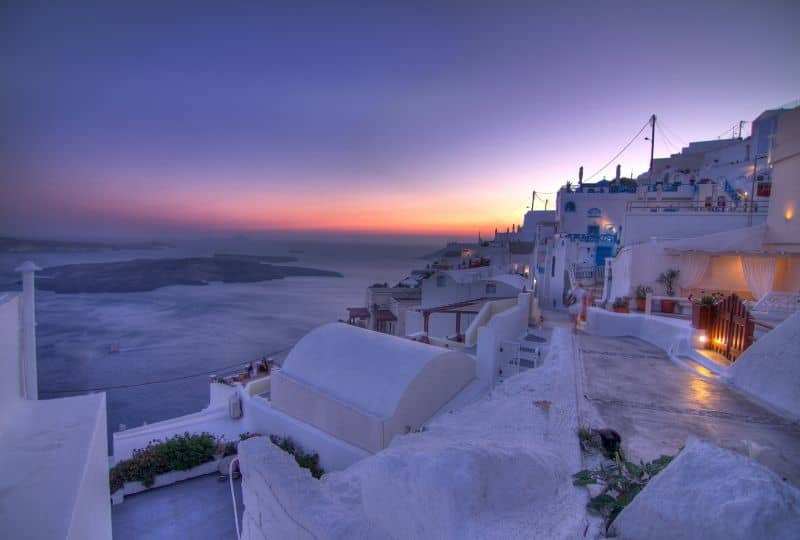 Thinking about travelling to Greece in Winter?
Are you still wondering if visiting Greece in winter will be a trip worth making?
If you're ready to experience the snow-covered mountaintops and empty beaches of Greece in winter, check out the Boutique Vibe's list of charming boutique hotels below and start planning your wonderful winter holiday in Greece today.