Tucked between a somewhat futuristic patisserie and a traditional brasserie, the Cour des Vosges, is a metaphor for the fusion of design and architecture
The Cour des Vosges Boutique Hotel, housed in a 17th-century mansion, blends contemporary art, eco-friendly technology, and a non-pareil interior and offers prime SPA and dining experiences.
The indoor setting has been fashioned by Yann La Coadic and Alessandro Scotto. It is a dashing melange of modern and historical influences, with some parts of the interior, such as fragments of woodwork, preserved in their authentic form.
Upon entering the boutique hotel, you will find a reception area exuding glamour and will appreciate the attention given to the most minor nuance. The rooms of the hotel feature ultra-modern en suite bathrooms and state-of-the-art technology, along with art, hand-made furniture, and thematic novels. Each is a separate piece of interior art and ranks among Paris' most luxurious accommodations.
Designed to encapsulate what makes France what it is, they impart to your stay the unique boutique touch. Make your holiday in the center of Paris a homage to exquisite decor that both emphasizes and blends in with the beauty of the Parisian outdoors. In the end, Cour des Vosges is where your Parisian dream starts.
Mind-soothing Cour des Vosges SPA experience

 

Location brimming with pizzazz and literary charm

 

Designer set of suits placed in a historical setting

Exquisite confectionery and sweetmeats at elegant Salon du The

 

Stunning panorama of the centre of Paris
Rooms Overview
Featuring five kinds of authentic rooms and suites, Cour des Vosges offers a bespoke approach to the design of every space.
Cour des Vosgues boasts an exquisite selection of airy suites and rooms, done out in a mix of new and old. Check out unique 17th century art objects, trippy coffee tables, cutting-edge technology, handmade furniture and a curated selection of novels and art.
Deluxe Rooms
2 guests
Connecting rooms option
View into the city
Succumb to the authentic charm of a tranquil chamber with an en suite bathroom complete with Gurlein toiletries and a shower bathed in natural light.
The glitter of the stainless steel headboard jazzes up the placid allure of the traditional king-size bed and bed cover, while the woodwork and view; and ceiling emphasise the attic-like aura of the space, boasting one of Paris' most exquisite designer settings.
Deluxe Suites
2 guests
Connecting rooms option
One-bedroom suite
View into the city
Deluxe Suites stand for unrivalled modernity embracing the dazzling elegance of traditional Parisian luxury.
Suffused with light, the sizable suites offer real works of art with authentic Parisian modern cocoon-like sleeping areas and chic decor with a view into one of the most kinetic and inspiring squares.
Junior Suite
2 guests
Connecting rooms option
One-bedroom suite
Panoramic View
Offering a view over the place de la Bastille, a walk-in closet, a designer's set of furniture, a plush couch, trippy coffee tables and artworks dating back to ancient régime France, the suite is great for a romantic sojourn for two. Finish a day with a bouquet of flowers, a novel and a bottle of organic French Burgundy.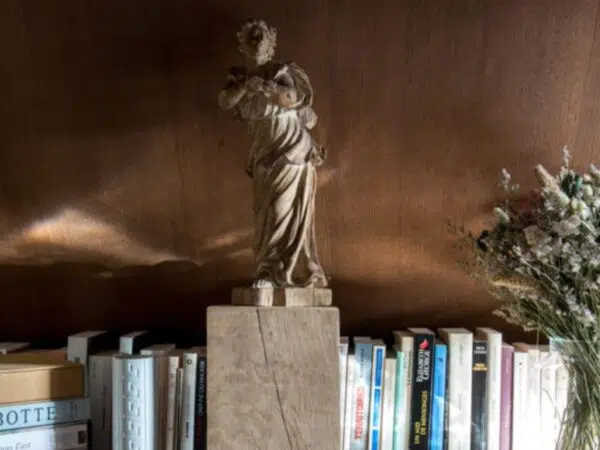 Superior Rooms
2 guests
Connecting rooms option
View into the city
Situated on the top floor, the superior rooms feature sloping attic ceilings and cobalt grey, somewhat rakish bathtubs that make you feel like you woke up in some bohemian digs off the Montmartre.
But the stainless steel fragments and other artsy fragments of modern design remind you that you are in one of Paris' best boutique hotels.
Superior rooms feature a stunning rooftop view over the Place de Bastille, with an angel perched atop a column visible from your bathroom; great art pieces, a great selection of thematic reads; and exposed woodwork and rafters, making it a perfect spot for writing and passing nonchalant time in Paris.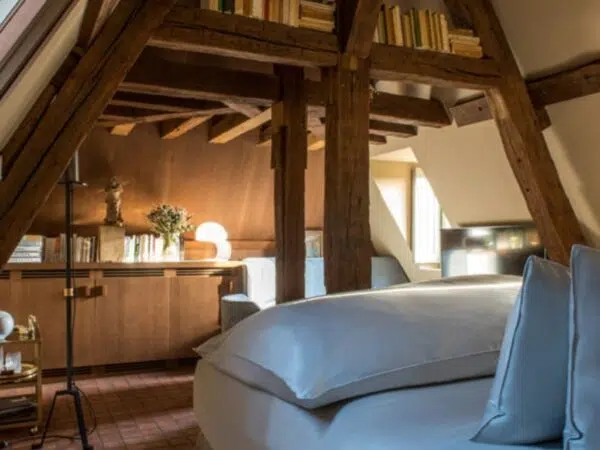 Superior Suites
2 guests
Connecting rooms option
One-bedroom suite
View into the city
The Pearl in the Cour des Vosges collection of rooms, the superior suites are the roomiest living spaces designed in a unique potpourri of influences both antique and modern, and showcasing real 17th-century artefacts.
What is more, they open up on the bustling Place des the Vosges, and offer even a cooking space for a culinary escapade, after a visit to hipe organic groceries and fish markets.
Taste the flavors
Breakfast at Salon du The
Known as a prime SPA hotel, Cour des Vosges' other strength is the prowess of its culinary gurus.
Sample mouthwatering sweetmeats at its Salon du The and don't miss out on ambrosial breakfast complete with delicious crackling-crusted croissant, coffee and jam, and relaxing tea in the afternoon.
About sustainability
Like the fig tree roots, the property is constantly addressing many sustainable tourism areas and excelling in most fields.
Done by the latest eco guidelines the hotel is a paragon of sustainable tourism trailblazing a path toward greener Parisian hospitality.
Stay in the centre of Paris pullulating with organic stores, where even the swankest establishments have to comply with some of the world's most stringent and progressive national eco laws.
Check out the state-of-the-art eco protocol regulating the use of water and other natural resources, ensuring efficient consumption at the boutique hotel.
Contribute to green tourism by responsibly using toiletries, linen sets and services offered most ecologically at Cour Des Vosges.
Explore the location
Place of Cour des Vosges is the oldest square in Paris designed to a plan, it is just a stone's throw away from Place de la Bastille and is one of the main nexus of chic and glamorous Le Marais.
During your stay at Cour des Vosges, you can immerse in the whirlpool of never-ending soirées at trendy local wine bars, sample Michelin-star dining, or go hunting for hidden literary gems at book stalls along the Seine.
Keep in mind that the boutique hotel has been opened in place of a hotel Montbrun, a legendary hotel that once was considered the pearl of le Marais.
Book a trusted local driver for your transfer to and from the hotel, and introduce you to the destination, pre-order travel essentials, and get all your questions answered before or during the trip. Choose the stops, visit the attractions, and don't waste any time waiting. We've partnered with Welcome Pickups, the first company to deliver a holistic, in-destination travel experience.