Boutique hotel with an exquisite interior, Hotel Le Ballu stands for expert service and cosmopolitan chic
Situated a walking distance from Opera Metro Station, the boutique hotel sits in the heart of the artsy Montmartre district with the Sacré Cœur Basilica towering over it, boasting one of the most popular postcard views of Paris.
Hotel Le Ballu has been conceived and created by Thomas and Julia Vidalenc, who also designed it, inspired by the location, its artistic vibe and the fictional state of Syldavia, from Herge's Tintin. Bear in mind that it is this same creative impulse that drives the hotel's restaurant chefs to make their delectable dishes a true work of art, representing the promise of another bright and eventful day in Paris.
Featuring spacious rooms, the hotel showcases authentic Central European furniture from the 1960s and 1970s and thus could be a backdrop for one of Roman Polanski's movies if in black & white.
In actuality, the warm palette of the hotel's interior gives it a cosy aspect. While a snug green terrace, 24/7 room service and its restaurant, along with a sauna, pool, and a pronounced penchant for eco-sustainability make it one of the most desired boutique hotels to relax in Paris with a book, and a bottle of Bordeaux.
Immersing in wellness at the hotel's relaxing sauna
Melting all troubles away while swimming in the scenic pool
Relishing a delicious morning coffee and homemade croissants with organic jam
Lounging about at the hotel's terrace engulfed in bloom and fragrance
Preparing a fast meal at a fully equipped en suite kitchenette
Rooms Overview
The spacious interior of the well-lit rooms is done in homage to the tranquil urbanity of Parisian leisure and is complete with Chenille easy chairs, triangular wooden coffee tables, spacious beds and sofas: just perfect for reading or just lazing about after a session at the boutique hotel's pool and sauna.
Standard Double
2 guests
Kitchenette
View into the city
Airy and sound-proof, the 18m2 rooms are fitted out with cutting-edge air conditioning and heating, an Italian shower, a small but fully rigged-out kitchenette, and authentic designer furniture like a designer sofa and coffee table.
Keep in mind that bed-head reading lanterns, free sauna and pool access make this accommodation one of the best-value options in central Paris for relaxing.
Superior Twin or Double
guests
Kitchenette
One-bedroom suite
View into the city
Facing the garden, this hotel's accommodation unit boasts either a jumbo king-size bed or two separate beds, a sofa, a writing table, a scenic bathroom setting, and fascinates with bold designer moves and 21st-century utilitarianism.
What is more, here you can have not just an en vogue combination of prime decor and sustainable first-class technology but also, like in other units, 24/7 room service and access to a sauna, a swimming pool and other hotel perks like a kitchenette with crockery, a Nespresso machine, and a TV set with international channels.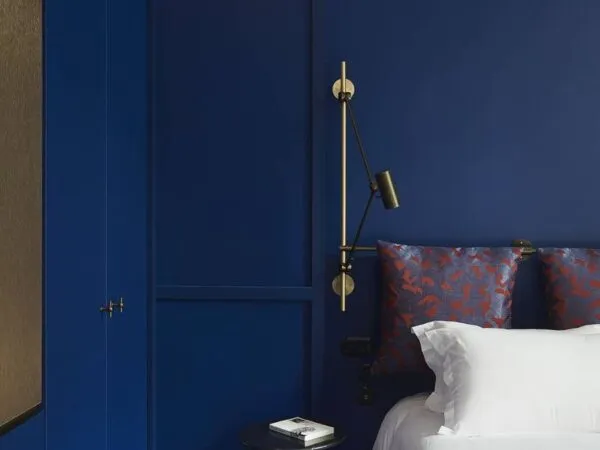 Deluxe Twin or Double
2 guests
Connecting rooms option
One-bedroom suite
View into the city
Taking up 25m2, the room is great for a weekend in Paris for two. Inside, you can unveil the refined allure of a huge room that you can connect with others and thus convert into a true apartment.
What is more, the aquamarine wall colour; a cushy sofa and a designer reading table will make your stay a tribute to comfort and refined leisure, to add to all other features like a kitchenette and great lighting.
Junior Suite
2 guests
Kitchenette
One-bedroom suite
View into the city
Fitting up to 3 people, and occupying 30m2, the suite is not just luxurious but also authentic in its Parisian charm and boasts like other rooms a focus on ecology and sustainability of stay.
Here you can profit from sustainable cooking at its fully-rigged kitchenette, designer rugs and furniture, huge bed, a separate sleeping place, and a bathtub for the most relaxing of sojourns.
Keep in mind that it is one of the most comfortable rooms, perfect in tandem with free SPA and swimming pool experiences.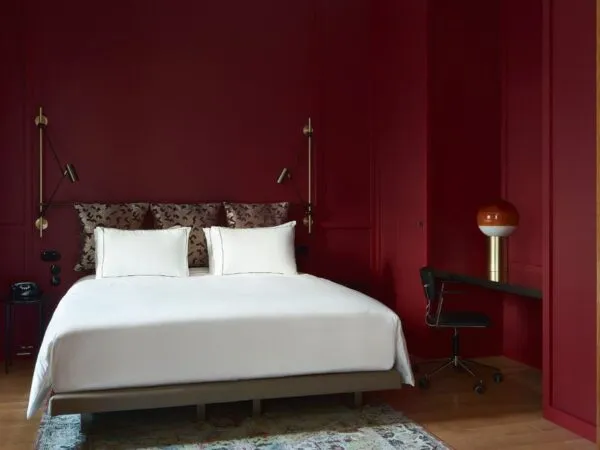 Apartment
4 guests
Kitchenette
Two-bedroom suite
View into the city
Covering a whopping 47m2, the spacious well-lit space is made for those used to the privacy of their own space and is one of the most dazzling gems of the Le Ballu hotel's collection.
Take delight in the spacious designer setting complete with two rooms furnished with a King size bed, one convertible king-size sofa, and all the hand-picked selections of stylish furniture units.
That, along with either a panoramic garden or street vista, will make your stay scenic and fun, especially given that you can stay here with family or friends, the room having been made to house up to 4 people.
Junior suite with terrace
3 guests
Balcony
Kitchenette
View into the city
Also fitted out with a private bathtub, and all the trappings of an airy boutique hotel designer suite for two, this suite also boasts its terrace and a gob-smacking panorama over downtown Paris for you to sense the somewhat rakish allure of this trendy district.
Apartment with terrace
4 guests
Balcony
Kitchenette
View into the city
Another vast living boutique hotel unit, this apartment is arguably the hotel's most luxurious option, thanks to its private terrace and features like a garden or street view, an Italian shower in a scenic bathroom setting, and designer furniture.
Taste the flavors
Continental Breakfast
Don't forget to wake up for your ambrosial breakfast with crispy homemade croissants and organic jam, along with steaming coffee. It is not just delicious but served in a scenic dining hall with walls of enthralling colour and design or on a spacious terrace.
Restaurant
Le Ballu restaurant offers some of the most exquisite Parisian dishes, from 12 am to 11 pm: here you can munch on French classics and wash them down with fragrant French wine, all in an Art Deco Setting with an East European allure.
About sustainability
Citrus, the fruit of Promise, indicates that the property is noticeable eco-conscious as many areas of sustainability are addressed.
Hotel Le Ballu offers eco-conscious hospitality with bed linen and towel washing done when signalled only.
The boutique hotel prices into your stay homemade breakfast that pays homage to local cuisine and is made using mostly organic produce.
There are a lot of bike rentals around the hotel for eco-sustainable active leisure.
Hotel Le Ballu benefits from the modern protocol of "triage"; sorting waste according to its category to help the planet.
Explore the location
Situated close to Opera Metro Station, and some of the main art hubs, Hotel Le Ballu is the pearl of the Montmartre: here you can explore the kinetic bar and dining stage, make a trip to landmarks like Amelie-Cafe, Moulin-Rouge, and Sacré-Cœur Basilica and walk with your friends or solo in one of Paris's most picture-perfect districts.
Head here for a stay in one of the most bookish and inspiring Parisian spots, and don't forget that it is not just the hotel but also the scenic area around that makes for a complete stay in the Montmartre district.
Book a trusted local driver for your transfer to and from the hotel, and introduce you to the destination, pre-order travel essentials, and get all your questions answered before or during the trip. Choose the stops, visit the attractions, and don't waste any time waiting. We've partnered with Welcome Pickups, the first company to deliver a holistic, in-destination travel experience.