Boutique Elegance at LOOM Athens
LOOM Athens, a masterpiece of elegance in the heart of Greece's capital, beckons travelers to embark on an extraordinary journey. Discover a boutique hotel that's far more than just a place to stay; it's a captivating blend of history, design, and artistry.
In 2023, a collective of visionaries – architects, designers, and engineers – pooled their creativity and expertise to craft a unique gateway to the treasures of Greece. At LOOM Athens, you won't just find accommodations; you'll uncover a place of inspiration where the stories of the past meld seamlessly with the contemporary vibrancy of Athens.
Every corner of Loom Athens is an homage to Greek artistry. A thoughtfully designed geometrical theme featuring natural materials and a burst of vibrant colors pays tribute to legendary local artisans. The bespoke façade, adorned with ceramic bricks meticulously crafted from Greek clay, epitomizes the hotel's commitment to celebrating heritage.
This is where tradition meets the avant-garde, where history dances with modernity. LOOM Athens weaves a narrative that connects Athens' past to its dynamic present and promising future. Immerse yourself in the vibrant spirit of Kerameikos and Metaxourgeio, and embark on a journey through the soul of Athens, experienced like never before.
What we liked the most
Artful fusion of modern design and Greek heritage

A place where art and craftmanship unite

Bespoke facade with ceramic bricks and Greek clay

Geometric-themed rooms paying homage to legendary artisans

Delectable Greek cuisine with local ingredients

A unique starting point to discover Athens' treasures
Rooms Overview
Discover a world of elegance within eleven thoughtfully designed rooms. Accommodating 2 to 4 guests, these spaces are a fusion of industrial design and historical charm, with prominent brick elements echoing the area's ceramic heritage. Enjoy a serene and inviting retreat during your stay in Athens, perfect for couples, families, or friends seeking comfort and style.
Garden Superior
2 guests
View into the garden
Step into the Garden Superior room, a nature lover's haven in the heart of the city. Enjoy a small private garden for morning coffee or evening cocktails. Thoughtfully designed for spacious comfort, it's perfect for couples and friends, offering a flexible king bed or two twin beds. Experience a serene urban escape where nature and city living intertwine seamlessly.
Superior Double with Balcony
2 guests
Balcony
View into the garden
Indulge in the spacious elegance of the Superior Double with Balcony. A chic, modern, and relaxed sanctuary spanning 37m² invites you to unwind after a day of city exploration. The room boasts a modern walk-in shower, luxurious toiletries, and a private balcony for savoring morning coffee or evening cocktails. This is where you embrace Athens' true ambiance, perfect for urban adventurers seeking a serene escape.
Garden Loft Suite
4 guests
One-bedroom suite
View into the garden
The Garden Loft Suite is a two-story maisonette offering a serene and stylish escape. An internal staircase leads to a spacious master bedroom with a private garden, radiating tranquility. This spacious suite accommodates couples or groups of up to four guests. With an inviting king bed in the loft and a sofa bed on the lower floor, your Athens retreat awaits.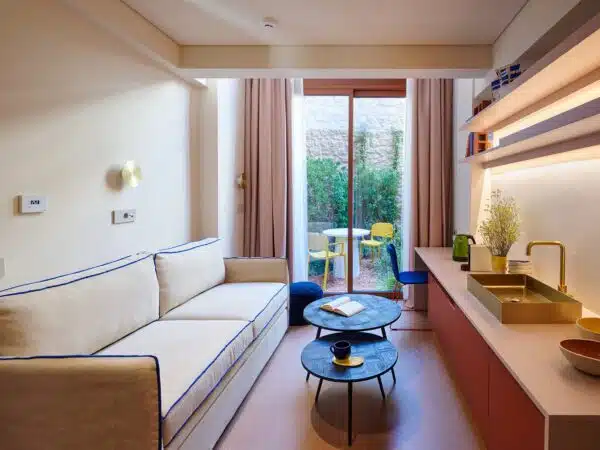 Loom Suite with balcony
2-3 guests
Balcony
One-bedroom suite
View into the garden
Discover urban serenity in the Loom Suite with Balcony. Perfect for couples, solo travelers, or small families of 3, this spacious room blends modern elegance with industrial elements, connecting you to the area's rich history. Step out to your tastefully furnished balcony to savor morning coffee before exploring the city's ancient sites—your private oasis for an unforgettable Athens experience.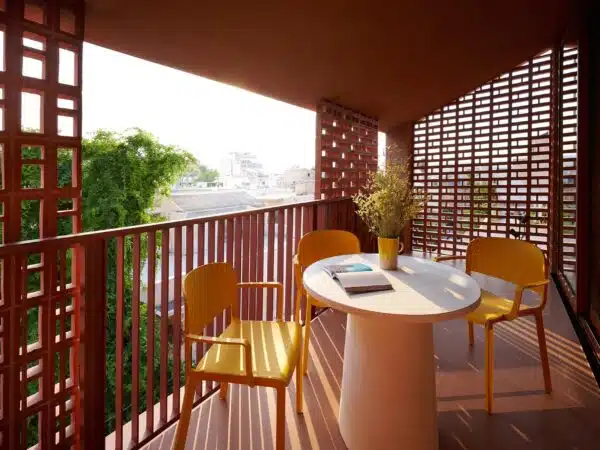 The Loom Attic Suite
4 guests
Balcony
One-bedroom suite
View into the city
View into the garden
The Loom Attic Suite, a spacious 45 m2 retreat, unfolds on the top floor with a loft-style bedroom, creating an exceptional sense of space. Modern lighting and custom furniture infuse contemporary coolness, and the suite accommodates up to four guests. Step onto your private balcony, basking in Athens' urban vistas, and unwind on comfortable loungers. This extraordinary loft experience invites you to savor the city's charm.
The Penthouse Suite
5 guests
Balcony
Two-bedroom suite
View into the city
View into the garden
Indulge in luxury with the Penthouse Suite, a sprawling 49 m2 urban escape perched atop the hotel. A spacious living area opens onto a large terrace, revealing mesmerizing views of Athens' cityscape. With a loft attic master bedroom, custom furnishings, and modern lighting, this suite exudes contemporary elegance. Accommodating up to 5 guests, it's an exceptional space for those who appreciate sophistication and stunning city vistas.
Services and facilities
24-hour Reception Operation
Airport / Port Transfer Service - Extra Charge
Taste the flavors
Lounge Café
As the sun ascends, the Lounge Café comes to life, enchanting your senses with the rich scent of freshly brewed coffee and a delectable variety of breakfast delights. With a dedication to locally sourced ingredients, it embraces the essence of Greek cuisine. Start your day with a power breakfast, setting the stage for captivating explorations in the vibrant city of Athens.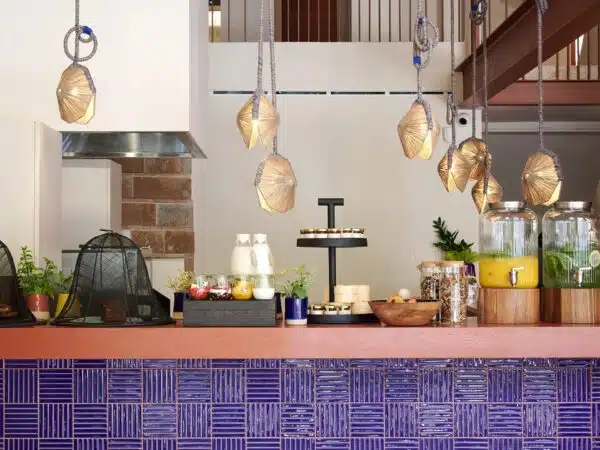 About sustainability
Citrus, the fruit of Promise, indicates that the property is noticeably eco-conscious as many areas of sustainability are addressed.
Explore the location
Loom Athens is a gateway to an enchanting neighborhood brimming with rich history and cultural treasures. Just a short 5-minute stroll from the 'Kerameikos' Metro Station, this boutique hotel offers you easy access to Athens' most iconic sites. Explore the Kerameikos Archaeological Site, where ancient streets were once bustled with potters and vase painters who sourced their clay from the Eridanus River, the very origin of the term "ceramic."
Delve deeper into Kerameikos' past, where skilled artisans were drawn by the allure of the Silk Mill and Silk Processing Factory during the 18th and 19th centuries, courtesy of Greece's first king. The echoes of history resonate throughout the area, waiting to be discovered.
From Loom Athens, you're just a 15-minute journey away from the timeless allure of the Plaka District, the majestic Acropolis, and the enlightening Acropolis Museum. Stroll along the ancient streets where potters once shaped their artistry and painters adorned vases with intricate designs. Uncover the secrets of Greece's vibrant history and the stories that reside within the heart of Athens. Immerse yourself in a neighborhood that seamlessly weaves the past with the present, inviting you to embark on an unforgettable exploration.