Riva Lofts Florence combines rustic Tuscan charm with contemporary art to create a stunning urban retreat
Follow the terracotta rooftops along the Arno River to discover this secluded boutique hotel in a leafy suburb of Florence. Originally used as a factory in 1880, the building carries centuries of history. It later became the home-atelier of architect Claudio Nardi, and you can see his fresh and creative style throughout the property.
When you enter Riva Lofts Florence, bright rays of light shine through glass doors and open spaces, while abundant foliage provides shade from the striking Italian sun. You'll find peaceful respite in the garden, where comfortable lounge chairs and a sparkling swimming pool await. The communal sitting area with shelves of books and a fireplace is the perfect hideaway on cooler evenings.
The stylish and minimalist loft rooms at Riva are your home-away-from-home while exploring the historical wonders of Florence and the surrounding Tuscan hills. You'll be tucked away in one of nine elegant lofts, each with a unique layout and minimalist design. Enjoy peaceful evenings followed by mornings full of birdsong, floral scents, and a delicious Tuscan breakfast of sweet and savoury treats.
Feeling like a local, cycling into Florence on a borrowed vintage bike
Taking a dip in the pool on a warm evening after a busy day of exploring the city
A private yoga session with the sun pouring through the tall windows of the expansive loft
The delicious sweet and savoury Tuscan breakfast selections enjoyed poolside
Lounging on the communal area's soft leather sofa next to a flickering fire on a crisp evening
Rooms Overview
Claudio Nardi designed each of the lofts at Riva to be an extension of his art. Each of the four different styles of rooms effortlessly combines past cultures with a minimalist, modern design.
High ceilings and contemporary art mixed with reclaimed stone and vintage furniture are just a few of the harmonious contrast you'll discover within this peaceful sanctuary. Each suite has a private bathroom, ultra-comfortable bed, luxurious amenities, and thoughtful extras such as tea, biscuits, yoga mats and weights.
The sleek lines and muted tones of this sophisticated 30 square metre studio make it feel fresh and spacious. These cosy rooms do not have stairs or a kitchenette but are stylish and full of modern amenities such as a TV, air-conditioning, Wifi minibar, and tea station. A well-equipped bathroom includes courtesy products by Maison Mariangela.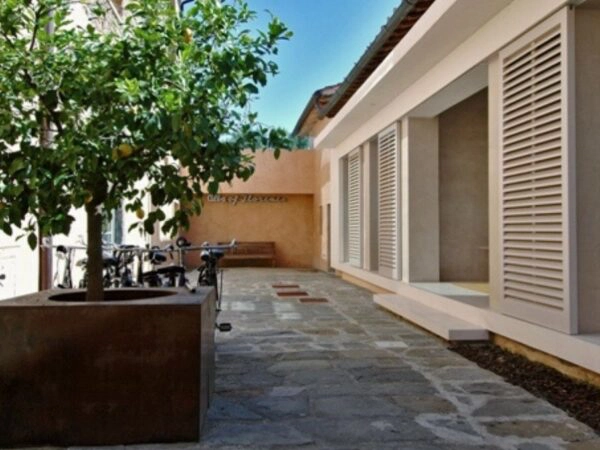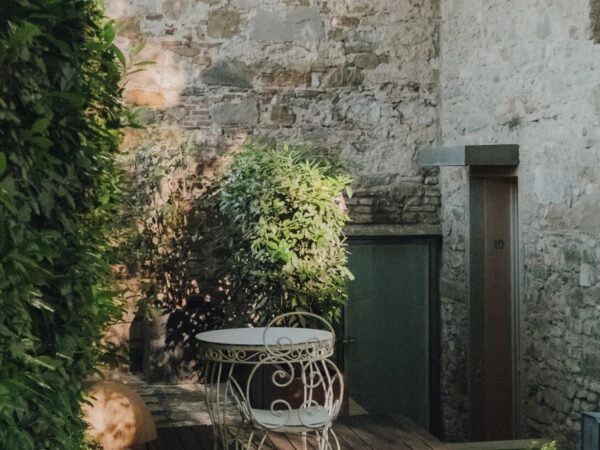 Deluxe Loft
3 guests
Open-plan suite
Private access
Within the 40 square metres of the deluxe lofts, light colours and modern design create a peaceful space. One deluxe room has a mezzanine bed reached by stairs, while the other two are open-plan style. Designed with a small kitchenette, each is complete with sophisticated architectural details and luxurious style.
Superior Loft
3 guests
Kitchenette
Open-plan suite
Private access
These 45 square metre lofts are on the ground floor and have large picture windows and a kitchenette which includes a Nespresso machine. Find ultimate attention to detail and design in the vintage décor, velvet curtains and glass divider walls.
Suite Loft
4 guests
Kitchenette
Private terrace
View into the city
Enjoy 100 square metres of space in these lofts, covering multiple levels and containing unique collectables and antiques. Floor-to-ceiling windows let in pools of light and offer views of the city or the river. A hanging king-size bed, remote-controlled skylight, velvet sofa bed and spacious bathroom are some of the luxuries you'll find.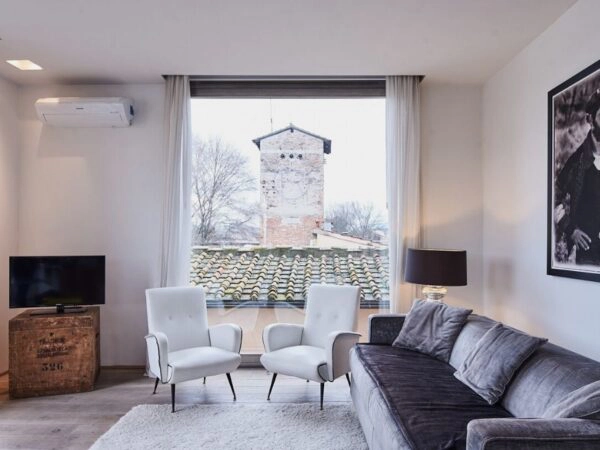 Taste the flavors
Breakfast
A breakfast buffet is the delight of each morning at this boutique hotel and features fresh bread, pancakes, homemade cakes and jams, ham and cheeses from the local area, fresh fruit, muesli, and yoghurt. There are also eggs, quiche, salads, and smoothies available to order. Enjoy your breakfast in the dining room or on the garden terrace with a view of the swimming pool.
Dining upon request
Although there is not a restaurant at the Riva Lofts, with a few days' notice, you may request meals from the hotel's kitchen. You can also order food to be brought in from different locations or bring back picnic items to enjoy in the garden.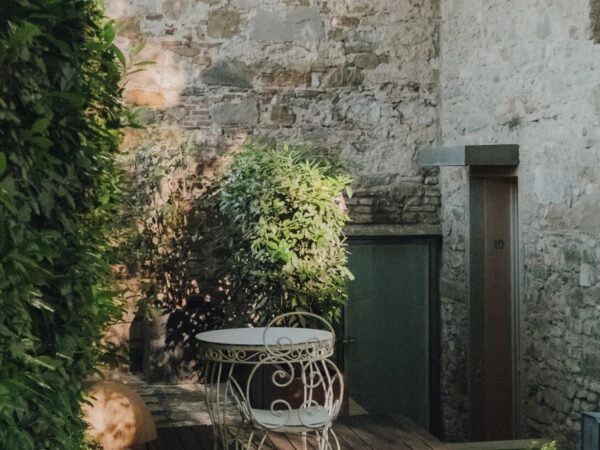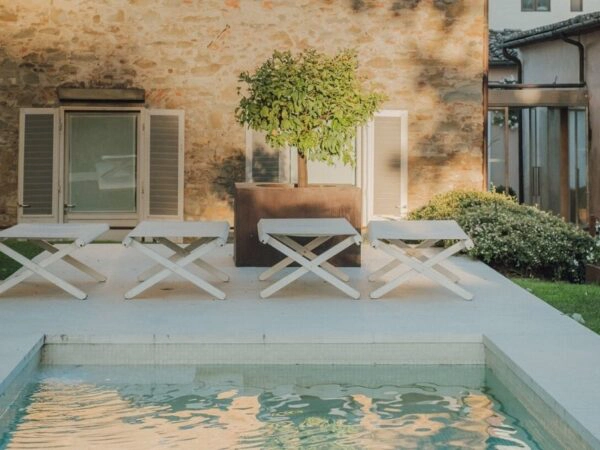 Kitchenettes
All rooms apart from the Standards have kitchenettes with a sink, hob, fridge, coffee machine and kettle. This makes it possible to self-cater your stay and create simple meals in the privacy and comfort of your suite.
About sustainability
Like the fig tree roots, the property is constantly addressing many sustainable tourism areas and excelling in most fields.
The hotel does not use any pesticides in the garden or harsh chemicals in its cleaning products.
Single-use plastic has been banned completely from the hotel
Riva Lofts Florence sources local products as much as possible and uses high-quality, often organic ingredients.
Energy-saving techniques are found throughout the hotel, including dual-flush toilets, energy-efficient bulbs, thermostats in rooms and movement-sensor lights.
Explore the location
Riva Lofts is an escape from the busy streets of Florence but still close enough to walk or bike to the main attractions. This lovely boutique hotel sits along the Arno River, opposite the leafy 'Parco Della Cascine'. Walk 30-minutes along the river to the famous Ponte Vecchio or find shopping and restaurants within 10 minutes in Oltrarno. A new tram line is only 100 metres away and arrives at the central station in three stops.
Book a trusted local driver for your transfer to and from the hotel, introduce you to the destination, pre-order travel essentials, and get all your questions answered before or during the trip. Choose the stops, visit the attractions, and don't waste any time waiting. We've partnered with Welcome Pickups, the first company to deliver a holistic, in-destination travel experience.