La Villa Bucher is an elegant estate nestled within the Umbrian countryside of central Italy, surrounded by exceptional panoramic views of vineyards, and rolling hills
Tucked within the Umbrian countryside, in the heart of central Italy, La Villa is a secluded property surrounded by gently rolling hills and sweeping panoramas of Perugia and lush vineyards. Located on a hill and within a microclimate perfect for wine production, the property sits within the 65 hectares of Villa Bucher wine estate. The hand-picked grapes produce high-quality wines that guests have the pleasure of tasting during their stay.
The cypress trees and classic Italian architecture welcome you upon arrival and immediately set the tone of 'la dolce vita'. Expansive outdoor space encircles the property, including a beautiful stone terrace and a 20-metre-long infinity pool. Swim morning laps or take a dip at sunset, overlooking uninhibited views of the verdant landscape and vineyards. The elegant and modern interior is bright and spacious yet intimate enough to bring calm and tranquillity for the ultimate feeling of relaxation. The large, well-equipped kitchen is available for guests to use, or it is possible to hire a private chef to create Italian specialities to your taste.

Anthony McDowell
20:44 24 Jun 23
Amazing villa with amazing room and views. The pool is big. The jasmine tunnel is unbelievable. We can't wait to come back.

Nataliya
18:59 21 Sep 22
We booked a private, sunset wine tasting. Pictures don't do it justice because the villa and property is even more breathtaking in person. Francesca was our hostess and she was so kind, accommodating and knowledgeable not just in the wines they offered, but also about the property. She prepared a delicious board to accompany the unique selection of wine and we even had the pleasure of meeting the owner himself. It was a special experience all in all like no other.
Watching the sunset behind the green rolling hills from the terrace, while sipping a crisp and fruity local wine.
The incredible views of the Italian countryside from the spacious double bedroom.
Hiring a private chef to cook the most incredible pasta with fresh, local ingredients.
Visiting the cellar of Villa Bucher wine estate to taste the different varieties of locally produced wine.
The quiet and peaceful location yet having access to many interesting sites nearby.
Rooms Overview
The six suites that make up the estate are all unique in style and character yet comprise the same intimate feeling and luxurious amenities. Two luxury bedrooms and two studios can be found within the main building, while two apartments are in the adjoining house. An elegant, modern design, combined with natural elements and traditional Italian touches, creates a stunning, fresh accommodation for couples, families or friends.
Double bedroom (x6)
2 guests
One-bedroom suite
View into the countryside
Each elegant double bedroom has a comfortable king-size bed with soft, natural linens. Each room has an en-suite bathroom with two sinks and a separate bathtub and shower. Traditional Italian touches, soft, elegant furnishings, and a crisp, clean, sophisticated ambience blend to create a tranquil space. Sunshine streams in through the large windows, with some rooms opening onto a Juliette balcony with sweeping views of the Italian countryside.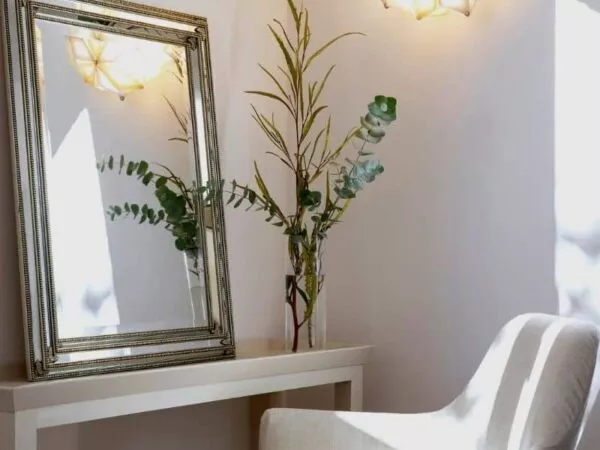 Taste the flavors
Breakfast
Cook up breakfast yourself or use La Villa's concierge service to have a chef cook breakfast to your specific tastes. Welcome the Umbrian sunshine with breakfast on the patio or at the large, comfortable dining table.
Airy kitchen & Chef on demand
Cooking at Villa Bucher is a delight in the bright and airy kitchen, designed with functionality in mind and complete with top chef amenities.
Consider hiring a private chef to cook for you as the ultimate indulgence, allowing you to savour every moment of your holiday. Whether self-catering or booking a chef for your stay, you can't go wrong with the local ingredients and traditional Italian flavours.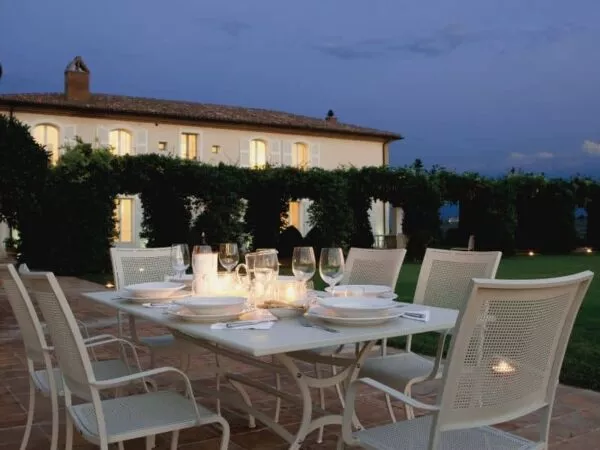 About sustainability
Like the fig tree roots, the property is constantly addressing many sustainable tourism areas and excelling in most fields
Villa Bucher has many plants throughout the interior and exterior of the property.
Villa Bucher strictly follows regulations & recommendations on how often to maintain and service water installation and machinery (including pool, washing machines & A/C).
Villa Bucher has completely replaced the usage of chemicals and pesticides on the property with eco-friendly options.
Explore the location
The region of Umbria lies in the heart of Italy, with the soil, climate, and natural surroundings comparable to Tuscany, but with fewer tourists and less crowded villages. The remote location of the estate is perfect for those who are seeking a peaceful and quiet escape from their busy lives. For those wishing to explore, Perugia, the capital of Umbria, is 45 minutes away by car. It's known for its defensive walls and historic town centre. To the south is the remarkable village of Civita, a UNESCO World Heritage site, perched precariously on a hill. A concierge is available to help you with any excursions you desire during your stay.
Explore Tuscany area like a local
Book a trusted local driver for your transfer to and from the hotel, and introduce you to the destination, pre-order travel essentials, and get all your questions answered before or during the trip. Choose the stops, visit the attractions, and don't waste any time waiting. We've partnered with Welcome Pickups, the first company to deliver a holistic, in-destination travel experience.