Gozo, the small island neighbouring Malta, may not be as well known as its bigger sibling, but it's equally worth discovering. As this little gem is well off the beaten tourist track, you'll be able to tick off the stunning things to do in Gozo without battling large crowds – from exploring the many coastlines and hidden coves to relaxing at pristine beaches and quirky cafes. See for yourself the splendours that await with our Insider Guide to Gozo.
Recommended things to do in Gozo
Taste
With strong Italian influences, along with hints of Arabic, German and French, the food in Gazo is thoroughly unique. Ftiras are an excellent example of this. A cross between a pizza and a bagel, the ring-shaped and flattened bread is topped with tuna, capers, olives and pickled onions. Head to the unassuming Mekren's Bakery in Nadur, which has been making ftiras for over 150 years.
If you're peckish and need a snack before lunch, stop by Stephen's Snack Bar in Xhagra and try pea pastizzi. These little fried puff pastry pies are stuffed with pea puree and are incredibly moreish.
Also unique to the island of Gozo is Ġbejniet cheese. Made from unpasteurised sheep or goat's milk, rennet and salt, then shaped into small circles. Keep your eye out for Ġbejniet as a filling in sandwiches, topping for soup or served as an appetiser on its own.
Sip
The wine of Gozo has a distinctive taste. All located a stone's throw from the sea, the vineyards are continuously sprayed with sea salt. Add in the Meditteranean climate, and you're rewarded with brilliant Chardonnays, Merlots and Syrahs. A stunning place to sample Gozo wine is at Ta Mena estate. The estate makes unique preserved specialities such as kunserva helwa (sweet tomato paste), wild capers in vinegar and even prickly pear liqueur. Sit down to a hearty meal amongst the grapevines and learn about the history of agriculture on Gozo.
A short distance from Ta Mena estate is the family-owned Tal-Massar boutique winery. Tucked into the ancient city of Gharb, left largely untouched by tourism, it's an ideal setting to wander picturesque vineyards on their private estate. Tal-Massar only offers tours and wine tastings a couple of days a week so it's essential to call ahead to ensure you won't be disappointed.
If you prefer beer, visit Lord Chambray Brewery in Xewkija. Open between 2 pm and 6 pm Monday through Saturday, you can sip on beers reflecting the stunning nature of Gozo with their Blue Lagoon witbier and Fungus Rock American stout.
Explore
For a genuine feel of Gozo, head to the main city of the island, Victoria, where you'll find the restored Citadella. Inhabited since the Bronze age, it's now home to many music festivals and cultural events. You'll find Arab architecture all around Victoria, and you can learn about the different cultures that have inhabited the island. Don't worry about crowds in the capital city; Gozo is so small and off the tourist radar that you're unlikely to spot many other visitors.
To glimpse the everyday life of Gozitans, wander down to the Shimmering Salt Pans at dawn. Local families harvest sea crystals and have been doing so for over 250 years. Or, for a romantic evening, wander to the Shimmering Salt Pans an hour before sunset and watch the brilliant red, orange and purples hues reflect magically off the shallow waters.
Chill
Another stunning spot to watch the sunset is at San Blas. This little-known beach is a favourite of adventurous locals. You must walk down a steep, hilly path to reach the sandy beach, but this extra effort affords you a mostly empty beach to enjoy. The walk down through orange and lemon trees is beautiful; just make sure to leave some daylight to climb back up.
During the day, Dwejra Bay provides an idyllic spot to relax and forget the existence of time. Protected by dramatic coastal cliffs, the waters are amazingly calm and warm. Spend your day between the deep water of the bay, the shallow waters of the inland sea, and soak in the sun while sitting on the surrounding rocks.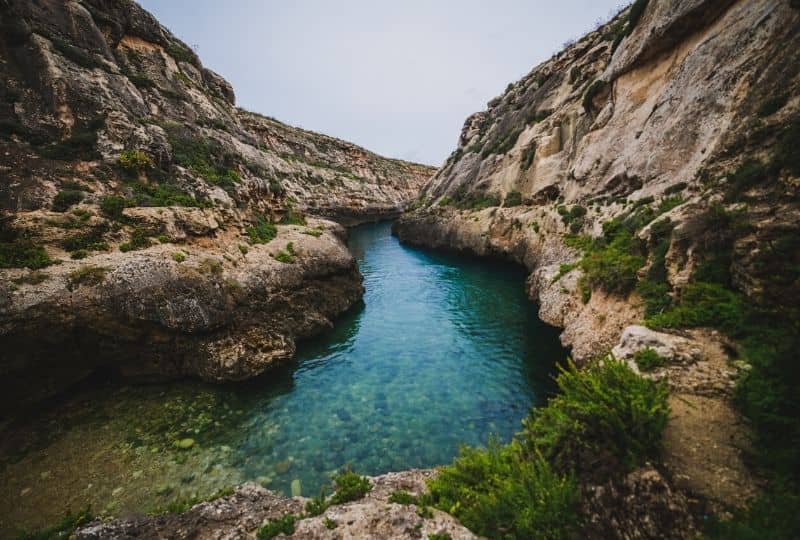 To the Northwest of Dwejra Bay is another local secret, Wied il-Għasri inlet. You'll feel like you're the only one around for miles as you wade the shallow waters and ponder the history of the deep valley hiding the sea.
The largely undeveloped landscapes of Gozo make for perfect days of hiking along the coast. Nearly the entire perimeter of the small island is hikeable, with a 50 km walk dedicated to taking hikers around the island. With buses connected to most towns on the island, it's easy to start walking in the morning, stop for lunch at one of the small coastal towns, and catch the bus back to your accommodation when you're ready. The southern part of the island is especially scenic and takes you past saltpans, gorges and dramatic sea faces.
Another favourite activity for both tourists and locals is scuba diving. Being a premier scuba destination, you'll have plenty of companies and destinations to choose from. The MV Karwela, sitting near vertical in the sea, proves an intriguing wreck dive. To scuba amongst the brilliant sea creatures of Gozo, Reqqa Reef is home to many lobsters, groupers, rays and sea sponges. Or, if sea tunnels fascinate you, the Inland Sea tunnel is 80 metres long and connects an inland sea with the ocean's open water.
Party
Being the quieter sibling of Malta, Gozo isn't home to all-night clubs and packed ocean bars. Instead, you'll find locals and visitors prefer afternoon cocktails near the pool and sipping wine as the sun goes down.
However, that's not to say you can't find a few bustling bars if you know where to look. Zeppi's bar in Qala is known for attracting talented live bands. Cafe Jubilee in Victoria has tasty local bites and turns its vibe from casual to dancing as day turns into night. Or, the infamous La Grotta Nightclub in Xlendi has been deemed 'the most beautiful disco in the world' by the Miami Herald.
Stay
The small island of Gozo oozes with tranquillity, and spending a few nights will refresh your soul and allow you to explore the many hidden gems of the island. Stay on the Eastern side near Qala to be within walking distance of both the sea and busier inland towns. Or, if you only have time for a day visit to Gozo, the nearby large island of Malta has plenty of stunning boutique hotels.
Book your stay now with some of the most iconic boutique hotels in Gozo.