Contents
Naxos, the largest of the Cyclades islands, is a captivating destination in the Aegean Sea in Greece. With a rich history, picturesque landscapes, delicious cuisine, and charming villages, it is no surprise that Naxos is a popular tourist spot. From exploring the island's ancient ruins to indulging in the crystal clear waters of the beaches, the opportunities for adventure and relaxation on this enchanting island are endless. 
In this guide, we will explore some of the top things to do in Naxos, including visiting historic sites, exploring traditional flavors, and experiencing the local culture. Naxos is a destination that will leave a lasting impression on both new and experienced travelers alike.
Best things to do in Naxos
Naxos is home to some of the most important historical landmarks and impressive ruins around the Aegean Sea. These ruins provide an insight into the island's deep historical background and cultural legacy and are an absolute must-see for anyone interested in history and ancient architecture.
Portara – Temple of Apollo
One of the most iconic landmarks in Naxos is the Portara, a large marble gate that stands at the entrance of the ancient city of Naxos. The Portara, also known as the "Gate of Apollo," was built in the 6th century BC as the entrance to a temple dedicated to the god Apollo. Today, the Portara stands alone, a testament to the island's rich history and the skill of the ancient architects who built it. Climb the steps to the top of the temple for a stunning view of the island and a sunset you will always remember.
Kastro
Another important landmark in Naxos is the Venetian Castle, also known as the Kastro. The castle was built in the 13th century by the Venetians, who controlled Naxos for over four centuries. It is a beautiful example of medieval architecture and is a must-see for any history buff. Explore the castle's winding streets, admire the views from the castle walls, and visit the Archaeological Museum of Naxos inside.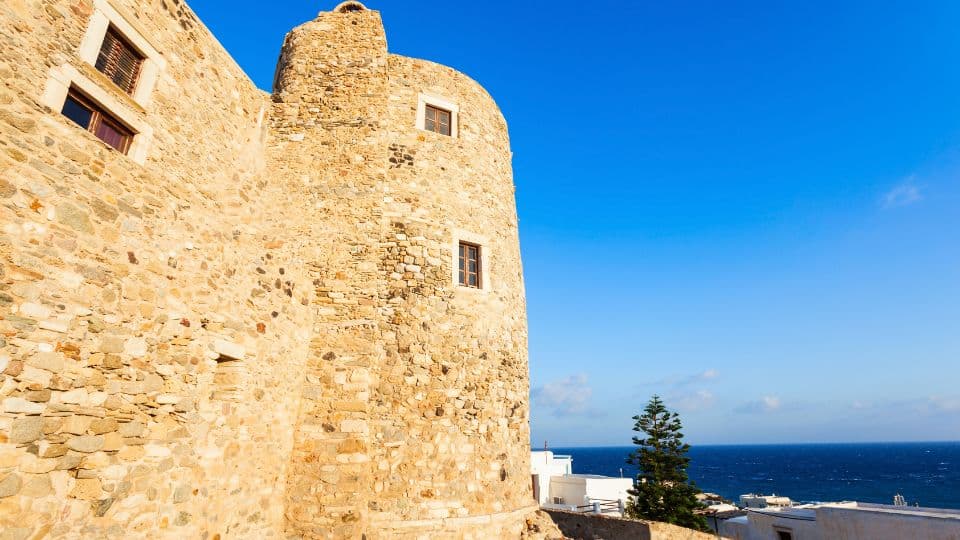 The Temple of Demeter
The Temple of Demeter, constructed in the 5th century BC, was built to honor the goddess of agriculture and fertility. Explore the remaining ruins, including the columns and pediments of the temple, to gain an insight into the past. The temple is situated near the picturesque village of Ano Sangri, known for its charming traditional architecture, including narrow streets and traditional houses.
Kouros of Apollonas 
Nestled within the ancient quarry of Apollonas on the island of Naxos lies a truly awe-inspiring sight: the Kouros of the god Apollo. This massive, half-finished statue stretches longer than 10 meters and dates back to the 6th century BC. While archaeologists debate whether the figure depicts Apollo or Dionysus, one thing is certain: its grandeur and skillful craftsmanship will leave visitors in amazement. Interestingly, the construction of the giant temple of Apollo at Portara is believed to have begun during the same period as the Kouros statue. This has led many to question whether there may be a connection between the figure and the temple.
Panagia Drossiani
The church, which is located within an ancient monastery, boasts a distinct architectural style. Its walls are made of bare stone, and it features a three-part attic with a dome. On the church's northern side, there are three chapels with square dome bases on their roofs. Some of the frescoes that have been preserved in the church date back to the 6th century and are considered among the oldest in the Balkans. The remaining frescoes are from the period between the 11th and 14th centuries.
Taste – Naxos Restaurants
One of the most notable aspects of Naxos is its delicious and varied cuisine. The island is famous for its fresh seafood, traditional Greek dishes, and locally grown produce, making it a food lover's paradise.
The island is surrounded by the Aegean Sea, providing a bounty of fresh fish, shellfish, and octopus. The most popular seafood dishes include grilled octopus, fried squid, and fish souvlaki. The local fishermen bring in their catch of the day early in the morning, ensuring that the seafood is always fresh and delicious.
Believe it or not, seafood may not be the first thing that comes to mind when you think of Naxos. This Greek island may surprise you with its delicious and hearty meat dishes, thanks to its rich tradition in livestock farming.

Another staple of Naxos cuisine is the traditional Greek dishes. The island is home to many tavernas and restaurants that serve classic Greek dishes such as moussaka, dolmades, and spanakopita. These dishes are made with fresh ingredients and cooked to perfection, making them irresistible to food lovers.
Naxos is also known for its locally grown produce. The island has a rich agricultural tradition, with olive groves, vineyards, and orchards producing a variety of fruits and vegetables. Visitors can enjoy fresh tomatoes, cucumbers, and peppers in salads or try the local cheese and yogurt made from the milk of the island's sheep, goats and cows.
One of the most popular local products on Naxos is the island's famous cheese. The island is home to several small family-run cheese factories that produce a variety of cheeses, including graviera,  xinomizithra, and arseniko. These cheeses are known for their rich, tangy flavor.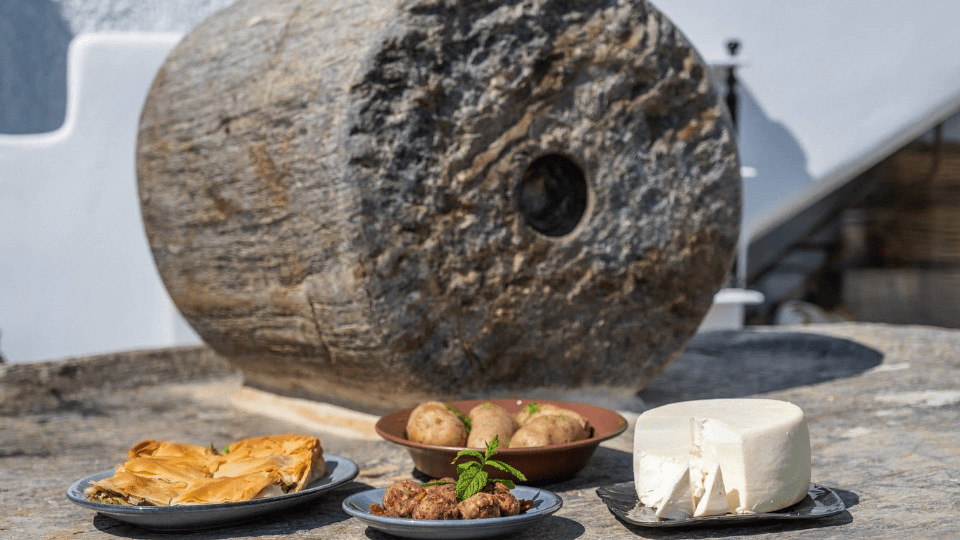 Another local product you should try is the island's traditional sweet, loukoumi. This sweet is made from sugar, cornstarch, and honey and is often flavored with cinnamon or other spices. It is a traditional sweet enjoyed on Naxos and the surrounding islands for centuries.
From fresh seafood to traditional Greek dishes and locally grown produce, there is something for all tastes and appetites on this beautiful island. So, if you're planning a trip to Naxos, be sure to indulge in the delicious food and experience the island's rich culinary heritage.
The Boutique Vibe recommendations
ELaiolithos' "Slow Food": Here is all about local produce, farm-to-table food, with the freshness and the quality of the regional ingredients within a radius of 6 Km that offer alluring traditional taste and scent, and satisfy the unrelenting craving for culture and good food. Savour elevated epicurean dishes and enjoy local music inspired by nights under the moon.
Rotonda Café: Near the church of St. John in Apeirantho, Naxos, the café is perfect for brunch to enjoy beautiful views of Aegean colors and magical mountains.
Kafeneion Galani: Steeped in the history of German settlements, this café serves all the same desserts as it once did- kataifi (thin strand pastry dipped in almond sugar syrup with chopped nuts) and galaktoboureko (custard-filled phyllo pie drenched in syrup)
Rendezvous- Try famous golden-hued Greek-style honey doughnuts, and sip on Greek coffee and baklava.
For a night out, head to the most contemporary bar-café- Flisvos Beach café is a lovely whitewashed beach café that serves unique cocktails and surf and turf grilled fish platters served at the waterfront veranda.
Nightlife in Naxos
Discover the vibrant nightlife of Naxos, where traditional tavernas blend with trendy bars, and live music fills the streets. From sunset to sunrise, the island comes alive with a unique energy that will keep you dancing until dawn.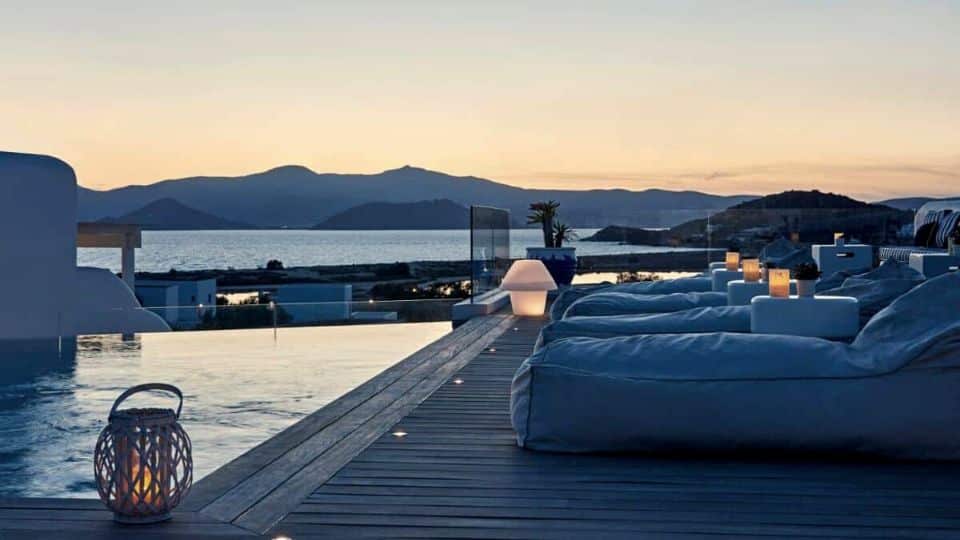 One of the best places to start your night out in Naxos is the Old Town, where you'll find a variety of bars and tavernas that offer traditional Greek music and dancing. The Old Town is also home to some of the island's most historic sites, including the Venetian Castle and the Portara, a massive marble gateway that dates back to ancient times and lights up during the night.

If you're looking for something a little more modern, head to Chora, the main town of Naxos, where you'll find a wide variety of bars, clubs, and tavernas. One popular spot in Chora is "Bar Street", where you'll find a wide variety of bars and clubs all in one place. This is the perfect place to bar-hop and try different drinks and music.
Another great spot for nightlife in Naxos is the village of Apiranthos, located in the center of the island. This charming village is known for its traditional architecture and is home to some of the island's best tavernas and bars. Apiranthos is a great place to sample traditional Greek food and wine while enjoying live music and dancing.
If you're looking for a more relaxed night out, head to the village of Filoti, where you'll find a variety of tavernas and bars that offer a more laid-back atmosphere. Filoti is also home to some of the island's best hiking trails, so you can enjoy a beautiful sunset before heading out for the night.
Whether you're looking for a lively night out or a more relaxed evening, you are sure to find it on this beautiful island. So, pack your bags, grab your dancing shoes, and get ready for an unforgettable nightlife experience in Naxos.
Stay – Hotels in Naxos
The island is home to a wide variety of hotels that cater to different budgets and preferences. From small, family-run guesthouses to luxury resorts, Naxos has something for everyone. 
One of the most popular options for accommodations is the traditional Cycladic-style hotels. These hotels are typically made of white-washed buildings with blue-painted doors and windows, and they often feature stunning views of the Aegean Sea. Naxos also boasts of some luxury resorts which are perfect for those looking for more upscale accommodations, with amenities such as private pools and spas.
Whatever your preference, Naxos has a wide range of hotels to choose from, ensuring that your stay on the island will be comfortable and memorable.
Elaiolithos is a luxurious eco-friendly retreat located in one of the most picturesque spots on the island of Naxos, Greece. The hotel seamlessly blends traditional Greek hospitality with contemporary elegance and sustainability. Surrounded by natural beauty, guests can indulge in breathtaking views and a serene atmosphere at an altitude of 500 meters. Experience the character and soul of this holiday hideaway and immerse yourself in the natural splendor of Naxos.
Elaiolithos is a true gem for the eco-conscious traveler. Nestled amidst lush olive groves, this secluded hotel is dedicated to preserving the natural environment and promoting sustainable living. From the use of natural materials in construction to the implementation of green practices, Elaiolithos is a true champion of conservation.
Just a stone's throw away from the popular Agios Prokopios beach, 18 Grapes is a luxurious hotel designed for those seeking upscale, tailor-made services and a chic, effortless lifestyle. The relaxed atmosphere of the boutique hotel blends island vibes with a sense of serenity, creating an unforgettable vacation experience for guests. 
The 18 Grapes' sunny disposition is reflected in its stunning collection of suites and rooms, which feature a soothing earthy color palette and a captivating minimalism that perfectly captures the essence of Cycladic leisure.
Be active
Naxos is a haven for outdoor enthusiasts, offering a variety of activities to enjoy. Hiking is very popular on the island, with several trails and stunning views of the Aegean Sea and neighboring islands. One of the most renowned hikes is the trail to Mount Zeus, also known as Mount Zas, the highest point on the island. The hike takes around 5 hours and provides a panoramic view of the island. While the trail is not particularly challenging, wearing appropriate footwear and bringing ample water is recommended.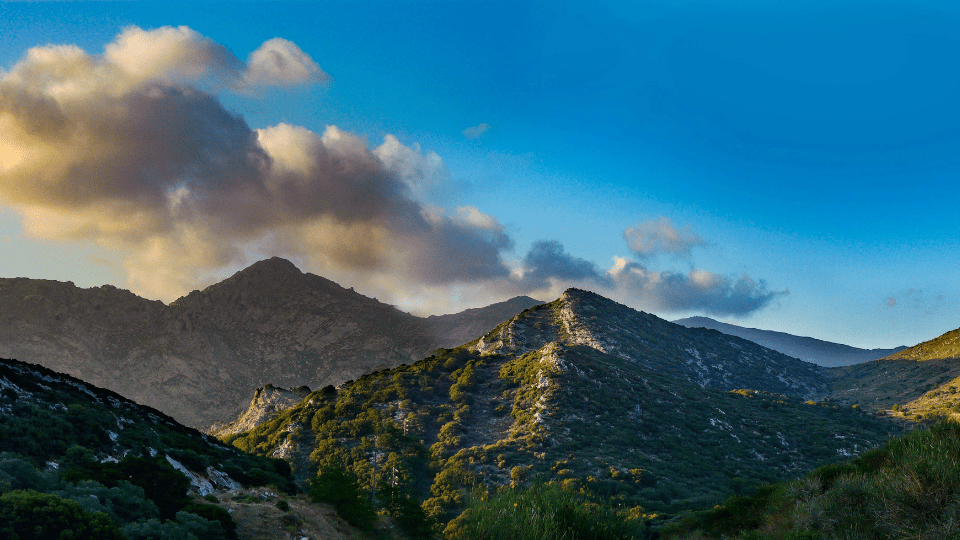 Cycling is another popular activity in Naxos, with a well-developed network of roads and paths that are perfect for exploring the island's villages, beaches, and ancient sites. There are also organized cycling tours available to discover the island's hidden gems.
Water sports enthusiasts will also find Naxos an ideal destination, with various beaches offering excellent conditions for swimming, snorkeling, and scuba diving. The island's crystal-clear waters are home to a diverse marine life, making it an ideal spot for snorkeling and diving. Jump on an organized boat trip and get to the best swimming and snorkeling spots.
The Cycladic island is an ideal location for windsurfing and kitesurfing enthusiasts. There are several schools available that offer organised lessons to help you learn or enhance your skills in these sports.
Beaches in Naxos
Naxos is a Mediterranean paradise, boasting crystal clear waters and breathtaking landscapes. Whether you're looking for a secluded cove or a stretch of white sand, this enchanting island has it all. Here are some of our top picks for the best beaches in Naxos that you simply must visit.
Agios Prokopios
Agios Prokopios is one of the most popular beaches on the island, and for a good reason. This long stretch of white sand and turquoise waters is perfect for swimming and sunbathing. The beach is well-organized, with sunbeds and umbrellas available for rent, and there are also plenty of cafes and tavernas nearby where you can enjoy a refreshing drink or a delicious meal. The beach is also great for children, as the waters are shallow and the waves are gentle.
Plaka
Plaka is another beautiful beach that is perfect for families. The beach is located on the north coast of the island and is known for its crystal clear waters and soft white sand. The beach is an excellent spot for a relaxing stroll during the afternoon. There are also plenty of sunbeds and umbrellas available for rent, as well as a few tavernas where you can enjoy traditional Greek food.
Orkos
Orkos is a secluded beach perfect for those who want to escape the crowds. The beach is located on the island's west coast and is known for its clear waters and white sandy beaches. The beach is surrounded by beautiful rock formations, which makes it an excellent spot for snorkeling.
Mikri Vigla
Mikri Vigla is a popular spot for windsurfing and kitesurfing and is known for its strong winds and beautiful beaches. Grab a board and ride the waves, or sip a refreshing juice and enjoy the warm Mediterranean sun. There is room for everyone.
Agia Anna
Agia Anna beach, located on the western part of the island, is the perfect spot for a relaxing day in the sun. With crystal clear waters and soft white sands, it's no wonder why this beach is a favourite among locals and tourists alike. Whether you're looking to soak up some rays or dip in the inviting waters, Agia Anna beach has it all.
Learn
The village of Moni is serene and bustling with history and ancient architecture featuring stone houses and cobblestone paths. Since Homer's era, women have been engaged in weaving garments using traditional handlooms.
Here is your chance to be part of beautiful artistry and learn one or two artistic skills from the original creators. At the Moni Weaver's Association, you can take back gifts in the form of multicolored handbags, coasters, wallets, placemats, aprons, and unique, minimalist designs. The special yfada silk and cotton fabric is a kaleidoscope of color and Naxos tradition.
How to get to Naxos
Ferries from Athens to Naxos are a great way to reach the island and experience the beautiful Aegean Sea. These ferries typically depart from the port of Piraeus, the main port of Athens and the main gateway to the Greek islands. The journey from Athens to Naxos typically takes up to 6 hours, depending on the ferry company and the route. You can enjoy the views of the Aegean Sea and the nearby islands, and you can bring your own vehicle with you. With several daily ferries departing from Piraeus, planning a trip to Naxos from Athens is easy.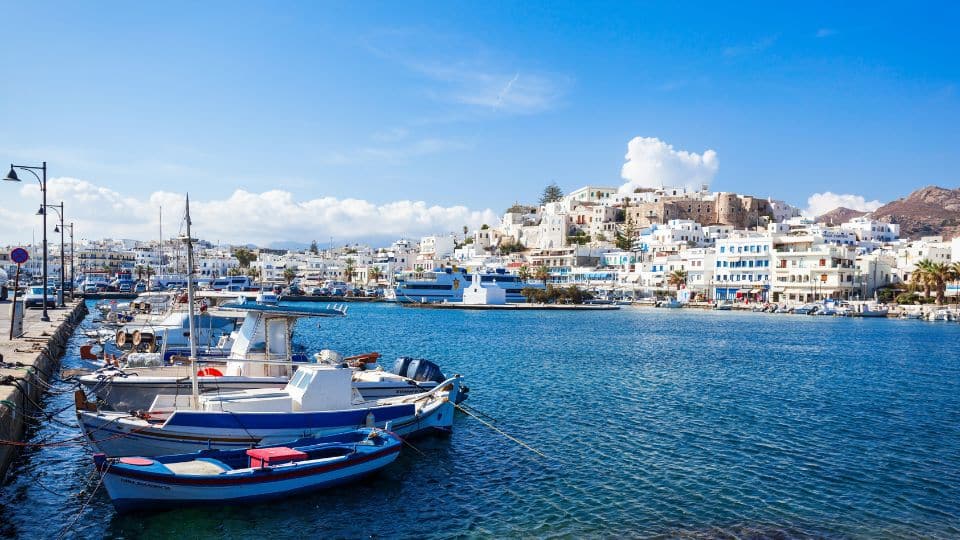 Flights to Naxos have become increasingly popular in recent years, and with direct flights from major cities in Europe and Greece, getting to Naxos has never been more convenient. The airport is also a great starting point for exploring the island, with a rental car and bus services available just outside the terminal.
Transportation in Naxos
Exploring Naxos is easy and fun! Whether you want to drive around in a car or scooter or go for a bike ride, there are plenty of options to choose from. Renting a car or scooter is a great way to discover the island's stunning beaches, quaint villages, and historic sites. If you're feeling adventurous, you can even rent an ATV and explore Naxos' rugged terrain. Biking is also a popular choice, and you can find many bike rental shops on the island.
Buses in Naxos are a reliable and affordable way to explore the island, with frequent routes connecting the main towns and beaches. If you prefer a more relaxed experience, you can take a taxi anywhere around Naxos. 
Island Hoping from Naxos
Escape to the idyllic Cyclades and embark on an island-hopping adventure from Naxos. This picturesque archipelago is renowned for its crystal-clear waters, white-washed buildings, and traditional villages, making it the perfect place for your journey.
One of the most sought-after destinations in the Cyclades is Mykonos. Known for its electric nightlife and luxurious resorts, Mykonos is a must-see for those looking to experience the glitz and glamour of the Greek islands. Another famous island is Santorini, renowned for its breathtaking views and stunning sunsets. The island boasts a wealth of ancient ruins, including the Minoan settlement of Akrotiri, making it a haven for history buffs. 
Other islands to visit include Paros, Ios, and Amorgos, each offering its own unique charm and character. Paros is known for its charming villages and secluded beaches, while Ios is the perfect destination for party-goers looking for a wild night out. On the other hand, Amorgos is the ideal destination for those seeking a more tranquil and laid-back vacation.
Learn everything about island-hopping around Naxos on our Island Hopping In Greece: Exploring The Cycladic Islands. Pack your bags, grab your sunscreen, and get ready to discover the beauty of the Cyclades.