The largest island in the Cyclades, offers fertile hills, gorgeous beaches and a gorgeous old town of meandering alleys. Follow our travel guide to Naxos for an unforgettable holiday right in the heart of mountains and deep blue islands, Naxos offers a cultural experience like no other! Let's explore the best things to do in Naxos!
Best things to do in Naxos
Explore
Mystique, Eastern Mediterranean charm narrates the aura of Naxos Islands. You will come across ancient Greek history, rich culture, amazing traditional recipes, and plenty of local music festivities. You can spend hours in nature's presence, visiting tiny cottages, whitewashed monuments with picturesque blue doors, endless meadows and timeless monuments that sit atop hilltops. Every little detail hides an enigma, a legend.
The island is home to some gorgeous villages that seem untouched by time. Moni, Kinidharos, Apeiranthos, Damalas, Potamia, just to name a few. All are iconic for their remarkable geology, old stone arched bridges and natural beauty. Our preference goes to Aperathos, a vivid mountain village housing five museums, quaint beautiful squares depicting everyday life and marble pathways, and Panagia Drosiani, a beautiful church of the Early Christian Period.
Explore Danakos water sources. Here you can trace green pathways, your main mission is discovering the 800-year old tree that holds the water source. The water flows from a rock fissure into a pool.
Visit
Geometrical Era Necropolis: An impressive castle that sits at an altitude of 420 meters, offers one of the best views of the valley of Traghaia. It was once the home of the Duke of Naxos. You cannot miss seeing one of the most landmarks in Greece-Portara, a 2500-year-old marble doorway; from here you can glimpse views of beautiful sunsets.
If you're even remotely interested in antiquities and culture, then you might not want to miss a visit to the Apano Kastro (Upper Castle) which is arguably one of the islands' iconic attractions formed millions of years ago with lots of rare geological marvels, including a church close by. The local people often refer to the scenic landscape of Upper Castle as Lunar landscape. Huge rocks are coming into amazing shapes often compared to a moonscape.
Be active
Spend just one day and blend into the island's rich history. The best way to do so is by taking a bicycle. Cycle trails allow you to discover ancient temples, medieval fortresses, mountain quarries of marble, Byzantine churches, and so much more.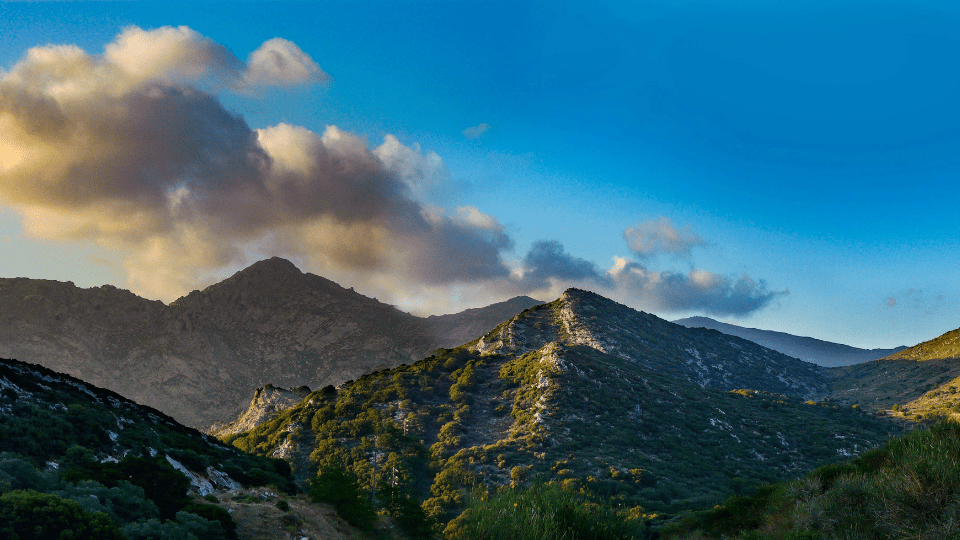 Hike to the top of Zeus Mountain, Cyclades' highest mountain (1,004 m) or Mount Fanari, and numerous other trails with pristine landscapes.
Chill
Naxos plays host to a collection of long, white-sand beaches, sometimes you can find yourself the sole traveller on a beautiful beach. Hike all the way to Apollonas village, the small village settlement with quaint taverns and cafes.
Lionas is a romantic beach that is decorated with white pebble pathways and clear waters. Getting to the beach, your path is ruffled by gravel archways, once used to transport coal from the emery mines.
Learn
The village of Moni is serene and bustling with history and ancient architecture featuring stone houses and cobblestone paths. Since Homer's era, women have been engaged in weaving garments using traditional handlooms.
Here is your chance to be part of beautiful artistry and learn one or two artistic skills from the original creators. At the Moni Weaver's Association, you can take back gifts in the form of multicoloured handbags, coasters, wallets, placemats, aprons and unique, minimalist designs. The special yfada silk and cotton fabric is a kaleidoscope of colour and Naxos tradition.
Taste
ELaiolithos' "Slow Food": Here is all about local produce, farm to table food, with the freshness and the quality of the regional ingredients within a radius of 6 Km that offer alluring traditional taste and scent, and satisfy the unrelenting craving for culture and good food. Savour elevated epicurean dishes and enjoy local music inspired by nights under the moon.
Rotanda Café: Near the church of St. John in Apeirantho, Naxos, the café is perfect for brunch to enjoy beautiful views of Aegean colours and magical mountains.
In the central square of village Platsa is the traditional cafe Apiranthos. Treat your taste buds to homemade traditional sweets and coffee.
Kafeneion Galani: Steeped in the history of German settlements, this café serves all the same desserts as it once did- kataifi (thin strand pastry dipped in almond sugar syrup with chopped nuts) and galaktoboureko (custard-filled phyllo pie drenched in syrup)
Rendezvous- Try famous golden-hued Greek style honey doughnuts, sip on Greek coffee and baklava.
For a night out, head to the most contemporary bar-café- Flisvos Beach café that is a lovely whitewashed beach café that serves unique cocktails, surf and turf grilled fish platters served at the waterfront veranda.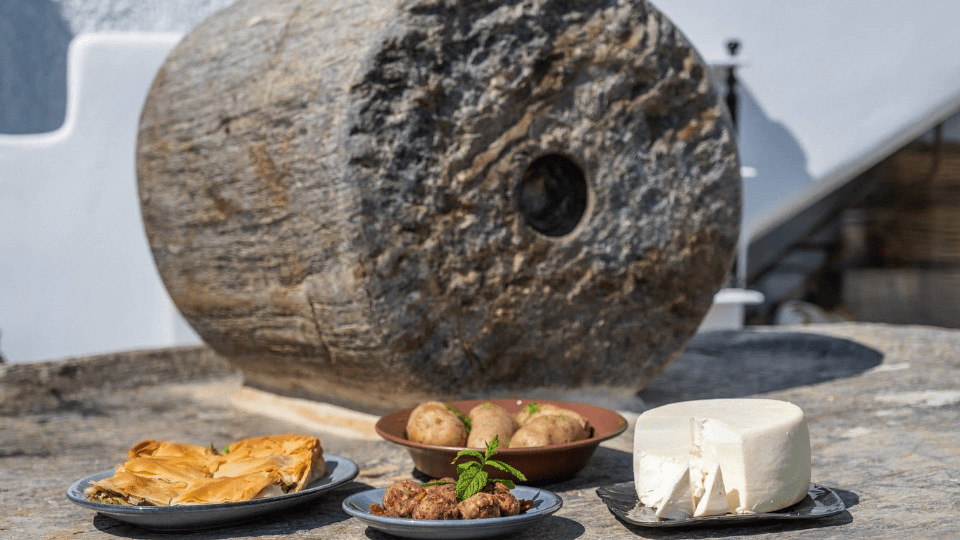 Stay
Perhaps you will decide to stay by the seaside or retreat into the hidden village. We recommend checking out our collection of boutique hotels in Naxos and the other Cyclades for an authentic experience and start daydreaming about your adventures ahead.
Thanks to Helen, owner of ELaiolithos boutique hotel and native of the island, for being our local guide to Naxos.