The thousands of Greek islands leave you craving to step on them all as you go island hopping in Greece. Every view of the country, with its whitewashed buildings, glistening Aegean sea, and breathtaking monuments, brings you closer to Greek tradition.
If you had all the time in the world, you would explore every island. Still, you don't have to stay on a single island. Greece has six island groups and hands to you on a gold platter, the chance to glide through your preferred group.
Beauty and awe capture you all over the country, and one place to start is right in the Cyclades.
Island Hopping in the Cyclades
The Cyclades are a group of islands distinguished by their signature white buildings, blue dome churches, and rocky terrain.
There are a total of 24 islands in the Cyclades. Some are connected with ferry routes, others not directly. Regardless, each island immerses you in the feel of a once-in-a-lifetime Greek experience, and below is one of the boutique vibe's favourite routes.
First Stop: Breathtaking Santorini
Nestled in the southern part of Greece, Santorini promises excitement filled with a natural twist. For good reasons, the island is one of the most popular locations and a great place to start island hopping in Greece.
Santorini emerged from one of the largest volcanic eruptions, and today it houses history most thrillingly. Admire the picturesque sunset in Oia or take a trip to one of the colourful myriads of beaches. Of course, the beautiful churches are not left out of your trip as they are plentiful.
Next Up: Mykonos-The Party Capital
Mykonos holds to its reputation as the party capital, as that is one of the major things that draws tourists to the location. The beautiful island of Chora welcomes you with its whitewashed buildings overlooking the Aegean Sea.
Enter Alefkandra, sit by the windmills and enjoy the breathtaking view of Little Venice at sunset. Or take a few steps to Little Venice Bay and stay in one of the gorgeous Cycladic houses, which offers you an up-close view of that poetic sunset.
Choose from the array of white sand beaches with turquoise waters and relax under the Greek sun. As nighttime comes, slide out of your comfortable boutique hotel and into the nightclubs and bars for that unforgettable feel of nightlife in Mykonos.
Next: Andros-The Peculiar Island
This island is second only to Naxos and only by size. If you enjoy serenity intertwined with comfort, Andros is a must-add to your list. This stunning island filled with lush greenery and a transition from typical Greek buildings is hardly popular among tourists.
The uniqueness of Andros draws you to hike its rocky, off-the-beaten-path grounds for a captivating experience of its raw beauty. Then go on an exploration of the homey and historic capital, Andros Town.
As with most of Greece, Andros is home to beautiful sandy beaches lying in wait to welcome you for a swim in their crystal clear waters. From Vitali beach down to Zorkos beach, Andros is not alien to the gorgeous beaches in Greece.
Next: Astonishing Paros
Nestled off-the-radar, Paros is a Cycladic island that offers typical Greek tradition with a twist of modernity. Start your exploration in the buzzing town of Naoussa, where there is a striking balance between Greek tradition and tourism. Immerse yourself in the town's nightlife with a visit to one of its luxurious restaurants.
You don't want to miss out on Paros' amazing beaches, as a trip to Kolymbithres is a trip to a breathtaking backdrop for that stunning photo. An easy drive from Naoussa, Kolymbithres beach is the perfect place to unwind and admire the shallow, sparkling waters and rocky terrain.
As your stay on the gorgeous island draws to an end, enter its capital, Parikia, for a scene of white-washed buildings and bougainvillaea trees. As you stroll, the sites of centuries-old churches, the ruins of the Frankish castle and archaeological museums leave you in awe.
Last Stop: Alluring Naxos
This island takes gold as the largest island in the Cyclades. As far as Greek mythology goes, this island has one that may grab your attention: the cave where Zeus was born.
The mountains on the island aren't just the perfect hiking trails; they also contribute to the lush vegetation that covers the island. As you enter Chora, you are taken into a view of Naxos' most famous landmark, the Temple of Apollo.
You may visit a restaurant or two in Naxos City, the capital, and savour the delectable Greek cuisine. Then step into some of the small shops and purchase a souvenir to take a piece of Greece with you. Then end your trip with a visit to gorgeous villages like Apiranthos, which is one of the most alluring places on the island.
Planning Your Trip To Island Hopping In Greece
There are so many more islands in the Cyclades that may attract you, but there's only a handful you can visit at a go. Take a look at all the Cycladic islands from a bird's eye view and settle on the perfect and most convenient route to follow. But before that, you will require some means.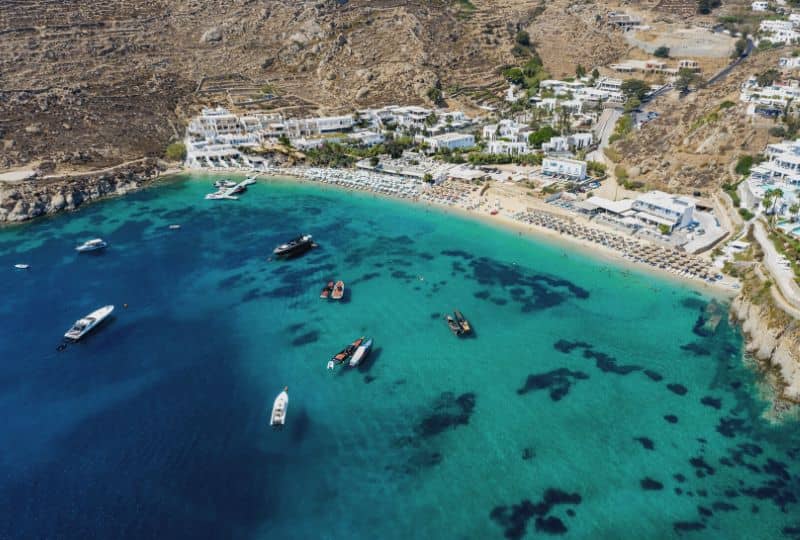 Transport Between Islands
The major international airport in Greece is in Athens, but it is not limited to it as a few other islands are home to international airports. But what happens when you land? You have a couple of transportation options for a seamless adventure while island hopping in Greece.
Boats
Ah, the heart-warming boat rides across the Aegean Sea. Boats are a popular and rather convenient choice for island hopping in Greece. During the high season, numerous boats trail many routes between islands.
If you're one to relax and dive in comfort, the slow ferries would be a perfect choice. And if you prefer things in a flash, the flying dolphins lie in wait. Your options are:
Closed-deck car ferry
Open-deck car ferry
Catamaran
Flying dolphins
Planes
Boat rides can be cancelled due to weather and strikes quite often, but that doesn't mean you have to halt your island hopping in Greece. A few islands in the Cyclades have local airports and allow for flights between them, e.g. Paros and Naxos.
Flights are perfect if you're in a rush and would rather avoid even the slightest delay. Although, travelling by air is more expensive than sailing on the Aegean Sea.
The Best Time To Go Island Hopping In Greece
All of Greece and, in particular, the Cyclades are stunning all year round. However, you may prefer certain times to others.
The peak season is usually around July to August, and you'll find crowds of tourists moving around the islands with major hikes in expenses. If you're not bothered by crowds or the increase in spending, it may be a good time to go island hopping in Greece.
However, the month of Orthodox Easter (April) to June and September to mid-October provide the ideal balance of weather and cost. The temperatures are balmy, the roads are not crowded, and your trip is affordable.
And winter in Greece is an option too. You can travel from frosted landscapes and snow-covered mountains to sunny beaches in just a few hours.
The Boutique Vibe's Top Picks For Unforgettable Stays
Island hopping in Greece is an unforgettable experience in itself, and the only way to make it better is to stay in boutique hotels that are just as unforgettable. The boutique vibe's top picks are: