Far from the ancient Hellenic ruins, the Aegean blue, and the golden beaches, Papigo is a gem away from the mainstream path of Greek tourism, nestled deep in the mountains, in the Zagori area at the north-western part of Greece. "Welcome to paradise on earth," said George, our host and guide to Papigo, as he provided us with all sorts of tips and recommendations for our stay. The villages are blessed by the surrounding nature and generous hospitable people.
Things to do in Papigo
Get away from the hustle and bustle of the city and wander their peaceful streets full of traditional stone houses and picturesque shops. Surrounded by nature, Papigo also has lots to offer for adrenaline seekers and outdoor enthusiasts. Follow our recommended things to do in Papigo and see what awaits you in these two charming villages.
Explore
Papigo is a combination of two villages – Megalo and Mikro Papigo (big and small Papigo), which are connected by a 3km-road. They are destinations that not many have heard of, not even seasoned travellers, which makes them perfect for those seeking an off-the-beaten-path trip.
You can start with taking your mark into the village, wandering around the narrow stone streets to discover the traditional architecture that is abundant and minimal at the same time. The buildings in the village – houses, tavernas and shops – are all made of stone and wood. Light grey stone panels with rough surfaces cover the roofs while wooden doors and windows add a bit of warmth to the stone-built houses, helping them blend nicely into the nature surrounding them.
Shoot
For photography lovers, head out further to the Monastery of Panagia Spiliotissa between Papigo and Aristi. This 16th-century monastery sits atop a rock that overlooks the Voidomatis River. The traditional architectural style will transform you into another time, and you can get an amazing view of the verdant landscape below, making it the perfect spot for capturing the beauty of this region on camera or simply enjoying the scenery.
As you wander in the village, you'll see the Church of Agios Vlasios, which is among the most important religious sights in western Zagoria. Its impressive bell tower is visible from afar, and once you reach it, the beautifully antiquated church will take you away to another time and the elaborate frescoes it hosts will leave you in awe of the artist's talents. If you time it just right, you'll catch the sunset here to see how the remaining golden rays of sunshine cast a warm glow over the verdure and stone-built architecture of the mountains.
Be active
Papigo is an outdoor lover's utopia. During your stay here, make the most of the mountain activities as soon as you are settled.
From trekking, hiking through the Vikos Gorge (the largest canyon in Europe), canoe-kayak, mountain biking, trails along with the river, to horseback riding. You could enjoy 4×4 adventures and skiing in winter or race at the annual mountain marathon that takes place in July.
If you are into hiking, you could follow the path leading from one village to the other through a network of small trails and passing several old stone bridges. You could also pass by Kolibithres, which are natural rock pools carved with water. You don't have to resist the urge to dive in the amazingly pure water there. Just have in mind that it's quite cold, even in summer. Adrenaline seekers should go rafting. The best experiences happen during the spring season, as the snow melts and the water feeds into the Voidomatis River.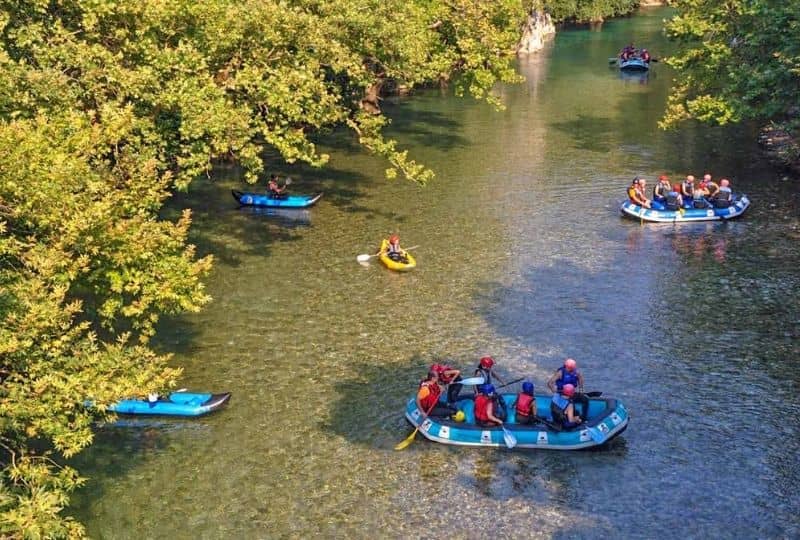 Taste
With all that action and adventure comes appetite. The good news is that the village has a dozen of traditional style taverns, serving excellent local cuisine and products. Pantheon will treat you to delicious dishes prepared according to homey regional recipes. Sit at the terrace for a stunning view of the mountains or by the fireplace inside, and trust Tassos and Voula's (the owners) recommendations.
A dinner at Astra Inn is also a memorable culinary experience in an easy-going atmosphere. Most of the ingredients come from family farms, which are grown with love and turned into generously flavoured dishes. The stuffed zucchini flowers are a must! For a fancier meal, you can go to Papigo Towers, a restaurant with a breathtaking view. This restaurant will treat you to delicious meals from family recipes. Enjoy your meal in a cosy yet luxurious Zagorian style stone-walled restaurant, or you can relish the dishes al fresco with the backdrop of stunning mountain ranges.
Sip
After your meal, you could head to one of the charming little cafes to enjoy a cup of Greek coffee or liquor with a sweet treat and learn more about the region from your lovely hosts. And when the night comes, step outside and simply admire the clarity of the sky at night.
Satisfy your sweet tooth at Mpímtsa, where you can find homemade sweets and have a cup of Greek coffee roasted on the sand after a meal. After dinner, head over to Το Καφενείο του Κούλη for a drink. It's a cosy café with warm wooden interiors, and it offers alcoholic drinks, juices, coffee, and more. In high seasons, it opens until very late and serves cocktails. Here, you can sip on your favourite drink outside under the canopy of vine leaves and take in the view of the idyllic landscape.
Shop
For souvenirs, stop by the charming Rogovo shop, a small family-run coffee shop on the main street and discover the regional products. From jams, liquors and sweets prepared from mountain herbs and local forest fruits to locally made handicrafts and ceramics. If you want snacks or need a fix for caffeine, you can also satisfy your cravings here. Its chocolate ice cream cake is a customer favourite, and a cup of Greek coffee goes perfectly with this dessert. As you sip on your drink, enjoy the peaceful atmosphere of this picturesque little town.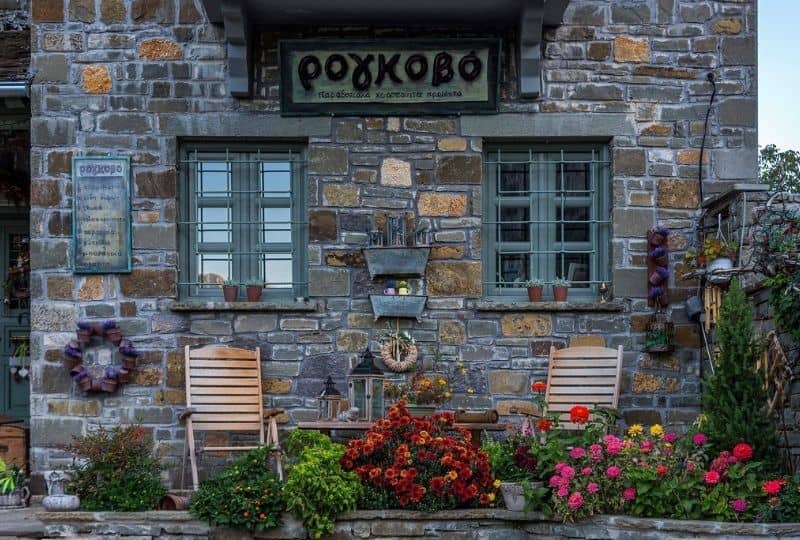 Stay
Even though small in size, Papigo and its surrounding villages have plenty of places to stay in. Expect cosy traditional guesthouses where you can experience the famous Greek hospitality, charming boutique hotels that will take your breath away, and villas with a stunning view of the awe-inspiring mountains.
Regardless of where you stay, you're sure to have a view of the idyllic landscape and enjoy the peaceful atmosphere of these small villages.
Book your stay now with some of the most iconic boutique hotels in Papigo.