Contents
Welcome to Chania, a charming city on the northwest coast of the Greek island of Crete. Here, the Venetian and Ottoman influences mingle with the local traditions, making for a unique and memorable experience. In this guide, we will take you through the history of the city, the best things to do, eat, and see, where to stay, how to get around, and when to visit. Get ready to fall in love with Chania.
History of Chania
The beautiful city of Chania is a vibrant hub of culture, traditions, and history. Its roots date back to ancient times when it was a Minoan settlement, and it has been shaped and influenced by a succession of conquerors and rulers over the centuries.
Under Roman, Byzantine, and Arab rule, the city flourished as an important center of trade and commerce. However, it was the Venetians who left the most indelible mark on the city, building fortifications, churches, and palaces that can still be seen today.
Walking through the narrow streets of the Old Town, you can almost feel the centuries of history that have shaped Chania. After the Venetians, the Ottoman Turks took control of Chania in 1645 and ruled for over two centuries, leaving behind an impressive legacy of Ottoman architecture and traditions. 
In 1913, Chania became part of Greece, and its history is still evident in its architecture, cuisine, and traditions. The Archaeological Museum of Chania is an excellent place to learn more about the island's rich past, with exhibits showcasing the history of the island from Neolithic times to the Roman era. The museum is located in a former Venetian monastery and has a beautiful courtyard where you can rest and admire the architecture.
Things to do in Chania
Chania has so much to offer, from historical landmarks to cultural events, shopping, and outdoor activities. Start with the Old Town, a maze of narrow streets lined with colorful houses, shops, and restaurants. Here, you can find the Old Venetian Harbor, a charming and historic port that has been in use since the 14th century. It is surrounded by pastel-colored buildings and offers a picturesque view of the sea. You can explore the narrow streets of the old town and discover the traditional architecture, take a boat ride along the harbor, or relax in one of the many cafes and restaurants.
Interested in art? Visit the Municipal Art Gallery of Chania, which features works by local and international artists, as well as temporary exhibitions. You can also check out the Contemporary Art Museum of Crete, located in a former slaughterhouse, which presents modern and contemporary art.
For a more contemplative experience, stop by the Old Chania Market, where you can browse through stalls selling local produce, cheese, olives, and handicrafts. This is a great place to buy souvenirs and gifts for your loved ones back home.
Visit the Ottoman Baths, or Hammam, which date back to the 17th century, and experience Chania's Ottoman past. These beautifully restored marble rooms offer a glimpse into the traditional Turkish bath rituals and intricate architecture.
If you're a history buff, you should also visit the Venizelos Graves, located on a hill overlooking the city. This is the final resting place of Eleftherios Venizelos, a statesman who played a key role in the creation of modern Greece. The view from the top is breathtaking, and you can see as far as the White Mountains.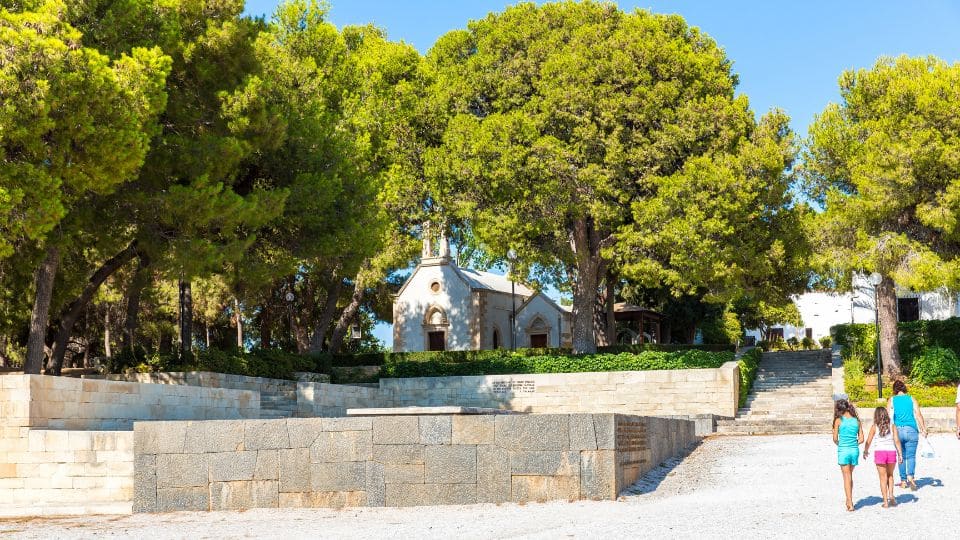 Chania may be full of attractions, but there are plenty of fascinating sites just outside the city waiting to be explored. Take a short drive, and you'll find the Archaeological Site of Aptera, an ancient city founded in the 7th century BC. Aptera played a vital role in the history of Crete and boasts ruins such as a theater, temple, and a Roman cistern that allow visitors to step back in time.
For those who crave a dose of adventure and history, the Fortress of Frangokastello is a must-visit destination. This well-preserved Venetian fortress, built in the 14th century, offers breathtaking views of the south coast of Crete and a chance to learn more about the island's rich history while admiring its impressive architecture. Whether you're a history enthusiast or simply looking for a unique experience, these sites are sure to leave a lasting impression.
Taste – Restaurants in Chania
Greek cuisine is famous for its fresh ingredients, bold flavors, and healthy dishes. In Chania, you can find a variety of restaurants, from traditional tavernas to modern eateries, serving everything from grilled meats and seafood to vegetarian and vegan options.
One of the most popular dishes in Chania is the dakos, a Cretan bruschetta made with barley rusk, tomatoes, feta cheese, and olive oil. You should also try the kalitsounia, a savory pastry filled with herbs, cheese, and sometimes meat.
One of the best places to experience the authentic flavors of Crete is Taverna Antartis in the picturesque village of Theriso. Traditional Cretan antikristo, marathopita, tsigariasto, and potato with staka are just a few of the delicious dishes you can enjoy at Antartis.
For seafood lovers, there are plenty of options, such as grilled octopus, shrimp saganaki, and fish souvlaki. Don't miss the opportunity to taste the local fish, such as the red mullet and the bream, which are caught in the nearby waters.
If you're in the mood for a vegetarian or vegan meal, there are many restaurants that cater to this diet. Some of the best vegetarian dishes in Chania are the briam, a Greek-style ratatouille, and fasolakia, green beans stewed with tomatoes and onions.
To finish off your meal, try loukoumades, a sweet pastry made with honey and cinnamon, or galaktoboureko, a custard-filled phyllo pastry drizzled with syrup. Pair your dessert with a Greek coffee or a glass of raki, a local spirit made from grape residue.
Enjoy the best sunset in Chania while relishing a mouthwatering dessert at Koukouvaya, located on Venizelos hill. Choose between a big variety of delicious desserts, such as "Zoumero" chocolate cake, ekmek kadayif, cheesecake, and many more.
Nightlife in Chania
Chania is not only a beautiful city during the day but also at night. There are many bars, clubs, and pubs where you can enjoy a drink, listen to music, and socialize with the locals and other tourists.
One of the best ways to experience Chania's nightlife is to take a stroll through the old town. The narrow streets are lined with tavernas, bars, and restaurants that come alive at night. Enjoy a traditional meal of meze, grilled meats, and seafood while sipping on local wine or raki. The ambiance of the old town is perfect for a relaxed evening out with friends or family.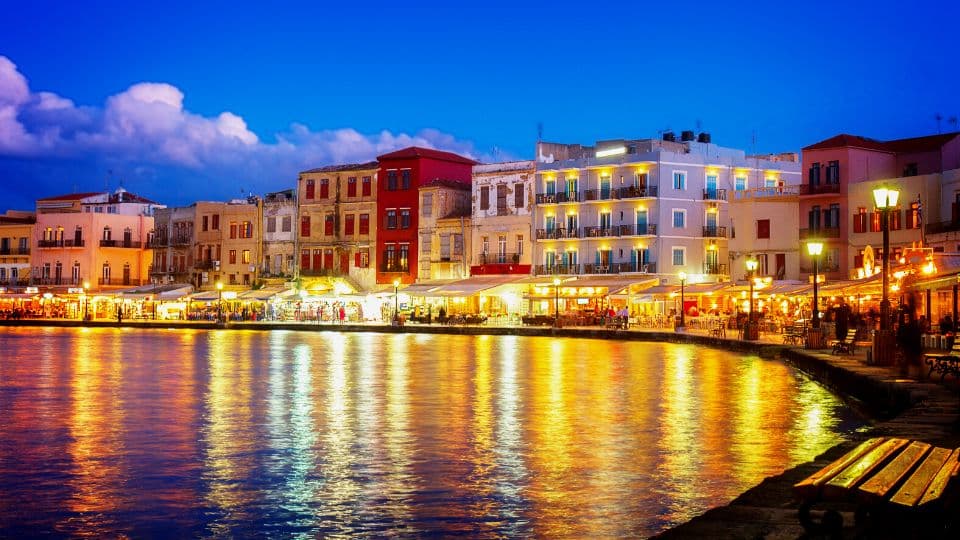 If you're looking for a more upbeat atmosphere, Chania has plenty of options for clubbing and dancing. Head to the Platanias area, which is about 10 kilometers from Chania. Here, you can find several clubs that play different genres of music, such as hip-hop, pop, and techno.
For those who prefer a more laid-back experience, there are also plenty of lounges and bars where you can enjoy a cocktail or a cold beer while listening to music or socializing with friends. One of the best places to enjoy a cocktail is the Sinagogue, a bar with a terrace overlooking the harbor. The music is a mix of Greek and international hits, and the vibe is laid-back and friendly.
Another great way to experience Chania's nightlife is to attend one of the city's many cultural events. During the summer months, there are frequent festivals, concerts, and art exhibitions that showcase the city's rich history and culture. From traditional dance performances to contemporary art installations, there is always something interesting to see and do in Chania.
For a unique experience, visitors can also try their hand at traditional Greek folk dancing. Many of the local tavernas offer live music and dancing, with friendly locals eager to teach visitors the steps. It's a fun way to experience the local culture and meet new people.
Finally, for those looking for a more relaxed evening out, there are plenty of options for a sunset walk along the waterfront or a quiet drink at a beachside bar. Chania has some of the most beautiful beaches in Greece, and watching the sunset over the Aegean Sea is a magical experience.
Stay – Hotels in Chania
Chania has a wide range of accommodation options, from budget-friendly hostels to luxurious resorts. The Old Town area is a popular spot for hotels, as it's close to the main attractions and has a lot of character.
Some of the best hotels in Chania are housed in old Venetian mansions, which have been restored and converted into boutique hotels. These hotels have a lot of charm and history and offer a unique and authentic experience. You can also find modern hotels with all the amenities, such as a spa, a pool, and a restaurant.
If you're looking for a truly unique experience during your travels, look no further than Scala de Faro Boutique Hotel. This stunning historic building offers a sense of luxury and style that is unmatched. From the moment you step inside, you'll be transported to another time, surrounded by Venetian, Ottoman, and Modern Greek influences. 
Each of the nine rooms and suites is designed with your comfort in mind while still highlighting the original structural and decorative elements of the building. And with its privileged location, directly opposite the Old Port Lighthouse, Scala de Faro is the perfect starting point for exploring all that Chania has to offer.
Discover the perfect blend of historic grandeur and contemporary luxury at the Ambassadors Residence Boutique Hotel. Set inside an elegant neoclassical building from the 1890s, this charming hotel offers a fascinating insight into the rich history of Chania. Paying homage to R. Kruger, a German ambassador who played a vital role in the city's past, the hotel's interiors are themed around the materials he traded, including glass, paper, ceramics, wood, and metal.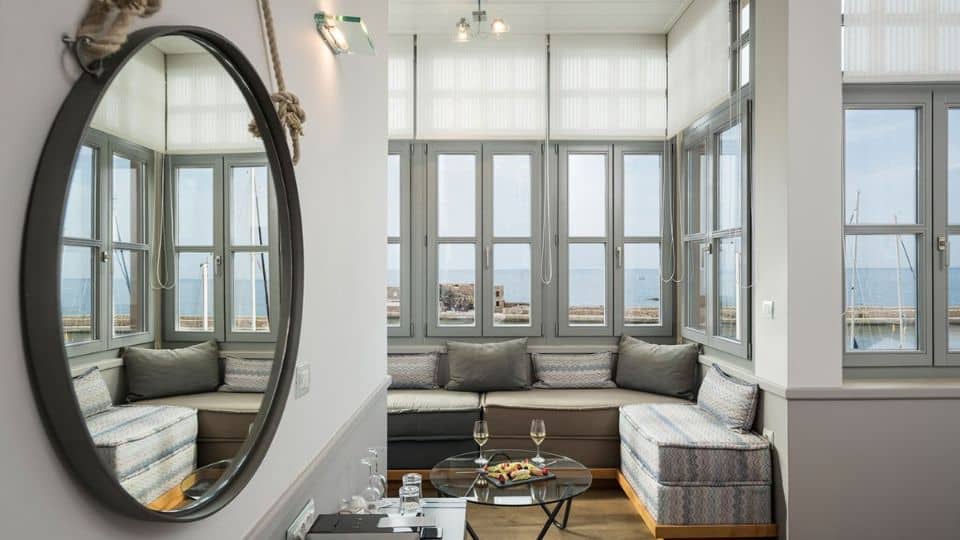 Each of the 13 uniquely designed rooms and suites is named after one of these materials, and guests can look forward to staying in the likes of the Stone Room, with its exposed brick walls, or the Porcelain Suite, featuring intricate and delicate decor. Indulge in Cretan cuisine and local wines, enjoy a private dinner on a yacht, or treat yourself to a rejuvenating in-room massage or Turkish Hamman bath.
Be Active – Outdoor Activities around Chania in Crete
Chania is surrounded by beautiful nature, and there are many outdoor activities that you can do to explore it. One of the most popular activities is hiking in the "Lefka Ori", a majestic range that dominates the western part of the island. With its rugged peaks and stunning views of the sea and valleys, it's a hiker's paradise. The range is home to numerous trails, ranging from easy walks to challenging treks that will test your endurance.
Another option is to visit the Samaria Gorge, one of the longest gorges in Europe, which offers a breathtaking view of the natural beauty of Crete. The 16 km trail passes through rugged terrain and towering cliffs, and it takes about six hours to complete. The trail is challenging, but it is well worth the effort for the stunning views of the landscape.
The Botanical Park and Gardens of Crete are a paradise for nature lovers. The park features a vast collection of plants from around the world, including many rare species. Enjoy several walking trails, relax in the shade of the trees, and let the kids run free in the playground.
Chania is a paradise for water lovers, with a stunning coastline and crystal-clear waters. Whether you want to swim, snorkel, paddleboard, or kayak, there are plenty of options to choose from. The nearby beaches are the perfect place to soak up the sun and take a refreshing dip in the sea.
If you're looking for the ultimate underwater experience, scuba diving is also a popular activity in Chania. There are several diving centers in the area that offer guided dives to explore the rich marine life and discover hidden underwater caves and wrecks. With its crystal-clear waters and diverse sea creatures, scuba diving in Chania is an unforgettable adventure.
The Best Beaches in Chania
Chania has some of the most beautiful beaches in Greece, and there's a beach for every taste and preference. Whether you prefer a secluded cove or a busy beach with amenities, you can find it here. One of the most popular beaches in Chania is Elafonisi, which is located on the southwestern tip of Crete. The beach has pink sand and turquoise waters and is surrounded by a protected nature reserve. It's a bit of a trek to get there, but it's well worth it.
Another stunning beach is Falassarna, which is located on the northwest coast of Crete. The beach is about 3 kilometers long and has golden sand, crystal-clear waters, and spectacular sunsets. There are also some beach bars and taverns nearby, where you can enjoy a meal or a drink.
Balos Beach is another must-see in Chania. The beach is located on the northwestern tip of the island and is accessible by boat or by a steep path. The beach is known for its turquoise waters and white sand and is surrounded by a lagoon and a small island.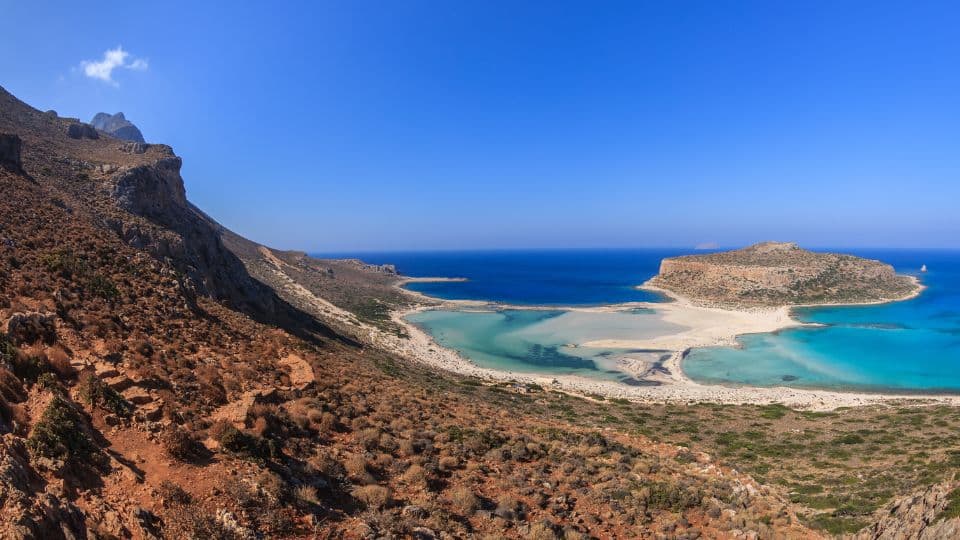 Seitan Limania Beach is a secluded cove located on the Akrotiri Peninsula. It's a great place to escape the crowds and enjoy the natural beauty of Crete. The beach is surrounded by towering cliffs, and the crystal-clear waters are perfect for swimming and snorkeling.
Other notable beaches in Chania include Stavros, which is famous for its appearance in the movie "Zorba the Greek," and Marathi, which is a family-friendly beach with calm waters and a playground.
How to get to Chania
Chania has its own airport, which is located about 14 kilometers from the city center. The airport is serviced by several airlines, including Aegean Airlines, Ryanair, and EasyJet, and has flights to many destinations in Europe.
If you're traveling from Athens, you can take a flight to Chania, or you can take a ferry from Piraeus to Souda Bay, which is about 7 kilometers from Chania. The ferry ride takes about 9 hours, and there are several ferries that operate daily. This is a popular option for those who want to see more of Greece and enjoy a scenic journey along the way.
Once you arrive in Chania, there are several transportation options available to get you to your destination. Taxis are readily available at the airport and in the city center, and the fare from the airport to the city center is around 25 euros. Alternatively, you can also take a bus from the airport to the city center, with a one-way ticket costing around 3 euros.
Transportation in Chania
Chania is a small city, and most of the main attractions are located within walking distance of each other. However, if you need to get around the city, there are several transportation options.
One of the best ways to get around Chania is by bike. There are several bike rental shops in the city, and the streets are generally safe and bike-friendly. You can also take a bus, which is a cheap and efficient way to get around. The main bus station is located in the city center and has routes to many destinations on the island.
If you want to explore the surrounding areas, you can rent a car or a scooter. This will give you the freedom to visit the nearby villages, beaches, and nature reserves at your own pace. Driving in Chania can be challenging at times, especially in the city center, which has narrow streets and limited parking. However, once you get outside of the city center, the roads are generally in good condition and well-marked. Just be aware that driving in the mountains can be steep and winding, so make sure to take it slow and be cautious.
Day trips from Chania
Chania is a great base for exploring the rest of Crete, and there are many day trips that you can do from the city. One of the most popular day trips is to the city of Rethymno, which is located about 60 kilometers from Chania. Rethymno is a beautiful Venetian city with a charming old town, a castle, and a beach. You can spend the day exploring the narrow streets, visiting the museums, and enjoying the local cuisine. Discover all of Rethymno's secrets on our Insider Guide to Rethymno.
Another popular day trip is to the Palace of Knossos, which is located about 120 kilometers from Chania. Knossos is the largest archaeological site on Crete and was the center of the Minoan civilization. The site has many well-preserved ruins, such as the palace, the throne room, and the frescoes.
For a coastal escape, consider a day trip to the charming town of Sougia, located about 70 kilometers from Chania. It's a laid-back destination with a beautiful beach, crystal-clear waters, and stunning mountain views. Visitors can spend the day lounging on the beach, enjoying fresh seafood, and exploring the nearby countryside. For a more active adventure, you can also hike the nearby Agia Irini Gorge, which offers scenic trails and impressive natural features.
When to visit Chania
Chania is a great destination to visit all year round, but the best time to visit is from May to October. During these months, the weather is warm and sunny, and the beaches and outdoor activities are at their best.
July and August are the peak tourist months, and the city can get quite crowded. If you want to avoid crowds, you should visit in May, June, September, or October. During these months, the weather is still warm, but the crowds are smaller, and the prices are lower.
If you're interested in the local culture, you should visit Chania during the Carnival season, which takes place in February or March. The Carnival is a time of celebration, with parades, music, and traditional costumes.
In the summer, there are many cultural events and festivals, such as the Chania Rock Festival, the Wine Festival, and the International Dance Festival.
From the charming old town to the breathtaking beaches, from the delicious cuisine to the lively nightlife, Chania has it all. And with its warm climate and friendly people, it's the perfect place to relax and enjoy life.
So if you're looking for a unique and unforgettable travel experience, pack your bags and head to Chania. You won't be disappointed!