The largest and most southern of all the Greek islands, Crete, is a gem that is often overlooked by its Cycladic neighbors like Santorini or Mykonos. But its sheer size ensures there is no shortage of things to do in Crete and magnificent places to see.
Holidays in Crete will be filled with leisurely days on idyllic beaches, plenty of adventures through the dramatic countryside, and exhilarating visits to ancient cities. The Cretan experience isn't complete without indulgent Mediterranean cuisine and a few hikes crisscrossing the stunning scenery.
Taste
Most towns in Crete boast their own specialty Cretan cheese made from sheep and goat's milk. Graviera, pichtogalo Chanion, and myzithra are some of the unmissable variants, ranging from hard to soft, with sweet, nutty, and mild flavors covering the taste spectrum.
These cheeses are used in refreshing dishes like Dakos, a meze akin to bruschetta, and Kaltsounia, a decadent cheese pie. Share a variety of fresh and small meze dishes to sample a variety of Greek flavors at one of the atmospheric taverns on the island. Peskesi sits in an old captain's mansion in Heraklion. Feel a sense of familiarity as you enter the classic stone building, getting a waft of the heart aromas filling the air.
Olive and Mint Restaurant is another winning establishment with a world-class chef putting a healthy spin on traditional dishes. The open kitchen allows visitors to admire her at work, getting a deeper appreciation for this renowned cuisine. If you prefer your fine dining meal with a jaw-dropping view, secure a table at Herb's Garden in the capital for a sparkling view over the harbor.
Sip
Crete's impressive wine history is a big attraction on the island, with many visiting to savor its marvelous productions. A favorite white variety is Vidiano, with its bold melon and apricot notes. Vilana is another locally grown white with delightfully light and crispy notes. Kostifali is a red grape that is traditionally grown on the island that produces a wine that is high in alcohol but easy to drink due to its low acidity. Pay a visit to Domaine Zacharioudakis Winery to sample a variety of fantastic local wines with splendid sea views over the brim of your glass.
Two wine by-products are popular as ever, often being offered at the end of a meal to top off an already outstanding experience. Rakomelo and Tsikoudia can be a bit harsh, but high-quality versions have delicate aromas and unbeatably smooth textures. Mournoraki is a spirit from distilled mulberries which is hard to come by but worth the effort. It is a labor-intensive drink to make, but the complex flavor shines when drunk as an aperitif.
Learn
On the historic side of matters, there are a ton of things to do in Crete. The vibrant columns of The Palace of Knossos are an iconic attraction, while the Heraklion Archaeological Museum has the largest collection of Minoan artifacts the world over. This ancient civilization has left its mark all over the island, with marvelous ruins open to the public.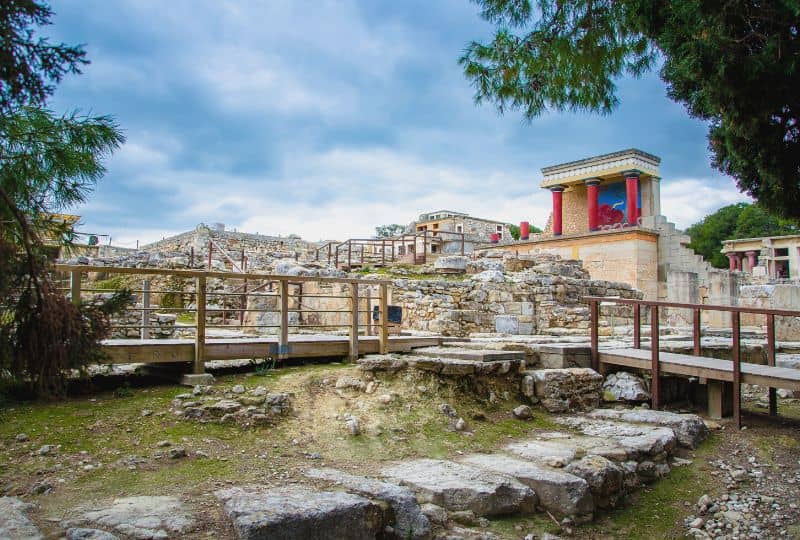 The charming harbor city of Chania offers tons to explore, with narrow streets and vivid houses lining the ocean. The city exudes both Turkish and Italian flair, interwoven with the already vibrant Greek atmosphere. A more modern ghost town is Aradaina which was abandoned early in the 1900s. Wander through the empty and overgrown buildings to get a glimpse into the island's past.
The village of Vamos is a must-visit for eco-conscious travelers. The community has banded together to promote its unique brand of eco-tourism through sustainable and traditional practices.
Party
Nightlife lovers will find a host of things to do on Crete as the island boasts some of the most vibrant evening activities. The beautiful town of Chania has integrated many of its clubs and bars into the hidden alleys and narrow streets while some upscale venues line the waterfront of the Venetian harbor. One of the most entertaining things to do in Crete is to explore these many gems.
A vacation in Crete is made even better by the slew of charming wineries and cocktail bars dotted around the cities. Follow any cobbled street in the direction of the boisterous Cretan music filling the air, and you will stumble into an unforgettable night. Malia, Stalis and Elounda are most renowned for their rowdy clubs while you will find many atmospheric bars in the old city of Heraklion, some, like Opus, even built into the old city walls.
Stay
Crete has five cities and countless towns and villages to stay in. Plan holidays in Crete carefully to experience all aspects of this massive and diverse island. Visit the relaxed resort towns of Sissi or Elounda to indulge in the laid-back culture of the island and balance that with a slightly more upbeat visit to the capital of Heraklion.
Chania offers the best of both worlds with a relaxed antiquated atmosphere with a side of flourishing tourism. Rethymno is another one to keep on your radar. Many cocktail bars have popped up in this tiny town, giving it an electric vibrancy.
Ambassadors Residence Boutique Hotel in Chania boasts some of the most spectacular views for holidays in Crete. Enjoy the vibrant Venetian harbor from the comfort of a modern room doused in local personality. Scala de Faro is another classic-meets-contemporary stay where visitors are spoiled with matchless hospitality and luxury.
Chill
A visit to Elafonisi is undoubtedly one of the most popular things to do in Crete. This iconic beach has pink sand and tranquil turquoise water, everything that a vacation in Crete needs.
Kalogeros beach is a hidden gem for those seeking solitude from the crowds. Reach the beach by boat and enjoy the pristine surroundings and dramatic cliffs. Balos beach is top of the travel list for many, and for a resplendent day on the coast, few beaches come close.
Be Active
For outdoorsy folks, there is no shortage of activities. Hiking is one of the most popular things to do on Crete, with hikes through gorges, up hills, and ending at secluded beaches. A hike to Agiofarago takes only about an hour, and you will be richly rewarded by a stretch of unspoiled beach.
The Lefka Ori Mountains and Samaria Gorge are other must-sees for active travelers. Here you will find snow-capped peaks well into spring and a plethora of hiking trails and caves to explore. The moonlike terrain is dotted with stunning Mediterranean flora, and many migratory birds pass through this western range.
From mountain peaks to gorge basins, Tromarisa Gorge is a legendary 3-hour hike through the deep cracks of the legend-filled mountains. The hike takes you along gigantic pine forests and wild fruit groves. If you find yourself in the south of Crete, track down Vreiko Cave. The cave is marked by a wild fig tree covering the mouth, but beyond the chaotic shrubbery lies a magnificent underground world with dangling rock formations and a refreshing underground lake where you can take a dip.