Corsica has it all: sea, mountains, art, and delicious food. You can still hear people talking the Corsican language, the "U Corsu." A mix of Latin and Medieval Tuscan, this language has a joyful cadence, made for a "ghjente di tandu," the people of the past. But this island isn't stuck in the past. It looks at the future, focusing on sustainability and luxury. North of Italian Sardinia and south of mainland France, this Mediterranean island offers a mix of both cultures.
It's a French territory, but don't expect the stereotypical France of lavender fields and wine hills. Corsica is a land that lives in its mountains and beaches. In between, there are windy roads and tiny yet charming villages. This insider guide to Corsica will show you the land's heritage and beauty from a new perspective. With over 200 beaches, one UNESCO site, and over 120 peaks exceeding 2000 meters, this destination is ideal for groups of friends, active travellers, and couples.
This is our Insider Guide to Corsica with the top things to do and see in Corsica, in 2022
Explore
You can start your true Corsican adventure at the UNESCO World Heritage Site of the Gulf of Porto, a nature reserve that includes the Calanche of Piana. The Calanchi are volcanic geological formations and this reserve is also the best place to admire the island's fauna. You can reach the Gulf from the city of Porto, which is also a boat ride away from Calvi in the north.
You can follow the Y-shaped itinerary called "Chemins de Fer de la Corse" on a comfortable train. You will see the whole island, from Bastia on the northern tip to Corte in the centre. Ajaccio lies in the west or you can go to Porto Vecchio, in the southern tip. Make sure to get the Pass Liberta to enjoy seven days of free movement.
Starting from the north, the movement will take you to Bastia, where you can stroll through the Old Port. In the heart of the island, lies Corte. There, you can enjoy the view from the Heritage Trail, an easy 2km-walk by the Tavignano River. In the west lies Ajaccio, Corsica's main town, where you can't miss Plage d'Argent, a pristine beach. In the southern tip at Porto Vecchio, you will find Palombaggia Beach, a Mediterranean treasure.
While Corsica is a big island and you won't be able to see it all in two days, this itinerary is ideal to begin your adventure.
Be active
While the island is famous for its beaches (such as Saleccia in the north and Palombaggia in the south), Corsica is an active destination. If you like hiking, you can't miss the Chemin des Glacières de Cardo on Bastia and its gorgeous views. If you are an experienced hiker, the GR20 will test your legs.
It's 180km of trail, crossing the island from north to south with a total of 12,000m of elevation gain. While you don't need a trekking guide, you do need a plan to tackle the GR20. For example, are you staying in a tent? Or do you plan on doing the whole 16 stops?
Corsica is made for watersports and divers. For this insider guide to Corsica, here's a unique experience: join a sailing adventure. You can hop on a yacht and spend some day cruising around in luxury. If you have the license, you can also choose a bareboat and be your captain.
Chill
Not much into sports? No worries: in Corsica, you can relax – and not only -at the beach.
For example, you can't miss the thermal baths of Bains de Caldane, a private structure surrounded by the mountains of the island. Inside, you will find warm sulfur waters, sunbeds, and even a mini-golf course. Don't hesitate to pamper yourself with a massage.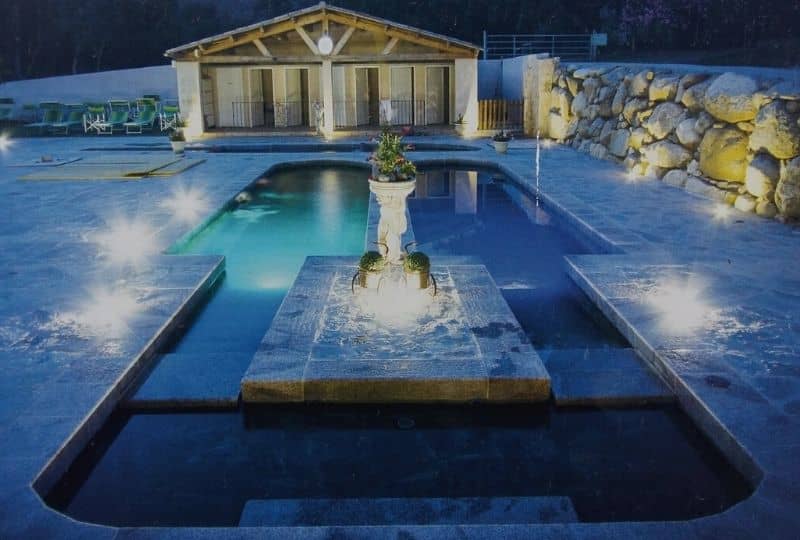 Perfect for groups or families is also the horseback riding experience with tours that focus on the wellbeing of the animal. Golf lovers will enjoy the classes at Ecole Golf, in Porto Vecchio, where they will learn new tricks and winning strategies.
Sip
It's time for wine tourism. The best way to visit the island's wineries is on a road trip that will take you through scenic views and unique grapes. The native ones are: Sciaccarellu, Niellucciu, and Vermentinu. It's not just tastings, however. An event you can't miss is the Picnic with an Independent Winegrower that takes place every year during spring.
If you prefer craft beer, you have to stop and sip at the Brasserie Pietra. The production focuses on seasonal beers, like the chestnut one during autumn. Their selection also includes gluten-free beers and the roséè, fresh and fruity.
Taste
Divided between sea and mountains, in Corsica, you can find both delicious meat and seafood. The wild boar casserole is a must and so is the Corsican lamb with rosemary and spices, the best Mediterranean flavours. In the east, try the oysters and the crayfish.
Worth travelling for, especially if you dine at A Nepita in Ajaccio, famous for its smoked octopus and the risotto with porcini mushrooms.
Vegetarians also have plenty of choices, like the omelettes or the brocciu, the region's fresh cheese. The restaurant VG in Bastia offers a healthy menu. Finally, there is no foodie experience without a delicious dessert. In autumn, you must try the chestnut tart (flan a la farine de châtaigne) or you can enjoy the beignets for 365 days of the year.
Shop
There is no vacation without shopping for souvenirs or pleasure. The centre of Porto Vecchio is lined with exclusive boutiques, such as Malinea featuring fashion, decor, and accessories. Or Calarena, where you can find anything for your beach getaway. To get something unique in Bastia, stop by Les Pierres de Corse for its artisanal jewellery collections made of coral and Corsican stones.
But you also need to take something home for your friends. One of the best souvenirs from Corsica is the Immortelle oil, a beauty product made with local flowers, the Helichrysum italicum. Rich in vitamin E and antioxidants, this oil is perfect for the skin's glow and health.
Stay
It's all fun and games, but you need a place to sleep. Lucky for you, Corsica has options for all types of travellers. If you love adventure, you can't pass on an old-fashioned camping trip with smores and a plate of Prisutu, the traditional smoked ham. If you don't like slicing your own ham, you can always choose luxury and Corsica has a whole lot of it.
The absolutely top The Boutique Vibe pick for an unforgettable stay in Corsica is hotel Cala di Greco. You are always one turn of your head away from admiring Bonifacio's citadel. The room's patios await your awe at the three-hectare property, embedded with 100-year-old olive trees with Sardinia imposing its coastline of the Mediterranean in the background, sparkly in every season.
Book your stay now with some of the most iconic boutique hotels in Corsica.