Oniro City is at the crossroads where modern design meets elegance and warmth, in the heart of Athens
Nestled in a restored neoclassical building, in the Kolonaki district, Oniro City offers a refined atmosphere with contemporary lines and earthy colors. The lavish services, modern rooms, and caring staff will make your stay a unique experience of opulence and luxury.
Whether it's the end of a long day of meetings or right after a shopping trip to the Kolonaki streets, you can raise your energy levels at the hotel's gym, choose to recharge your batteries with a glass of wine and oysters at the intimate O-bar, or just relax with a cup of tea at the open-roof terrace overlooking Athens' historic streets.
This boutique hotel in Athens combines an immersion into local Athenian life while enjoying a quiet and intimate stay. Welcome to Oniro City!
What we liked the most
Amazing yet quiet location in the city centre.
All-day gourmet restaurant and terrace bar.
Complimentary in-room minibar
Gym with high-quality modern equipment
The hotel stores clothes for their loyal guests
Rooms Overview
Choose your preferred pillow type, cocoon yourself into luxurious bedlinen and enjoy the complimentary minibar. With their earthy colours and refined latticework, each of Oniro City's rooms is a promise of a delightful stay.
Standard Room
2 guests
Balcony
View into the city
With their refined furniture and softened lighting, the generous Standard rooms are a statement of urban serenity. Every detail has been carefully considered so you can enjoy the comfort of a king-size bed, sumptuous Guy Laroche linen and bath towels, luxurious Molton Brown toiletries and a complimentary mini-bar.
Superior Room
2 guests
Balcony
View into the city
Enjoy the views of Athens's streets from the small balcony. You can choose between a king-size bed or two single beds while benefitting from Oniro City's signature services such as Guy Laroche linen and bath towels, luxurious Molton Brown toiletries and the complimentary mini-bar.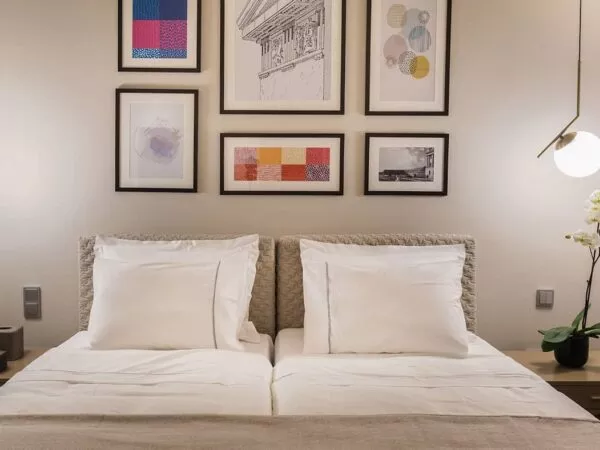 Executive Room
2 guests
Balcony
View into the city
Located in a higher level of the building, Executive rooms offer refined comfort and tasteful design. Enjoy city views from the spacious balcony or reply to your emails from the modern dedicated working space. The room is stylishly furnished with a king-size (or extra king-size) bed.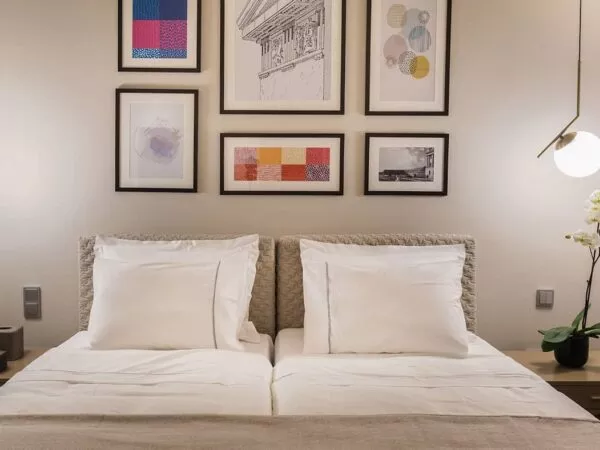 Junior Suite
3 guests
One-bedroom suite
View into the city
Whether you're are having a romantic weekend or a family trip, the Junior Suite is for you. With its multiple spaces, the suite accommodates two extra-king size bed and a sofa-bed with Guy Laroche linen and bath towels. Some of the junior suites open to a small balcony.
Two–Bedroom Suite
6 guests
Balcony
Two-bedroom suite
Frequent Business travellers and families will find their own little paradise in the Two-Bedroom Suite as it offers a spacious living area and a large balcony. The suite collectively features two extra king-size beds (or an extra king-size bed and two single beds), and a sofa bed.
Master Suite
4 guests
Balcony
Two-bedroom suite
Located on the top floor of the hotel, the spacious Master Suite features a bedroom with an extra king-size bed, a living room with a sofa bed and a separate working space. Its large balcony invites you to relax while enjoying Athens streets. The suite's bathroom has a double shower.
Taste the flavors
O'Bar
You can head to the O-bar at any time of the day. Its friendly yet soothing ambience invites you to relish a selection of fined wines, spirits, and lush cocktails coupled with gourmet canapés.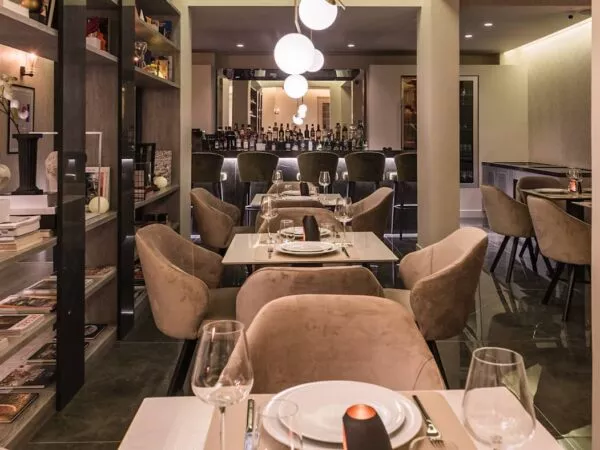 Dining Lounge
Discover fine all-day cuisine at the chef's table in the hotel's Main Lounge. All dishes are lovingly made from local products and Greek inspiration starting from the breakfast, where you can enjoy the amazingly presented buffet combined with a la carte menu. The Strapatsada and Eggs Florentine are a must-have!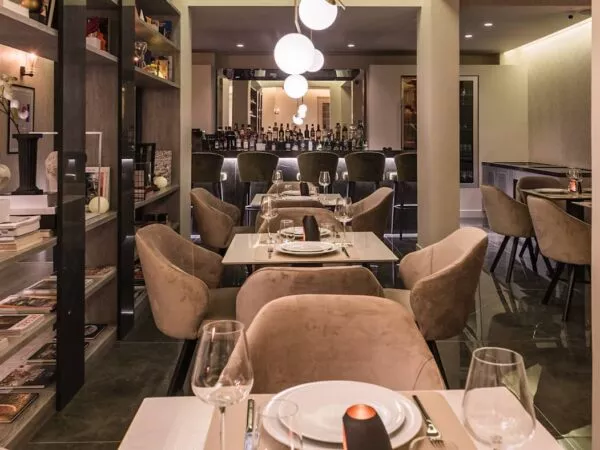 Focus on sustainability
We are currently evaluating the hotel's eco-friendly practices and commitment to sustainability.
To determine a hotel sustainability level, The Boutique Vibe evaluates:
The eco-friendliness of hotel buildings and furniture.
The level of energy and water consumption.
The effort that owners put into preserving the region's traditional character and supporting local economies.
Whether services, food, and products of the property are provided with a mind in preserving the land and local heritage.
Explore the location
Oniro City Hotel is located in Athens city-centre. Syntagma Square and the Hellenic Parliament, and respectively Ermou Street – the most commercial street in the country – are a 10-minute walk away.
You have an easy to the largest fashion stores for luxurious and trendy brands. It is worth noting that there are art galleries close to the hotel as well as notable museums such as the Cycladic Art and the War Museum for those who want to spend their time in cultural sites. Within walking distance of Kolonaki Square, you can find restaurants, cafes and bars that can suit anyone's taste.
Book a trusted local driver for your transfer to and from the hotel, and introduce you to the destination, pre-order travel essentials, and get all your questions answered before or during the trip. Choose the stops, visit the attractions, and don't waste any time waiting. We've partnered with Welcome Pickups, the first company to deliver a holistic, in-destination travel experience.