Sir Athens Suites showcase the best of what Kolonaki has to offer: charm, luxury, and authenticity
Housed in a 220-year-old neoclassical building on historic Kaplanon Street, every detail of your stay at Sir Athens Suites will encourage you to "take off your hat," as gentlemen would traditionally do to express their respect and admiration. Yes, Sir (or Lady)!
The elegant Sir Athens Suites welcomes guests to its stylish modern aesthetic, subtly blending natural minerals, colorful walls, and botanic elements. The lobby and the four soundproofed suites follow the same sleek design codes, yet every area has its own distinct personality. Elena, the hotel manager, is always ready to go the extra mile and will happily arrange for babysitting, your beauty treatment, or your transport to the airport.
What we liked the most
Admiring the unique decor, combining modernism and vintage chic
Getting taken care of by the caring Sir Athens team
Awakening to different breakfast basked every morning
Enjoying the tranquillity of the fully soundproofed rooms
Staying at stylish neighbourhood in Athens city-center
Rooms Overview
Sir Athens Suites offers a choice of suites themed around minimalist comfort and simplicity. The light-filled suites are equipped with modern custom-made furniture and offer high-end comfort.
Sir Comfort Suite
3 guests
Balcony
View into the courtyard
As you walk through the door of the room you will immediately be welcomed by the extravagant blue wall. The suite is bathed in natural light from the windows overlooking an attractive patio. A large curtain hides the black marble bathroom, which is separated by a glass pane. The suite can accommodate up to three guests with its one single bed and a large double bed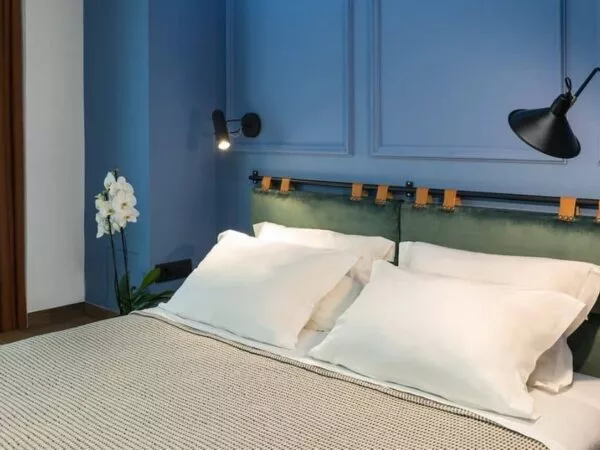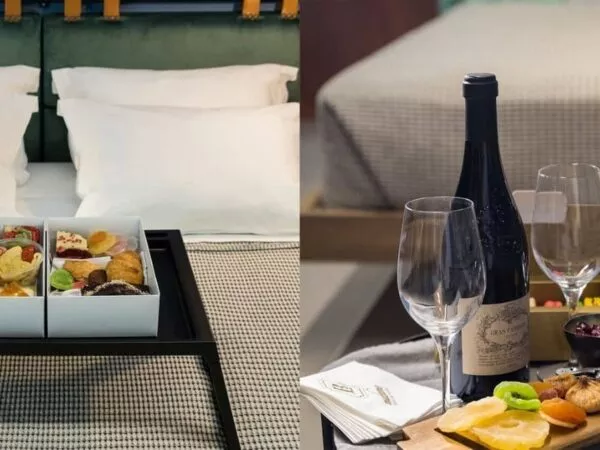 Elegant shades of green on the walls, orange velvet pillows and a combination of wood and marble gives the Sir Athens suite a welcoming retro atmosphere. The suite is designed as a sleeping area with a large bed and a living area with a comfortable sofa-bed and small balcony.
Sir Attic Suite
4 adults & 1 child guests
Two-bedroom suite
Immaculate white colours with minimal touches of black in the decor give this two-bedroom suite a sophisticated yet comfortable vibe.
Sir Apartment
3 guests
Equipped kitchen
Private access
Sir Athens' "wildcard" offering! Located in a separate building, this apartment follows a unique design compared to the rest of the suites. Two large windows allow natural sunlight to enter and highlight the space's all-white urban style and neoclassical hardwood floor.
Taste the flavors
Breakfast
Sir Athens offers – in partnership with a gourmet local catering company – a choice of nine breakfast menus inspired by the Greek tradition with a creative touch, and which cover all nutritional requirements. Feel free to share any preferences with the reception staff in the evening and breakfast will be served straight to your room.
Focus on sustainability
We are currently evaluating the hotel's eco-friendly practices and commitment to sustainability.
To determine a hotel sustainability level, The Boutique Vibe evaluates:
The eco-friendliness of hotel buildings and furniture.
The level of energy and water consumption.
The effort that owners put into preserving the region's traditional character and supporting local economies.
Whether services, food, and products of the property are provided with a mind in preserving the land and local heritage.
Explore the location
Kolonaki, the aristocratic area of the Athens centre, is an explorer's paradise; you will discover a variety of small galleries and museums, concept stores, local restaurants and Greek designer boutiques. Sir Athens is located just a minute away from one of the most vibrant streets in central Athens, Skoufa Street, a few steps from the famous Lycabettus hill in Athens, and just metres away from the Academy of Athens, which is a neoclassic 1800s building and a city landmark.
As the sun sets over Athens, you will find yourself mingling amongst hip Athenians going to trendy bars that offer anything from classic live jazz to cutting-edge DJs.
Book a trusted local driver for your transfer to and from the hotel, and introduce you to the destination, pre-order travel essentials, and get all your questions answered before or during the trip. Choose the stops, visit the attractions, and don't waste any time waiting. We've partnered with Welcome Pickups, the first company to deliver a holistic, in-destination travel experience.