Athens lies gracefully in the heart of Greece, with landmarks, museums, excellent restaurants, exquisite natural scenery, and so many more intertwined in utter charm. The beautiful city has just enough attractions to bind you to its Greek surroundings.
However, on day trips from Athens, some kilometres away lie remarkable Greek traditions and culture begging to be explored. If you are staying a few days, then short day trips from Athens can be just the special touch you need for your trip.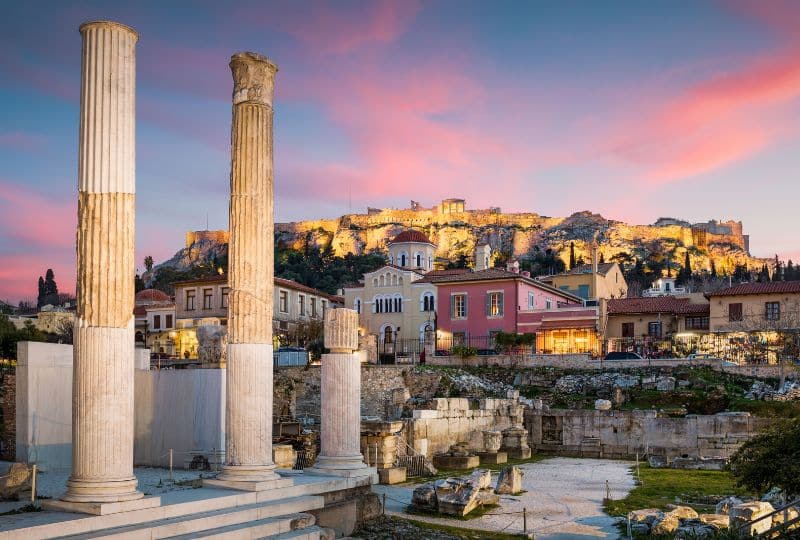 Here are some of The Boutique Vibe's top picks for memorable day trips from Athens. You certainly don't want to miss out on these once-in-a-lifetime experiences.
1. Discover archaic artefacts in Delphi
A day trip from Athens to Delphi transports you into classical Greece, laced with attention-grabbing artefacts and attractions. Delphi has located about 180km from Athens and can be accessed by private car or public transport.
Delphi has been marked a world heritage site which is no surprise as the rocky grounds once held home to the oracle of Apollo. Moreover, it was one of the most important religious centres in 6th-century Greece.
When you finish with the Temple of Apollo, glide into the Archeological Museum of Delphi. Trace your eyes across the breathtaking objects around the museum's historic grounds.  Admire the Classical-era bronze Charioteer of Delphi statue or the 6th-century BC Sphinx of Naxos, amongst others.
When your day trip from Athens ends, you can stop and shop in the pretty towns of Arachova and Levadia.
2. Explore the Bronze Age ancient city of Mycenae 
When you add day trips from Athens to your Greece itinerary, Mycenae is undoubtedly a destination not to miss out on. This real-life city, Agamemnon in Greek mythology, is located 120km away from the breathtaking city of Athens.
This ancient city dates back to the Bronze Age, at the brink of the Mycenaean civilisation. The archaeological ruins of Mycenae are filled with beautiful fragments dating back to the 15th century BC.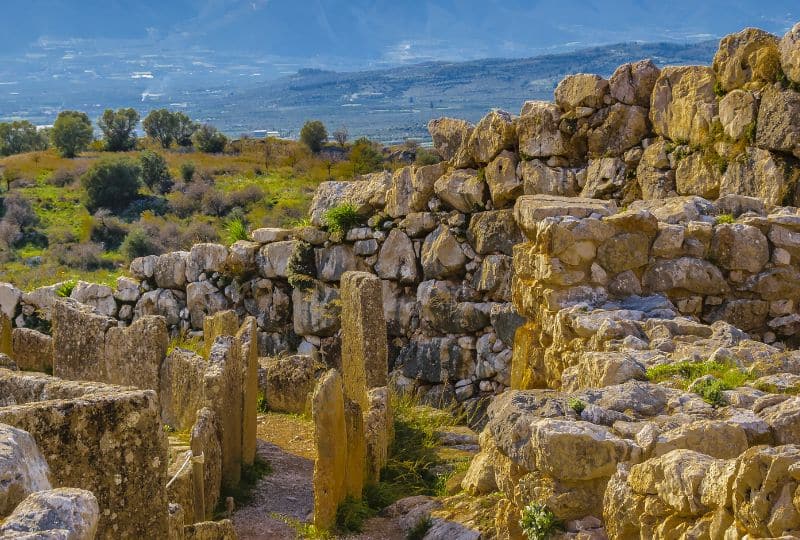 You can take your time viewing the breathtaking items from the remains of ancient palaces to the Lion's Gate and the "Tomb of Agamemnon" (also called the "Treasury of Atreus"). You could also spend some time seeing historical fountains and ramparts.
One way to take your day trip from Athens to its optimum is to hop on a guided tour and explore some other sites.
3. Absorb the Greek myths about king Aegeus in Cape Sounion
The city of Cape Sounio is situated just 70km away from the city, making it perfect for a day trip from Athens. The underwater grave of the mythical king Aegeus, who ended his life by jumping off a cliff into the sea, can be found at Cape Sounio.
This day trip from Athens to Cape Sounio has Greek history intertwined with ancient wonder. Hop on a guided tour for some premium insights when you step into the Temple of Poseidon, dating back to 44 BC.
While at the temple, do not hesitate to get a fantastic view of the Aegean Sea while you stand above it. And if you're up for some tongue-tingling, head over to traditional tavernas and restaurants nestled just a couple of minutes from the Temple of Poseidon.
Settle back into your boutique hotel in Athens at the day's end or hop on the next destination in your day trip from Athens itinerary—that's if there's still time.
4. Enjoy island hopping from Hydra to Poros and Aegina Island
These breathtaking Saronic islands lie amid glistening waters, each offering uniqueness at every step. Hydra, Poros, and Aegina are all accessible by ferry boats taking off from Piraeus (located 12km from Athens).
You can often make your day trip from Athens on an organised tour that offers you a little bit of each of the three Saronic islands. Each stop allows you ample time to explore historical monuments or settle in an outdoor cafe for some classic coffee.
You can start with the island of Aegina, a 40-minute ferry ride from Piraeus. First, feast your eyes on one of the best-preserved ancient temples, the famous Temple of Aphaia Athena. Then head to the archaeological museum and catch a sight of the 6th-century BC sculpture of the Aegina Sphinx.
If your family is up for quality time together in the Greek way, the island of Poros is the perfect location. Enjoy the feel of the sand between your toes as you glance into the crystal-clear waters across the island's scenic shorelines. Or take a step into the seaside village of Askeli and enjoy some quality Greek restaurants.
The last and farthest stop on your day trip from Athens would be the island of Hydra, where modernity clashes with the old-world feel. Explore the cobblestone streets while sitting on a donkey, the only means of transportation on this stunning island.
And at the end of the day, these Saronic islands are simply a must-add to your most memorable locations for day trips in Athens. 
Thinking about the beautiful islands of Greece? Read our articles about:
5. Dip into the utter Greek charm in Epidaurus seaside town
The seaside town of Epidaurus lies nestled in utter Greek charm, with artefacts and monuments dating centuries back. It is about 126km from Athens, a three-hour drive to utter elegance.
The main attraction that will spice up your day trip from Athens is the well-preserved Ancient Theater of Epidaurus, which dates back to the 4th century BC. You can only imagine the captivating dramas and performances carried out thousands of years ago.
Except you might not have to imagine it because this theatre hosts the Athens & Epidaurus Festival in June, July, and August. You get to see a mesmerising ancient Greek drama right before you.
You can enter the Archaeological Museum if you're up for a little dose of historical knowledge. The museum displays various archaeological fragments collected from the Sanctuary of Asklepios archaeological site.
When you leave your day trips from Athens in the hands of organised tours, you will surely experience an authentic Greek wonder in style.
6. Learn some history at the old capital of Greece, Nafplio
The former capital of Greece exudes utter romance with its picturesque seaports and cobblestone streets. Nafplio has nestled just 136km from Athens in Greece's Peloponnese region.
Nafplio dates back to the prehistoric era, with every nook and cranny of the town carrying a piece of the conquering Romans, Venetians, Byzantine Empire, and Ottoman Turks. Admire Ottoman fountains, Venetian buildings, medieval castles, and elegant Turkish mosques.
The romantic city lives up to its reputation as you climb about 1,000 steps to the Palamidi Castle on the hilltop. It takes a little elbow grease, but once you step onto the grounds overlooking the glistening sea, it feels worth it.
When you're done admiring the breathtaking architecture across the Nafplio streets on your day trip from Athens, settle into the comfortable bed at your boutique hotel back in Athens.
7. Mingle in modern and ancient in the town of Corinth
The town of Corinth, with its bustling seafront and modern Greek touch, is one location that is a must when planning day trips from Athens. You can access Corinth by a one-hour drive since it's nestled about 85km from the city of Athens.
About 9km from the modern port town lies the archaeological site of ancient Corinth. First, take a trip into 5th-century Greece as you explore the highest point in ancient Corinth, the Temple of Apollo. Then, enjoy a walk across the same grounds where St. Paul once lived and preached.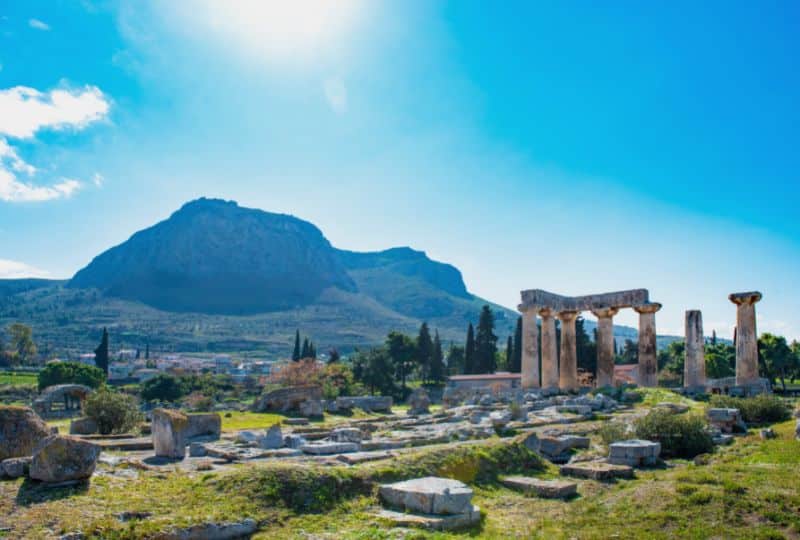 Yet again, some breathtaking artefacts excavated right from the archaeological sites lie displayed across the walls of the Archaeological Museum of Ancient Corinth. Feed your eyes on the remarkable ancient Roman mosaic floors and sculpted busts just before the end of your day trip from Athens.
The Boutique Vibe's Top Picks For Memorable Stays In Athens
Before you begin your memorable day trips from Athens, you should settle into one of these comfortable home-away-from-home hotels. You need a place to return to after all that exploring, don't you? Here are our top picks for the most memorable stay in Athens:
Pi Athens Hotel

Shila Hotel Athens

Vol. 5 The Mini Lodge

Noma Hotel Athens

14 Reasons Why

Oniro City

The Foundry Suites Athens

Sir Athens Suites

Athens Manor Houses

Ederlezi Living

Moon and Stars
The wonders of the memorable city extend far beyond its grounds as you get to explore other parts of Greece on your day trips from Athens. Whether taking a trip into Greek history dating back centuries or partaking in the delectable gastronomy, day trips from Athens are the complete package.