One of the most affluent areas of Tunis, La Marsa dates back to the Punic era and is now a cosmopolitan town attracting locals, expats, artists and diplomats. Like Tunisia's capital city, La Marsa remains undiscovered by mass tourism. Be ready to be charmed with the stunning Mediterranean Sea view, tree tunnels, lively city centre, palaces and historical sites, a stone throw away from the centre of Tunis city. Here are some recommended things to do in La Marsa: it is the perfect place to observe the locals in their daily life and enjoy a balanced trip offering historic and cultural attractions during the day along with an exciting nightlife.
At la Marsa all roads lead to the Corniche
You can start your walk in La Marsa along the coastline Corniche and enjoy the wide-sweeping view of the Mediterranean Sea, feeling the refreshing breeze on your skin. Here, you will find street artists performing to entertain walkers, painters and writers, and Jasmine vendors. Many teenagers come here, after school with their friends. They would sit at one of the benches and share some small breadsticks, called Kaki, bought from street vendors.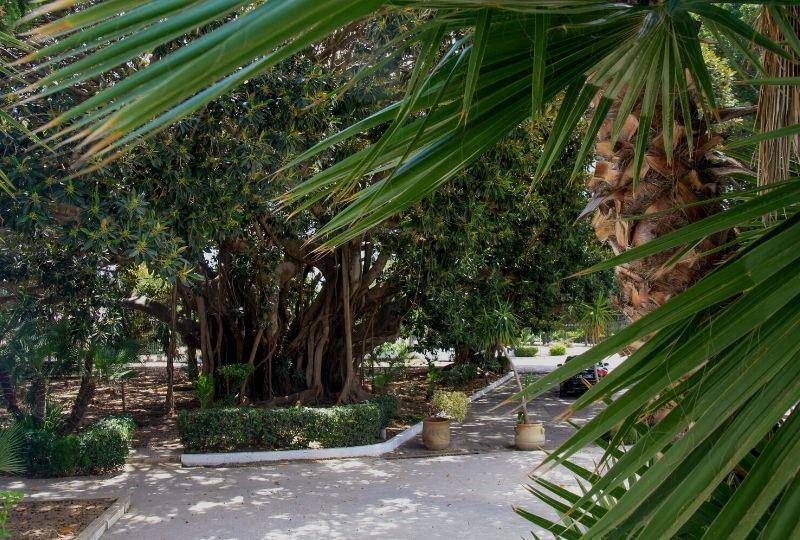 Not far from the Corniche, in Essaada street, you can find an enchanted picturesque tree tunnel that will undoubtedly astonish you. The street is just next to Essaada park, with half of it being part of the city and the other half part of the park, separated by a high green gate that you can barely see amidst the branches and leaves of the majestic massive trees.
The park offers games for kids, restaurants and cafes with green views for parents, a running course and sports fields for the fit, and a botanical garden. If, by now, you haven't had a picnic and you haven't connected with nature, head over there to see the oldest and biggest tree in La Marsa.
 Things to do in La Marsa: iconic café
Tunisians love their coffee! The locals' favourite café is Le Saf-Saf, which used to be part of a Beylical palace. This café is famous for Fat'hia the dromedary (also known as "Arabian Camel") who used to operate the waterwheel inside the cafe, a practice that dates back to the Hafsid period. Fathia is so famous that she has an artistic statue dedicated to her at a roundabout leading up to the corniche!
Saf-Saf is far from being a fancy modern shop, nonetheless, it has this particular atmosphere and a guarantee that you will have a tea or a coffee experience the "Tunisian way". Try a cup of green tea with freshly picked mint leaves and pine nuts, or a Turkish coffee with at-home distilled orange blossom water, preferably along with some Tunisian sweet pastries like Samsa or Makroudh. They also serve food and are most famous for the Brik, a thin pastry dough stuffed with eggs, and Kafteji which is fried vegetables mixed and cut with eggs and Merguez (my favourite)
Dine like a local in La Marsa
You can't visit La Marsa without having an ice cream at Wick or Parad'Ice, which are two of many popular ice cream shops on the same street. On summer evenings, visitors from all over Tunis line up in front of these shops to indulge in their delights.
La Marsa offers a variety of restaurants from diverse cuisines; a real dilemma for foodists. The Cliff is an excellent Mediterranean restaurant situated on top of a cliff, offering a spellbinding view of the sea. Meat lovers would prefer The Kitchen a steak house run by an apprentice of MasterChef Gordon Ramsay.
For a flavoursome local Tunisian cuisine, head to El Mida famous for their fresh daily-made meals like Couscous and Shakshouka. But if you fancy a popular street food shop, stop by Weld El Bey, for typical like LabLabi, an all-time favourite of Tunisians – watch out at the Harissa though (the local hot pepper paste that the Tunisians so are fond of).
Have a drink with a view
When it gets dark, walk to Hotel Sidi Dhrif's bar: Its view of Tunis is simply beyond description. The is a meeting place for locals, who like to chill and sip a chilling beer at sunset. Just make sure you go there before it gets dark as the coveted outdoor tables are taken very quickly. Nightlife lovers will love Ardjan complex in neighbouring Gammarth where the party never ends. Yuka is the most lively beach bar, and you can find several smaller bars with distinctive styles of music in each.
What does La Marsa mean?
La Marsa is an Arabic name meaning the marina which refers to the coastal location of the town.