Historic white windmills line the waterfront of "Chora" also known as Mykonos Town. Built by Venetian traders who frequently stopped at the island, they were used to mill wheat and provided a source of income to citizens. They stand today like sentinels, protecting Mykonos from unwanted visitors, and although no longer used to mill, they are a main tourist attraction of the island.
Inside the main town, cobbled streets hide brilliant white houses with cobalt blue doors and fine tavernas serve traditional foods such as cured louza meats, Kopanisti cheese and baklava. Nightclubs are open till dawn attracting revellers from all over Europe.
They are sophisticated, appealing to those with a jet-set lifestyle – top DJ's spinning tunes as the sunset over the sea. There's much to love about Mykonos, whatever season you visit, however Mykonos in autumn is more peaceful, hotel and flight prices are lower and lush landscapes bloom as the weather cools. With this in mind, here are our top 5 things to do in Mykonos in autumn.
1. Charter a Boat to Delos
Life on the ocean wave couldn't be sweeter when travelling by chartered boat from Mykonos to neighbouring Delos. As you sit back and relax with a glass of bubbly, make your way on a private boat to the small island. In 1400 B.C Delos was a religious centre, the birthplace of Apollo and Artemis and today, it's one of the most important archaeological sites in Greece. Temples, sanctuaries and statues of Greek gods were built alongside stone lions and ancient mosaics. They exist still today, although ravaged by the sea, winds and sands of time.
Wander around the island, imagining what life was like, touching soft, yet jagged stones of ruined columns, admiring the intricate curves of sculpted marble statues and be transported back to a simpler time.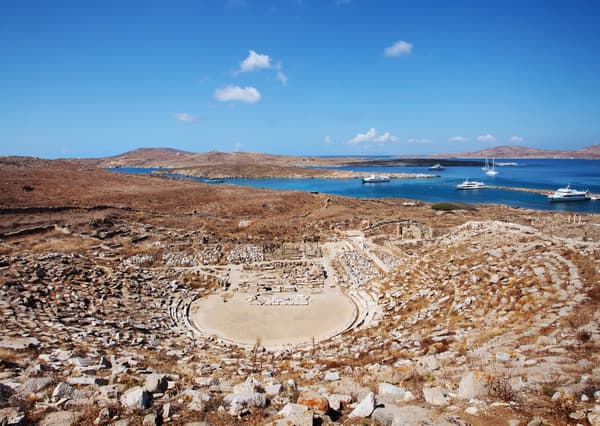 2. Mykonos in autumn is the season of Grape Harvest
Set amongst 3.6 hectares, on land leased from the local monastery is Mykonos Vioma Organic Farm and Winery. Owned and run by the friendly Asimomytis family, you can venture here to the island hinterlands to discover an authentic wine and farm-to-table experience. As you wander around the 19th-century monastery vineyard, discover the wine-making process, introduce yourself to farm animals and sample delicious honey, wines, vine leaves and vinegar.
At the end of September, it's harvest time at the farm and this brings locals to the monastery. Immerse yourself in Mykonian folk music, barefoot grape stomping and fine cuisine and wines of the Cyclades.
3. Visit the Island's Art Galleries
While visiting Mykonos in autumn, you can discover the art galleries away from the summer crowds. The landscapes of Mykonos have attracted artists and writers for centuries. Wandering around Mykonos Town, you'll discover small studios and art galleries hidden inside houses behind bright blue doors.
Wander inside to admire paintings of Cycladic landscapes, deserted sandy beaches and local people, their traditions and history etched in their faces. As you browse brushstrokes on colourful ceramics and glasswork, you can source one-of-a-kind pieces to give as gifts or to display on your coffee table back at home.
4. Romantic Dinner at Little Venice
Romantic and atmospheric, Little Venice delights with its mesmerising sunsets and quirky restaurant balconies hanging over the water's edge. During the 16th and 17th centuries, the buildings were used by pirates and traders to quickly load and unload precious cargo. Today, you can enjoy delicious Greek cuisine at restaurants like "Katerina's".
This used to be her family home, but with spectacular views of the Aegean Sea, she realised in 1991, that the two-storey building was the perfect location for a bar and restaurant. As you feast on plates brimming with locally-caught steamed mussels, shrimps and salads laced with feta cheese, you'll realise as the skies turn from blue to pink and red, there's no place you'd rather be.
5. Helicopter Ride over Mykonos
Exploring Mykonos in autumn from the land is exciting but exploring by air even more so. Stepping onto your own private helicopter for the day is an exhilarating experience. Let your pilot fly you over verdant landscapes, see the island's ten villages and golden sandy beaches of the coastline from an aerial perspective. As you fly over the island, you'll gain a bird's eye view of sugar cube buildings, small churches, vineyards and lighthouses, giving you the inspiration to plan your next day's adventure on Mykonos.
Tips from the locals?
Looking for recommendations to avoid the touristic traps?  Check our insider guide to Mykonos. You may also want to look at our selection of Boutique Hotels in Mykonos