A weekend in Greece is just what the doctor ordered to rest, relax, and reset. This idyllic country offers everything from city breaks to beachy destinations and everything in between. Here is a look at some of the best ways to spend a Greekend and indulge in all the best luxuries of Greek Boutique Hotels the country has to offer.
 Poolside Lounging
Spend a weekend lounging next to an infinity pool at one of the premier boutique hotels on Santorini. These pools seemingly spill into the Aegean Sea which, in turn, carries on over the horizon. The iconic white cave houses that cling to the cliffs of the island are the perfect backdrop for a tranquil Greekend.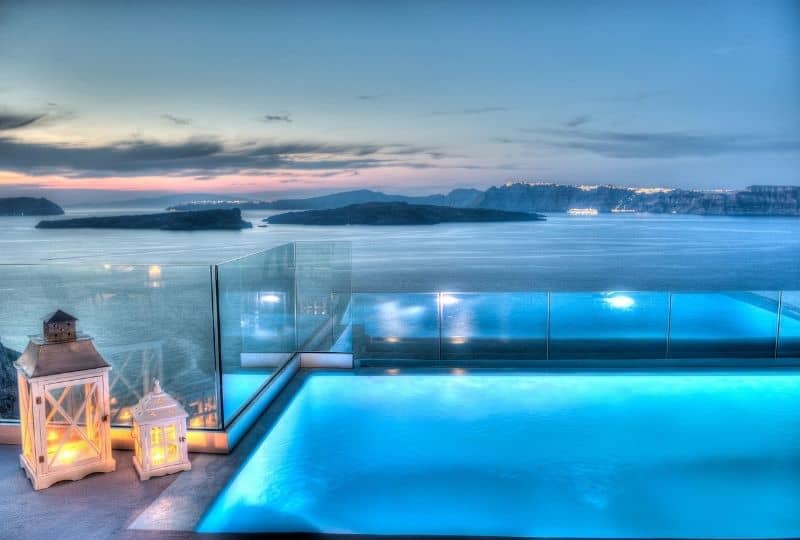 Book into a private suite that has a private pool at Astarte Suites or lounge at the communal pool, with a quality cocktail in hand. A poolside weekend should be filled with delectable food, refreshing drinks, and superior hospitality.
Historical Exploring
Greece has endless historical treasures to be discovered that span back centuries. Stroll through the atmospheric streets of Athens and take in the phenomenal vistas of the Parthenon sitting proudly atop the Acropolis.
A hotel nestled in the heart of the city is the best way to have easy access to all the best historical sites while enjoying unparalleled comfort during your stay. A city break in Greece means exploring, shopping, and dining in true Greek style.
Villa Living
A Greek weekend in your own villa is the epitome of luxury. Villa Rodakes on Santorini offers a 3-bedroom villa, complete with a private pool and terraces and balconies with unstoppable views.
Comfort is put at the forefront during your stay at the villa, with luxuries like a private chef and massages being just a phone call away. You are spoiled with a concierge, dedicated to arranging anything and everything you might need during your stay. The villa is also surrounded by lush vineyards that produce Assirtiko wine, best served chilled, poolside.
 Culinary Indulging
Feast on the best of Greek cuisine which goes far beyond feta cheese and baklava. Mediterranean dishes are known for their rich flavours and fresh textures. Hotels on Santorini are known for their world-renowned restaurants offering unforgettable culinary experiences. At Athina Luxury Suits you can dine at S'perisma, a fine-dining affair located in the most beautiful setting.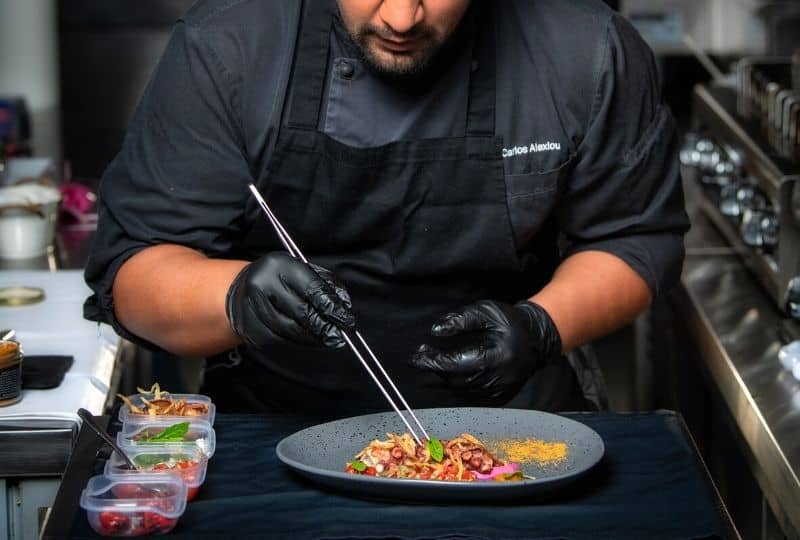 Here, each plate is a work of art, involving all of the senses during your dining experience. Soak in the hauntingly beautiful views of the caldera while eating your way through their thought-provoking menu. Each dish reflects authentic Mediterranean flavours, interpreted in a contemporary way.
Restorative Pampering
Disconnect from the outside world for a weekend by heading to one of the marvellous spa experiences offered in Greece. Kenshō Psarou on Mykonos has a one-of-a-kind Beach Spa that will leave you relaxed and rejuvenated to the core. The spa takes a holistic approach to beauty, incorporating nature and the healing energy of the ocean into their treatments. Float in the Spa Water Pod or release your stress with a hand massage and nail treatment. Take advantage of their anti-ageing masks or unwind on their unique sand massage table.
The hotel's second location in Kensho Ornos is a cave spa and offers a host of peaceful pampering treatments. Here you can enjoy a Hammam, Jacuzzi indoor pool, and a tropical rain bed.
Beach Bathing
The resplendent beaches of the Greek Isles are what dreams are made of. White sandy shores with clear turquoise water are where you want to spend a weekend in Greece. Lounge under the rows of parasols on the romantic Elafonisi beach or get your blood pumping on the adventurous beach of Porto Katsiki.
You could also opt for a beachfront stay at Dexamenes Boutique Hotel in Peloponnese Region. Here the dress code is "barefoot" and relaxation is mandatory. This beachside resort is a refurbished wine factory with one of Greece's most unspoiled beaches on its doorstep.
Nighttime Gallivanting
Greek nightlife is like no other where you enjoy food and drinks over several hours at stunning locations. Hit up some of Athens's most exclusive rooftop bars with unspoiled views over the city or explore hidden gems in the multitude of alleyways winding through the city.
Choose a hotel in the centre of Athens to be close to all the hottest places in town. 14 Reasons Why is a trendy adults-only hotel that takes the "wow factor" up a notch. The hotel also has a cosy rooftop piano bar filled with exciting contemporary art. The best place in the city to get your evening started.
Adventure Seeking
Greece is not only a place for slow-paced living and relaxation. You can also head to some exhilarating places for adventurous experiences. Take a high to the top of Mount Zeus, the highest peak in the Cyclades, to soak in the panoramic views of Naxos or to see where Zeus was born.  When you're at it stay at ELaiolithos Luxury Retreat, named after a stone used to grind olives, that is a half eco-friendly boutique hotel, half family home, run by Helen, a natural-born host who is truly in love with the island's landscape and produce.
Go from the peaks to the depths and plunge into the waters of Andros for a thrilling SCUBA experience. A kayak trip from any one of the Greek islands will take you to splendid unspoiled beaches and hidden coves. There are a plethora of action-packed adventures that can be enjoyed from the shore including motor boating, jet ski riding, and paddleboarding. Greece is not only home to beachside adventure activities. Parnassos just outside Athens has 23 spectacular ski runs that operate from mid-December.
A Greekend offers you a new way to escape the mundane and take a break from your routine. A quick hop over to Greece for a few days can bring you fun, excitement, and relaxation all in one stop. Choose to stay at one of the country's top boutique hotels to get the most out of your short stay as these hotels offer the best views, exquisite surroundings, and unmatched personalized service. So, get your carry-on ready for an unforgettable visit to Greece.