If you stay in Athens, the chances are that you will pass by the Monastiraki area. Monastiraki is located in the centre of the liveliest part of the city and has many of the favourite spots for shopping or a coffee. The area is named after Monastiraki Square, home to the famous Church of the Pantanassa.
In Athens, it is easy to tick the box of all the must-do tourist attractions. However, if you want to stay in Athens like a local and you need some tips about Greek art de vivre. So follow our guide for the things to do in Monastiraki.
Coffee and the Greeks
You must be wondering what the Greeks have to do with coffee. Coffee is often associated with the Italians and their espresso or famous cappuccino, but coffee time is part of the Greek culture. You'll notice the number of crowded cafes in the city where people hang out for hours on a daily basis. And what do they drink? Sometimes an "Elliniko", the traditional Greek coffee, but mostly a frappé, an instant, quite strong coffee, shaken with a bit of water and served with ice cubes.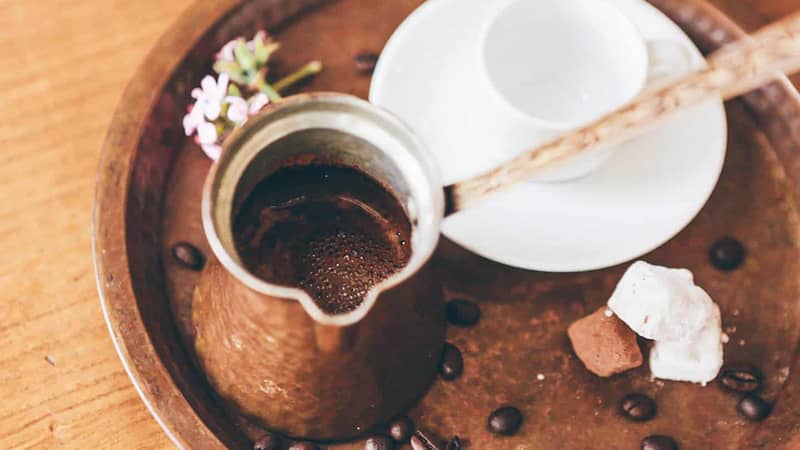 I would invite you to stop at the Booze Cooperativa for a coffee, or another drink if you prefer. The place is a small bohemian paradise, mostly occupied by artists and young people who like alternative and authentic places in the city. You can enjoy beautiful jazz and rock music, small theatrical performances, and photographic and painting exhibitions. If you are a chess fan, stop and play a quick game of chess on the chessboards provided here.
Where to go shopping in Monastiraki
You can't possibly be in Monastiraki without a shopping session at Ermou Street. This commercial avenue has been turned into a pedestrian-only street where you can find all your usual brands, as well as some local ones. Pass by Fokas, the Greek department store hosted in a beautiful neoclassic building, or Hondos Center (the local Sephora) for all your cosmetics products. These are not the small local shops, but the locals definitely go shopping there!
As you continue down Ermou Street, you'll find Monastiraki Flea Market, the most popular in Athens. A tour there is among the best things to do in Monastiraki especially on Sunday mornings when Athenians come to buy and sell all kinds of stuff. The rest of the week, it's more like a line of shops selling touristy stuff, old records, retro items, old furniture, and collectables.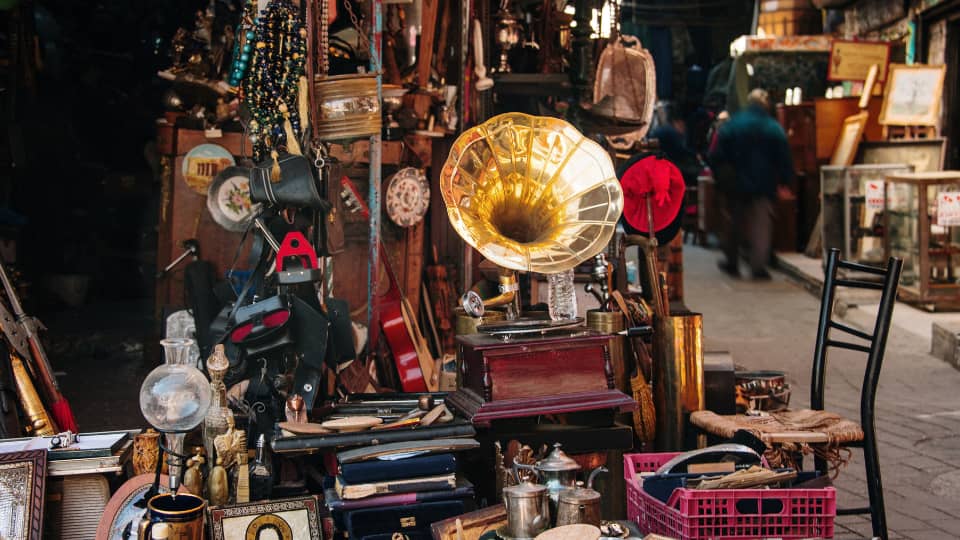 Where to eat in Monastiraki
If you have a sweet tooth, head to Meliartos bakery for a praline éclair, or a more traditional Greek Baklava. Another of the "must-try" stops in the area is Da Vinci Gelato, on the pedestrian street of Andrianou. You can always buy an ice-cream cone with a new flavour, ranging from classic pistachio to the very local mastixa. You may push your chances to try flavours like fennel. With your ice-cream cone in hand, you can continue wandering the streets around Monastiraki Square.
While you're there, if you want to be introduced to the sought-after Athens, then head to Six Dogs. You will see many Athenians spending the evening with drinks and small bites until very late at night. You will love the industrial style and artistic atmosphere. Going up the colourful steps – the place's trademark – you reach an outdoor space like a huge yard surrounded by residential buildings. A real oasis in the middle of the city, with trees and plants, cool music, great coffee and drinks.
Monastiraki has so many little places that you'll enjoy. For a dinner overlooking the acropolis, try Diodos. The place is in a very touristy street, but you'll definitely enjoy their mezze and grilled meat. Another alternative is to book a table at the rooftop of Kuzina for an amazing refined local cuisine.
Then you can start the night party at Kuko's Bar, in the alley of Kalamiotou, to choose between many choices of cocktails and drinks, accompanied by dance music.
Stay in Athens and Speak like a local
Many Greek words may seem difficult to pronounce for the non-natives however if you want to get your way with the locals you can try to say Kalimera for the morning greetings and Kalispera in the afternoon. and Efharisto for thank you. Don't forget to smile: that's a universal language.