Greece is a country steeped in tradition, garnished with unmatched natural beauty, and complemented by warm hospitality and a laid pack pace. As one of the jewels of the Mediterranean, it tops the list for many as the most desirable honeymoon destinations and it is no secret why.
Indulging in tantalizing Greek cuisine while basking in the warm glows of a Grecian sunset or frolicking in the turquoise waters of the islands is all part of the appeal of a getaway to Greece. These are the best honeymoon destinations in Greece including idyllic islands where you and your loved one will have an unforgettable romantic time.
Athens: For the urban vibes lovers
Athens offers the perfect option for honeymooners looking to make the most of a trip to an ancient destination such as Greece. Romantic hotels, limitless exploration, and a healthy dose of adventure await city lovers in Athens.
The cobbled alleyways of Plaka and remains of the Hellenic civilisation are begging to be explored as the city pulsates with an eclectic atmosphere and an authentic rhythm. Athens offers a wide range of distinctive boutique experiences and couples are spoiled for choice to find a hotel that best suits their needs.
A bohemian stay at the rustic Ederlezi Living Boutique Hotel offers a warm ambience, earthy rooms, and tranquil views from a rooftop garden. Here, thoughtful details make your stay exceptional and enhance your Grecian honeymoon experience.
Couples who revel in modern inspirations will be captivated by Noma Hotel's industrial interpretation of Grecian architecture. Nestled in a historical building in the heart of the city, you can spend your afternoons exploring the city's trendiest area or opt for a relaxing dip in the Jacuzzi on your terrace overlooking the majestic Acropolis.
Apart from the vast amounts of historical deep diving you will do, make a point of exploring all the hidden alleyways Athens is known for. Flea Markets in Monastiraki, quaint cafes in Plaka, and obscure installations and artefacts in Psirri will surprise you around every corner.
Mykonos: Living in the Lap of Luxury
Mykonos is nothing short of idyllic, combining a chic cosmopolitan lifestyle with the effortlessly beautiful natural surroundings. Boutique hotels in Mykonos are a destination in themselves and it will be hard to tear yourself away from a glistening pool with panoramic views.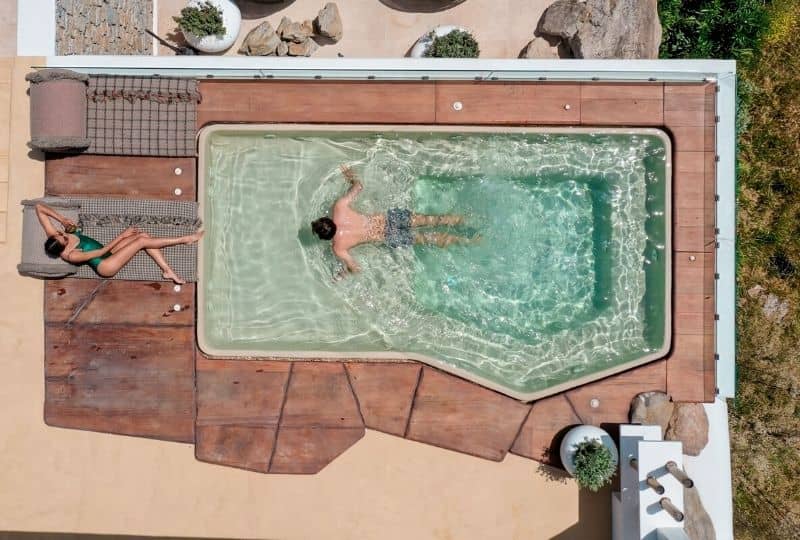 Offering just that is the matchless Kensho Ornos hotel. Serenity, style, and romance meet at this boutique hotel, one of the top honeymoon destinations in Greece. The full-service spa will ensure nothing but tranquillity surrounds you during your stay. Between dips in your private plunge pool and a 9-course gourmet meal, there isn't space for anything other than pure relaxation.
The hotels in Mykonos might be some of the best in the world, but don't forget to head to town to experience more of the local sights and sounds. The freshest seafood dishes await you at seaside eateries and delectable Greek wine should be savoured along the way. Make time to soak up the sunset from Armenistis Lighthouse and take strolls down the cobbled streets of Matogianni. That is if you can tear yourself away from the idyllic beaches and healthy social scene!
A honeymoon on Mykonos is sure to bring plenty of luxurious experiences, where you will find yourself choosing between lively nights at the beach clubs or intimate afternoons next to your private pool.
Santorini: The Quinticensial Romantic Island
Santorini is one of the most iconic places in Greece with its unmissable blue and white houses clinging to the black volcanic cliffs. Santorini is known for its elegance and honeymooners can expect to be treated with the utmost hospitality and grace.
Aenaon Villas is where you can experience the most breathtaking views of the caldera and the Sea of Crete. Spend your days floating from your hauntingly beautiful room to the breakfast table, your private plunge pool, and a spot in front of the fireplace.
For an equally ethereal experience in Thira Santorini, couples can stay at Perivolas Boutique Hotel & Villa. Nothing evokes romance and relaxation quite like an en-suite spa, massage pool, and steam bath. To top it all off, a heated pool with a domed cave-roof offers the ultimate exclusive experience. The village of Oia is one of the most loved on the island and offers plenty of dining and entertainment options close to this exquisite spot.
Indulge in spectacular wine tasting experiences at some of Greece's finest wineries or take a hike between Fira to Oia to soak up the most magnificent views. Shopping on the island is a must but apart from boutiques and high-end crafts, there are smaller gems like Atlantis Bookshop that you should be on the lookout for.
Nothing comes close to soaking in Santorini's otherworldly sunset from beside a private pool or over a glass of the finest Greek wine.
Naxos: The Best of Both Worlds
An often-overlooked honeymoon destination in South Aegean is the island of Naxos. The island's striking mountains and serene valleys create a unique backdrop for a remote honeymoon getaway.  The landscape is decorated with mountain villages, ancient ruins, and distinctive vegetation while the coastline offers crystal waters washing out on white sandy beaches.
Making the most of Naxos's diverse setting is ELaiolithos Luxury Retreat. You will be welcomed with unmatched hospitality where everything from the food to the décor has been painstakingly curated to enhance your Naxian experience. You will be surrounded by the tastes of Naxos as the wonderfully fruitful land provides you with cheese, wine, produce and more. The retreat is situated a short distance from both mountains and sea and from your perfectly secluded setting you can indulge in the best the island, and Greece has to offer.
On Naxos, you can laze on the beach or take a hike to the top of Zeus Mountain. Cycle from farm to fortress and soak in the rich history of the island by visiting as many ancient sites as possible.
Naxos brings honeymooners closer to nature, tradition, and each other. Unbothered by crowds and polished attractions, couples can truly indulge in rest and tranquillity on this island.
Lefkada: Adventurous Haven for Honeymooners
The sheer white cliffs of Lefkada island are magnificent and daunting. The island's rocky terrain and its mountainous nature have created a collection of hard to reach beaches that ensure adventure and privacy. Many of the gorgeous beaches can only be reached by boat or by concurring gruelling cliff paths or roads, making them perfect for adventurous spirits. Moreover, there are plenty of opportunities for activities such as mountain biking, boating, and hiking with even a few waterfalls around where you can take a dip.
Thomais Boutique Hotel in the tiny village of Episkopos is an elegant and modern destination where honeymooners can enjoy supreme comfort and modern amenities. The on-site spa and fitness centre might be appealing to some while the plunge pool and world-class restaurant will whet the appetite of others.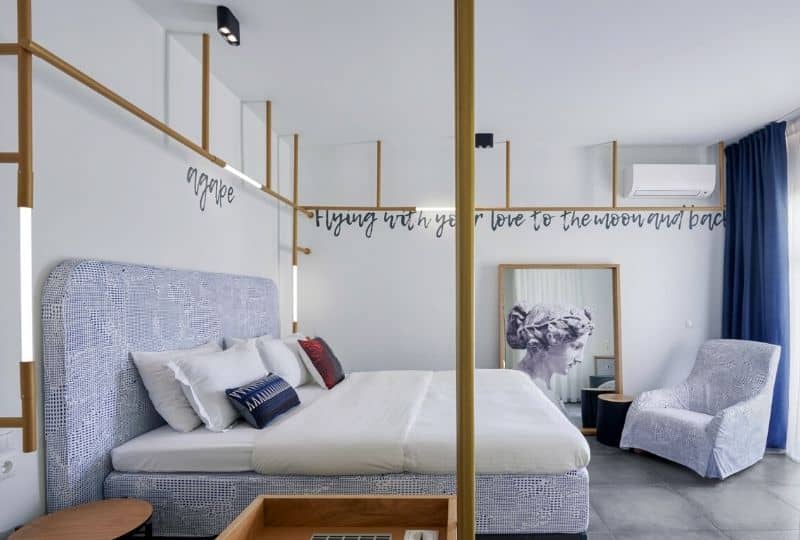 With so many hidden beaches, catching a boat or embarking on a hike is the best way to start an adventure on this island. The hike to Nydri Waterfalls is both scenic and tranquil and you will be rewarded with vibrant blue water to cool off in.
Courageous couples needn't look further than a honeymoon on Lefkada as they will find a balance of adventurous commutes and sublime locations.
Papigo: Cuddle Up in the Mountains
The central and northwestern regions of Greece is a haven for those looking to indulge in elegant comforts, traditional hospitality, and unspoiled natural splendours. Features like the Astraka Towers form part of the Tymfi mountains that loom over the quaint village of Papigo.
Sitting proudly at the foot of the stately mountain is Papaevangelou Hotel, one of the best honeymoon destinations in Greece for those looking for an off-the-beaten-track experience.  From the wooden floors to the crackling fireplaces and rooms bursting with natural light, the hotel is perfect for an autumn or winter honeymoon in Greece. As the creeping ivy turn red, you can curl up in front of the fireplace, spend some quality time with your partner, and soak up some of the marvellous scenery surrounding the property.
A honeymoon in Papigo will send you running for the hills in the best possible way. Trekking and hiking through the Vigos Gorge are one of the best things to do in the area or you can cool off in the clear water of the Viodomatis River by rafting and canoeing.
Opt for a discreet honeymoon surrounded by cosiness and comfort in a small village like Papigo if you are a couple looking to escape the crowds.